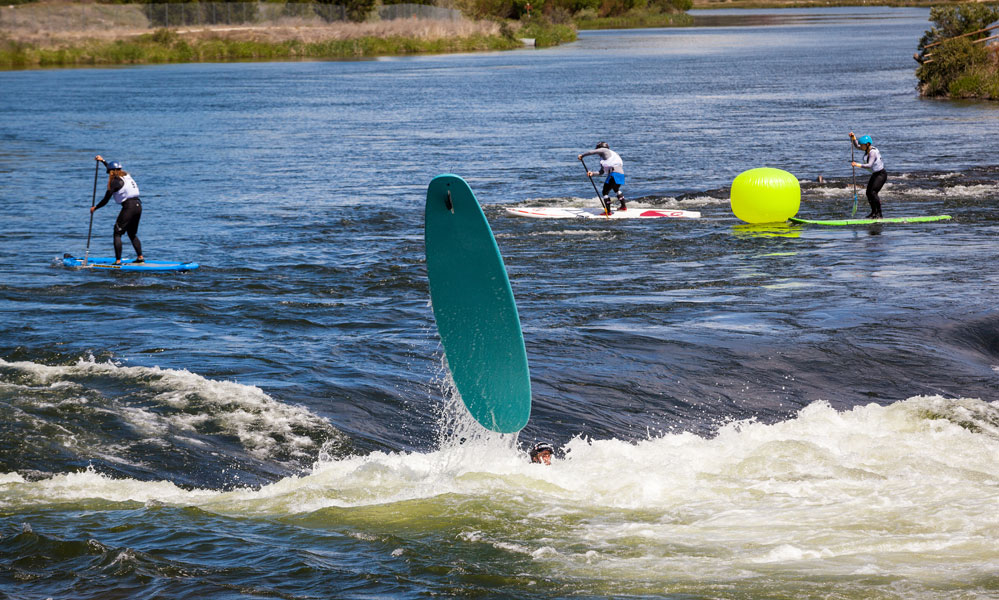 February 1, 2014
by Christopher Parker (@wheresbossman)
This Photo Kinda Sums Up Why I'm So Excited About The Payette River Games…
The $50,000 Payette River Games are still four months away but I'm already getting excited about the event. It's not just the record-breaking prize purse (though that is rather epic). It's not just the beautiful location in the Idaho countryside (which seems pretty awesome). It's not just the fact that a LOT of the best paddlers in the world will probably be there either (again, doesn't hurt). The main reason I'm so excited about the Payette River Games is because of photos like THIS…
Just look at it. It doesn't look natural. It almost looks photoshopped. A SUP board just shouldn't be in that position. But it is.
This pic was taken at the Payette River Games in 2013, during the women's SUP Cross event. The inaugural PRGs slipped under the radar a little, but we can be pretty certain that won't happen again. I already know of a whole stack of pros that have locked this one into their schedules, while I'd expect a couple hundred weekend warriors to make the trek out to Idaho as well.
Combine that level of participation with the unique race format and title of "most lucrative SUP race of all time" and you can see why Payette River Games is already being talked up as one of the races of the year, months before the first board has even hit the water.
The whole show is happening in Cascade, Idaho on June 20th, 21st and 22nd. The event will feature two SUP races – a downriver sprint (where you need to negotiate a couple of rapids) and a SUP cross knockout event. Results from those two will combine and the winners (both the top guy and top girl) will each bank $10,000.
In short: It's going to be big.
We'll keep you posted with the latest Payette River Games news as the event draws near. In the meantime you can check out the newly-launched 2014 site, where you'll be able to register soon.
Though a quick heads up: Registration opens on March 15th but will be limited to the first 200 paddlers. I'm pretty sure it'll sell out. Fast. So pencil this one into your calendar and make sure you don't miss out on the fun.