July 28, 2014
by Christopher Parker (@wheresbossman)
WATCH: First Look At The 2014 Molokai 2 Oahu Paddleboard World Championships
Unless you were camped out under a rock on Mars the past 72 hours, you would've heard about a little race in Hawaii called the Molokai 2 Oahu Paddleboard World Championships.
The 2014 Molokai 2 Oahu race was an instant classic. There was drama and heroics all round, highlighted perfectly by the intense battle between Connor Baxter and Travis Grant all the way to the finish.
After a close contest during the first 20 miles, where Kai Lenny was leading and Dave Kalama, Scott Gamble and a few other contenders were still right in the mix, the race turned into a duel between Travis and Connor. The two masters of the ocean traded bumps back and forth over the final stretch, before Connor eventually edged ahead to claim his third crown (in record time).
And that was just the men's solo unlimited division.
The women's race was equally as hard fought, with Sonni Hönscheid showing her all-round awesomeness to defeat a trio of past champions. Then we had the Napoleon boys smashing the team relay record and of course Travis Baptiste winning the stock class. Travis' win required a superhuman display of paddling: The kid crossed the line virtually dead even with Kai Lenny – and ahead of Dave Kalama – despite paddling a rudderlesss board that's three to four ft shorter than most.
The 2014 Molokai 2 Oahu race truly was an epic. So many people wanted to follow this thing live that our web server blew up about half a dozen times yesterday. Not even the Battle of the Paddle managed to do that.
It was big.
M2O has taken on an uber-prestigious aura that no other race (apart from the BOP) can even come close to.
Well anyway if you wanna see what all the fuss is about, we now have our first proper look at the action out in the Ka'iwi Channel yesterday.
Courtesy of Chris Aguilar from Fin Film Company (who is the official video guy for M2O) here's an early draft of the complete Molokai 2 Oahu video we can expect a little later on. This clip is titled "Quick Edit" however it still gives us a very nice glimpse into this epic race.
Watch above and enjoy.
---
NEXT READ THIS:
2014 Molokai 2 Oahu RESULTS / RECAP / PHOTOS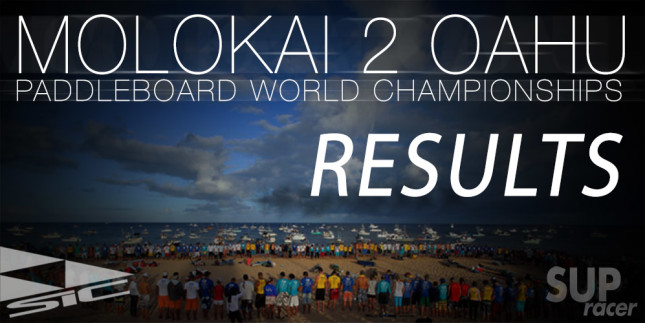 ---