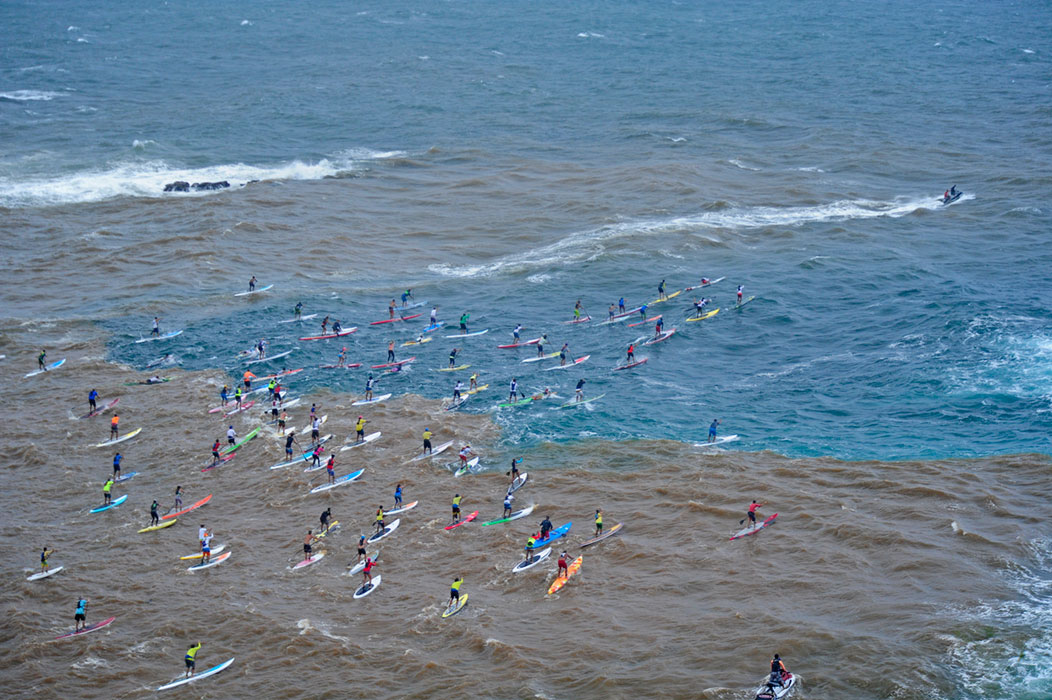 July 20, 2014
by Christopher Parker (@wheresbossman)
Kaeo Abbey, Sonni Hönscheid Win The Maui Paddleboard Race (aka Victory At Sea)
SIC Downwind Month glides on. While everybody has their eyes on next weekend's headline act, Molokai 2 Oahu (which we'll be covering live), today it was the traditional M2O warm-up event, the Maui Paddleboard Race.
This race is the classic Maliko Downwind Run that paddlers know and love, but after a week of great conditions the ocean didn't exactly play along today. Downwind Month quite literally became Victory At Sea.
The race very nearly got called off entirely thanks to a big storm on Saturday night. Maliko Gulch became a messy twist of mud and downed trees, while out in the ocean the swell was running solid in almost every direction.
Organisers eventually decided for a delayed start at 2pm, with conditions improving slightly throughout the day. Despite scores of paddlers choosing to sit this one out there were still 100 hearty souls on the start line, which by this point was looking more like a chocolate milkshake than an ocean.
Once we got outside into the open water things got really interesting: big swells were peaking all over the place, the wind was swirling and constant rain made visibility a real problem.
However despite the craziness of it all, there were still actually some amazing bumps on offer. Though as soon as you'd catch a nice ride, the ocean would rudely remind you who was in charge by dispatching a gnarly side swell in your direction.

Some had a better time than others: a few competitors got cleaned up by a rogue set at one of the outside reefs, a dozen legropes snapped and I even saw one board broken clean in half.
It was, to put it mildly, kinda gnarly out there…
Definitely one of the more extreme races but that's what made it so much fun. Most paddlers were stoked just to finish.
As for the results, in the end it was Kaeo Abbey winning the battle of the unlimiteds ahead of Armie Armstrong and Livio Menelau.
In the women's it was a close battle between the Downwind Queen, Andrea Moller and her SIC teammate Sonni Hönscheid. By the time they hit the canoe club inside Kahului Harbor, Sonni had gained a 40 second advantage to claim the win and stamp herself as one of the best all-round paddlers.
The battle of the 14 footers saw a very strong field this year, however the day belonged to one guy. After a close race early, where the top 4 were all within shouting distance, Travis Baptiste pulled away to win by almost four minutes (very nearly catching the unlimited leaders in the process). The performance was even more impressive considering the 17-year-old lost 7 pounds this week after an emergency hospital visit last weekend.
On the women's side, Australia's Angie Jackson got a nice birthday present with victory in the 14′ class (and a solid 4th place overall).
I'm sure there will be hundreds of epic photos and video to come out of today's race, so check back tomorrow for more updates. In the meantime here are a few great shots thanks to Marko Notar, whose daughter Manca scored a top 3 finish in the 14′ class.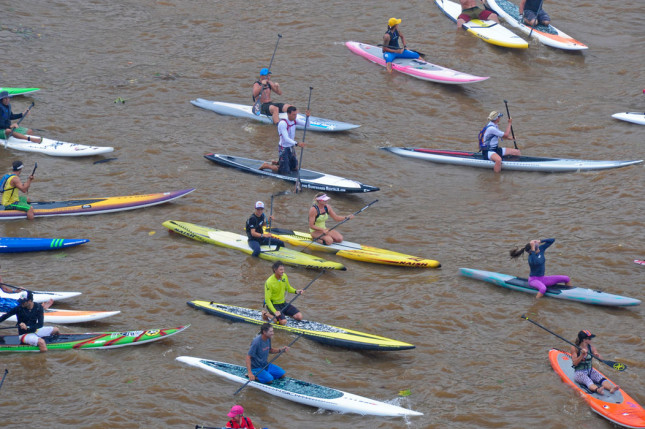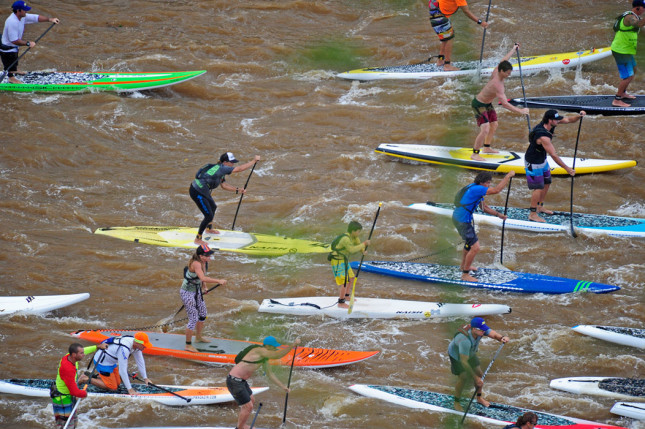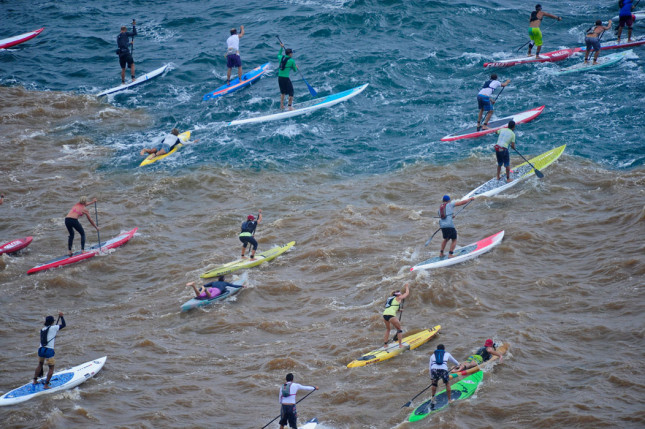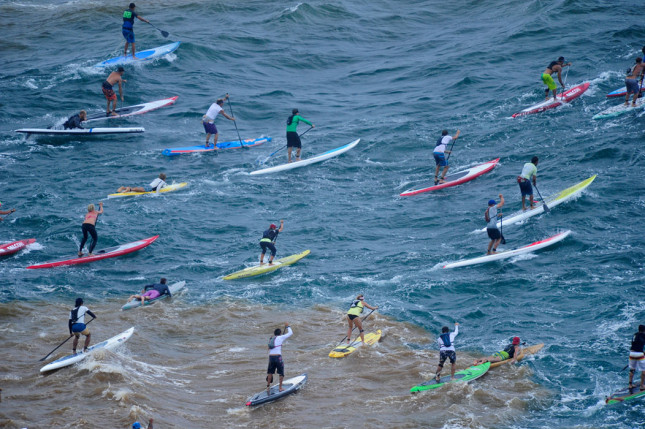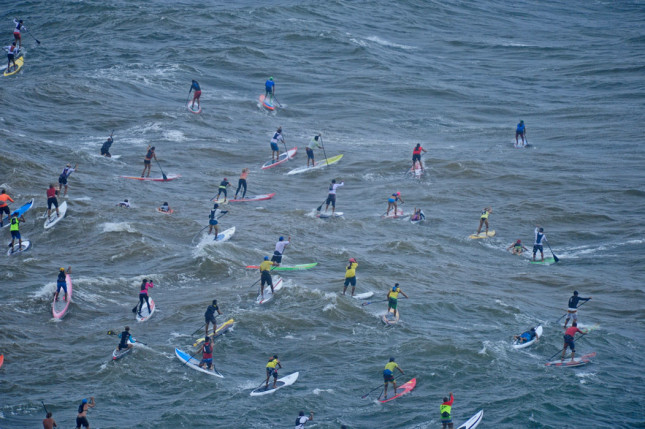 2014 Maui Paddleboard Race RESULTS
Unlimited Men
1st: Kaeo Abbey
2nd: Armie Armstrong
3rd: Livio Menelau
4th: Kody Kerbox
5th: Vinnicius Martins
14′ Men
1st: Travis Baptiste
2nd: Josh Riccio
3rd: Paul Jackson
4th: Titouan Puyo
5th: Bart de Zwart
Unlimited Women
1st: Sonni Hönscheid
2nd: Andrea Moller
3rd: Penelope Strickland
14′ Women
1st: Angie Jackson
2nd: Karla Gilbert
3rd: Manca Notar
---