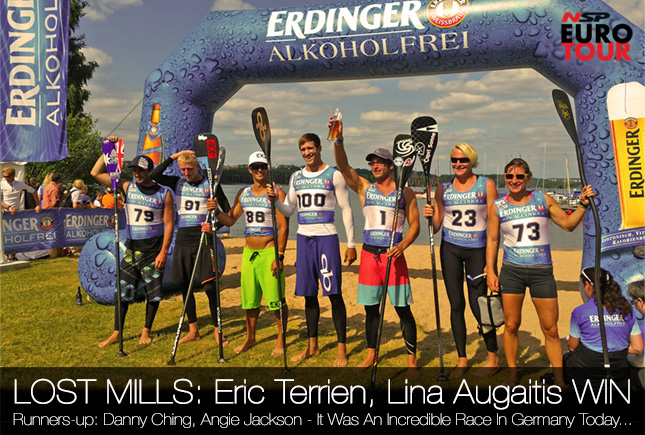 June 21, 2014
by Christopher Parker (@wheresbossman)
Eric Terrien Wins An Action-Packed Lost Mills Race Ahead Of Danny Ching And Connor Baxter; Lina Augaitis Wins The Women's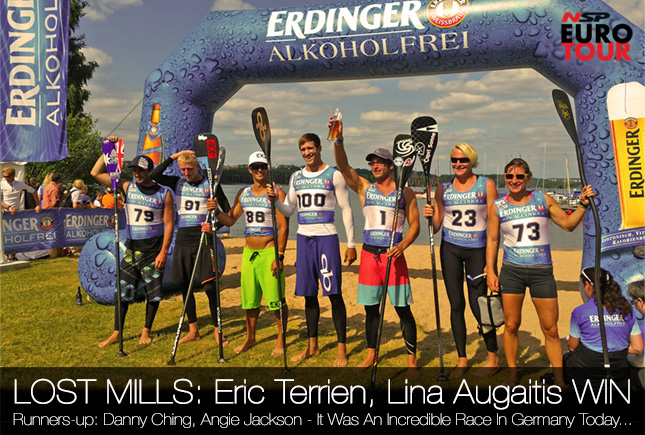 The Lost Mills: Day Two (Saturday) Update
Euro Tour. Week #6. Germany.
Eric Terrien has just won the 2014 Lost Mills, repeating his heroics from twelve months ago to claim victory ahead of a star-studded field. In a race that more than lived up to the hype, Eric won by two minutes from Danny Ching and Connor Baxter, while behind them were another dozen of the world's very best paddlers.
This was an incredibly competitive race – perhaps the single most-elite SUP race ever held outside the States – and it didn't disappoint.
Danny Ching set the pace for much of the race, however a slight mistake by the lead pack halfway through – where several of the top contenders veered off course – allowed Eric and a few others to make a break.
The Frenchman took the most advantage of the opportunity and didn't look back, powering away to eventually win by a big margin.
At one point Eric had opened up a 4 minute lead, before a very fast-finishing Danny and Connor closed some of the gap in the final few kilometres.
It was an extraordinary performance in what was an incredible race. Although the way he did it today was very different than last year, Eric's winning margin is almost identical to twelve months ago and gives him back-to-back Lost Mills titles.
The top guys will certainly rue their mistake but take nothing away from Eric, who has shown once again that he deserves a spot on the top tier of the SUP racing world.
Danny and Connor showed their class to pull away from the main pack on the final leg, while Beau O'Brian put in a late surge to pass Chase Kosterlitz on the line. Chase's 5th place continues his great run at the Lost Mills, a race he clearly loves competing in. (Update: Mistake from Chase! He left his paddle at the water, had to run back and get it and lost two places…)
Meanwhile in the women's race, Lina Augaitis showed she's as good as anyone in the flat, paddling away from the in-form Angie Jackson and Sonni Hönscheid to take the victory.
Although much of our focus was on the men, the top few ladies put on a great show. In the end it was the Canadian Lina who took the spoils, adding another trophy to go alongside the distance race gold she won in Nicaragua last month.
We're still trying to decipher exactly what happened with the guys going off course and who exactly was involved. We believe either Connor or Jake (not Danny as we originally reported) were leading the race but turned the wrong buoy.
---
---
Doesn't sounds like there was anything wrong with the course or the race briefing, sounds like the top few guys just headed the wrong way and most of the others sitting behind simply played a bad game of follow the leader. As many as 20 guys were involved, taking a 400 metre detour before realising their mistake and scrambling to fix it. It's as if the pied piper of SUP was out there.
Jake said that the mistake sent him from 1st to 40th, so not only did all the top contenders lose sight of Eric, they also had to fight their way back past all the guys in the middle packs.
What a crazy race…
I'm sure there are plenty more stories to come out of today and we'll be doing regular updates as the news filters in over the next few hours. So refresh this page every hour for the latest from Germany.
The 2014 Lost Mills was also stop #3 of the new Champions Tour. The excitement of this race will no doubt give a big boost in momentum to the CT and we'll have a full recap of what this means for the overall season standings tomorrow.
In the meantime you can enjoy some cool pics below or relive our Lost Mills LIVE BLOG to see how it all unfolded in Germany today…
RESULTS: The Lost Mills 2014
MEN
1st: Eric Terrien (1:39:32)
2nd: Danny Ching (1:41:26)
3rd: Connor Baxter (1:41:41)
4th: Beau O'Brian (1:42:07)
5th: Greg Closier (1:42:25)
6th: Stefan Stiefenhöfer (1:42:33)
7th: Chase Kosterlitz (1:42:44)
8th: Leonard Nika (1:42:46)
9th: Paul Jackson (1:42:48)
10th: Maritjn van Deth (1:42:54)
11th: Branislav Sramek
12th: Paolo Marconi
13th: Dylan Frick
14th: Zane Schweitzer
15th: Martino Rogai
16th: Itzik Horesh
17th: Jake Jensen
18th: Trevor Tunnington
19th: Ricardo Haverschmidt
20th: Ike Frans
21st: Giordana Capparella
22nd: Davide Ionico
23rd: Casper Steinfath
24th: Peter Weidert
25th: Fabrizio Gasbarro
26th: Titouan Puyo
27th: Bart de Zwart
28th: Vinnicius Martins
29th: Vincent Verhoeven
30th: Patrick Thumm
31st: Bernd Sommer
32nd: Belar Diaz
33rd: Alexander Stertzik
34th: Christoph Salmhofer
35th: Federico Benettolo
36th: Friedrich Kochl
37th: Dirk Bickert
38th: Peter Tritten
39th: Kai-Nicolas Steimer
40th: Wolfgang Leeb
41st: Moritz Mauch
42nd: Martin Salmhofer
43rd: Leonardo Toso
44th: Michael Brauch
45th: Carsten Kurmis
46th: Guido Meier
47th: Gianmatteo Cau
48th: Colori Schilling
49th: Christian Keller
50th: Frank Gondek
51st: Richard Gratzei
52nd: Endre Virag
53rd: Thomas Gundendorfer
54th: Klaus Dedial
55th: Ahmet Senoglu
56th: Frithjof Sach
57th: Armin Zeitler
58th: David Brozik
59th: Andy Dressler
60th: Thomas Laurenz
61st: Ralf Schultz
62nd: Thomas Suttner
63rd: Klaus Schulten
64th: Dirk Borbe
65th: Rachmen Djajakusuma
Note 1: As we mentioned above, at least 15 guys followed the leader off course and that's why there are so many big names scattered right down the order.
Note 2: Georges Cronsteadt crossed the line in 6th but was DQ'd for not carrying his paddle over the line (Chase did the same but he went back and got it, whereas apparently Georges never did)
WOMEN
1st: Lina Augaitis (1:48:12)
2nd: Angie Jackson (1:49:12)
3rd: Sonni Hönscheid (1:51:30)
4th: Manca Notar (1:55:50)
5th: Laura Quetglas (1:57:02)
6th: Silvia Mecucci
7th: Carol Scheuneman
8th: Erna Stangl
9th: Susanne Lier
10th: Marion Rappl
11th: noelani Sach
12th: Sonja Duschek
13th: Dagmar Taylor
14th: Anja Schilling
15th: Kerstin Ouellet
>>> MORE: Relive the Lost Mills LIVE BLOG to see how it unfolded play-by-play
Photos below thanks to our man on the ground in Germany, Peter Steinfath (thanks for all the live updates buddy!)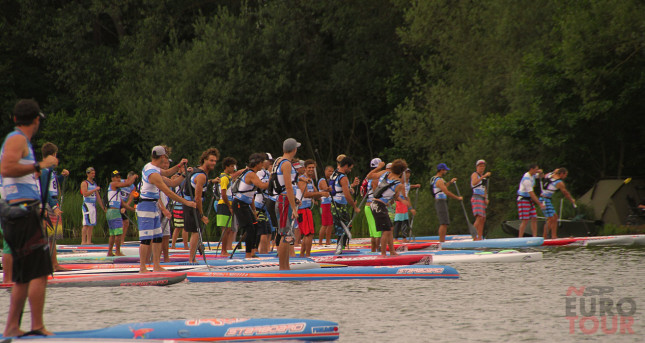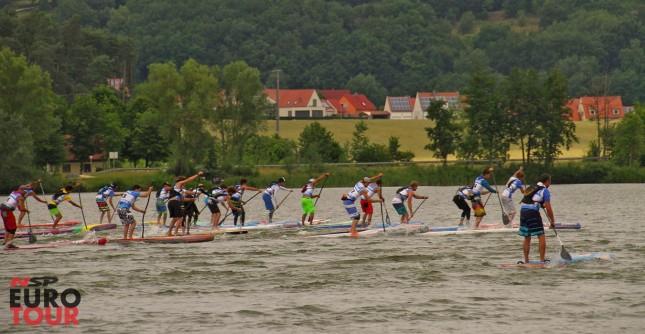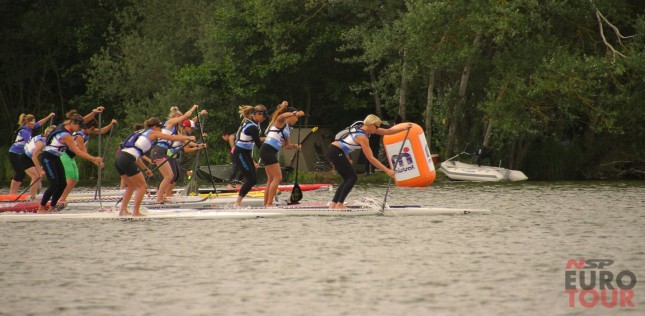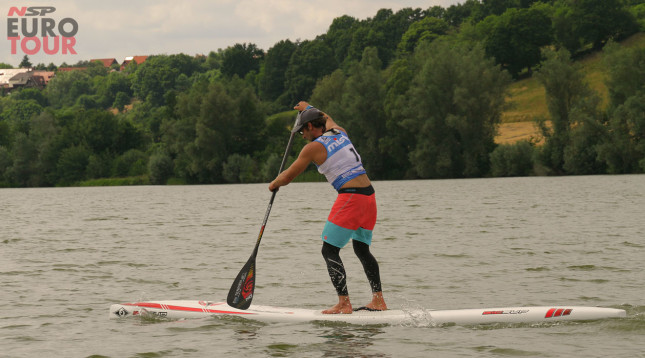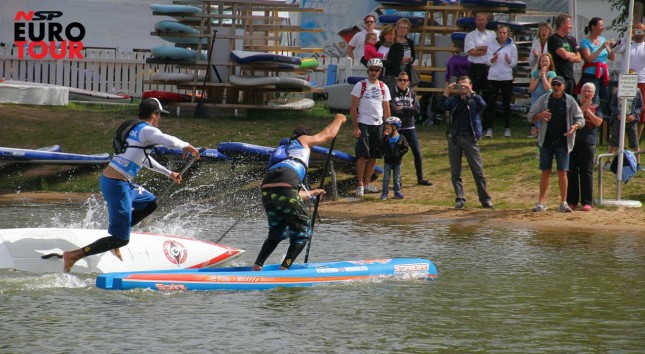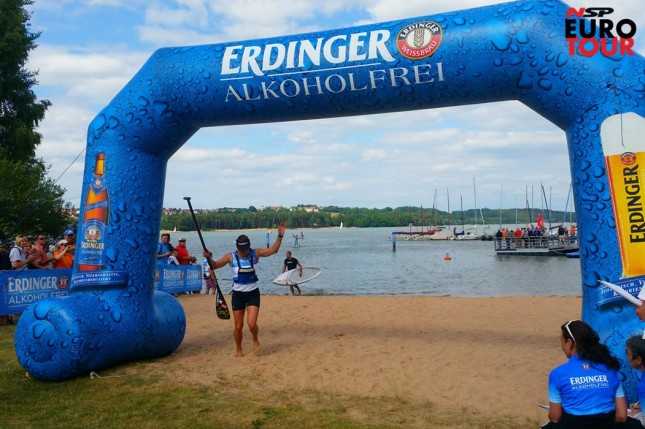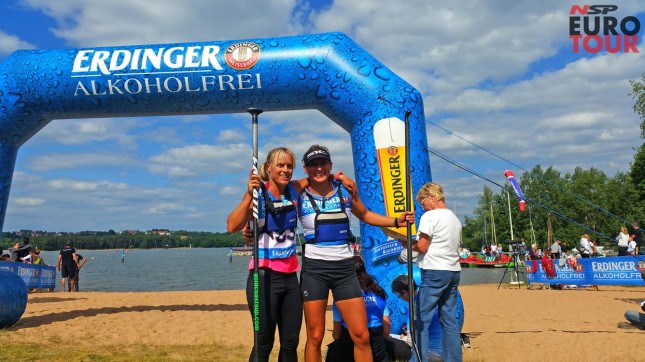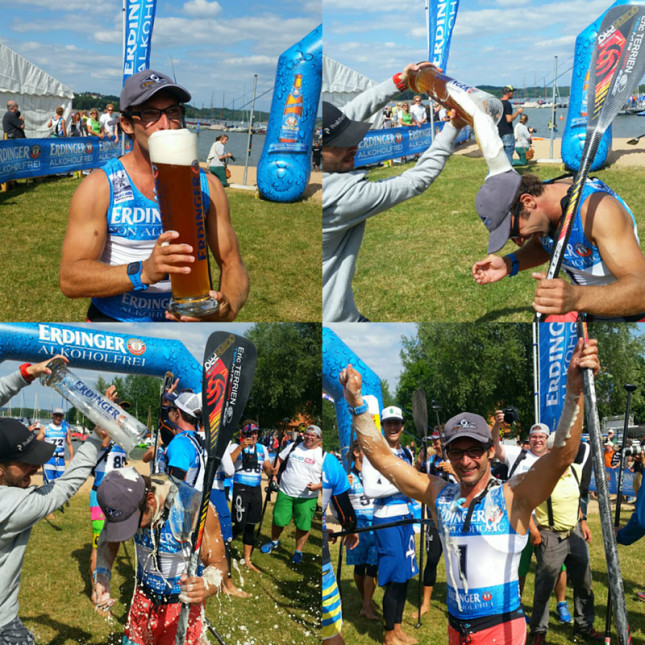 ---
The Lost Mills: Day One (Friday) Update
Euro Tour. Week #6. Germany.
The Lost Mills is Europe's premiere SUP race and this year's edition may very well go down as the single most-competitive race ever held outside the States. Yes, the lineup is that stacked this weekend. Danny, Georges, Connor, Eric, Chase, Zane, Casper, Jake, Beau, Jacko, Leo, Vini, Titou, Angie, Sonni, Lina… you get the point. Lots of good paddlers are in the Bavarian countryside this weekend.
It's also stop #3 of the inaugural Champions Tour, just to give it an added layer of significance.
Today, Friday, saw the first of the two main races at the Lost Mills – the 200 metre individual time trial (aka the "Fastest Paddler On Earth" race). Tomorrow is the main event, the 18km distance race, which holds all the prize money and prestige, however today's time trial was a good opportunity to score some unique bragging rights.
The super lineup of paddlers took turns racing down the 200 metre, straight line course, which is complete with Olympic-standard timing equipment and all. This is a pretty cool little race and a good chance to compare paddlers purely by the clock.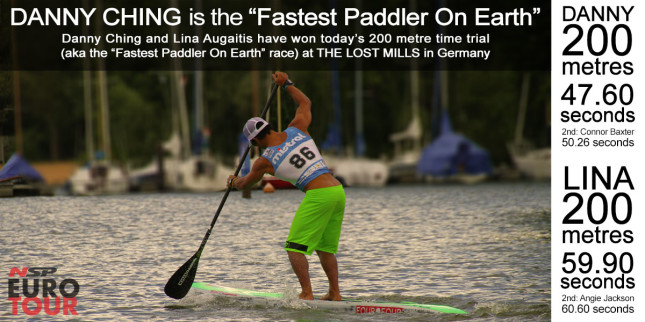 And it looks like those bragging rights have gone to Danny Ching this year. After crushing it in the qualifying rounds, where he was at least three seconds ahead of everyone else, Danny carried that form into the final. The only guy to go under 50 seconds, Danny finished 2.66 seconds ahead of defending champ Connor Baxter, who had to settle for the runner-up position this time round.
The 404 front man showed he's in ominous form ahead of tomorrow's main event and now has the title of "Fastest Paddler On Earth" for the next 12 months.
Meanwhile in the women's race, the field didn't run quite as deep but the ladies near the top are all world class competitors.
Lina Augaitis, Angie Jackson, Manca Notar and Sonni Hönscheid have been in superb form this year and dominated the women's time trial. It was super close but in the end Lina took the glory for Canada, touching the line just a tenth of a second under a minute, which was less than a second ahead of Angie.
Tomorrow's women's distance should be a great one to watch as well…
Lost Mills: "The Fastest Paddler On Earth" 200m time trial – Men's Final
1st Danny Ching: 47.60
2nd Connor Baxter: 50.26
3rd Beau O'Brian: 50.70
4th Trevor Tunnington: 51.01
5th Jake Jensen: 51.27
6th Casper Steinfath: 51.30
7th Zane Schweitzer: 51.42
8th Kai-Nicolas Steimer: 51.75
9th Leonard Nika: 52.27
10th Peter Weidert: 53.23
11th Dylan Frick: 53.24
12th Davide Ionico: 53.40
13th Paul Jackson: 53.65
14th Titouan Puyo: 54.45
15th Eric Terrien: 54.77
16th Paolo Marconi: 55.30
17th Khader Ashoor: 55.50
18th Belar Diaz: 55.80
19th Greg Closier: 56.25
20th Christoph Salmhofer 56.26
(Note: Two of the top contenders, Georges Cronsteadt and Chase Kosterlitz, chose to sit out the time trial in order to focus on tomorrow's main event)
Lost Mills: "The Fastest Paddler On Earth" 200m time trial – Women's Final
1st Lina Augaitis: 0:59.90
2nd Angie Jackson: 1:00.60
3rd Manca Notar: 1:00.90
4th Sonni Hönscheid: 1:02.35
5th Noelani Sach: 1:05.00
6th Laura Quetglas: 1:06.69
7th Silvia Mecucci: 1:09.55
8th Sonja Duschek: 1:10.10
9th Marion Rappl: 1:12.50
10th Anja Gentzsch: 1:28.95
The race literally just finished moments ago, but thanks to our man on the ground in Germany, Peter Steinfath (Casper's little bro), we're getting minute-by-minute updates and results.
Also don't forget we're gonna have live, play-by-play updates from tomorrow's 18km distance race… That one starts at 2:30pm German time (10:30pm Australia, 8:30am Florida, 5:30am Cali)
---
The Lost Mills marks week #6 in our Euro Tour campaign. This is the big one. The main event. Europe's premiere SUP race. It's going to be a huge weekend in Bavaria, so stay tuned to SUPracer.com all day Friday and Saturday for live updates.