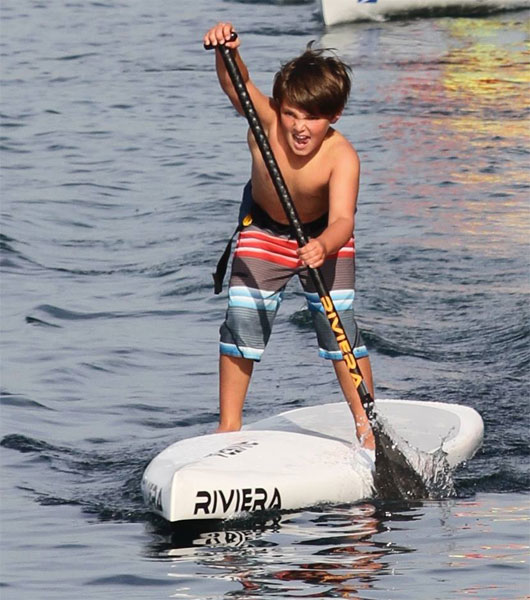 February 22, 2014
by Christopher Parker (@wheresbossman)
[RESULTS] Lanakila Classic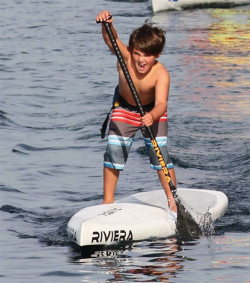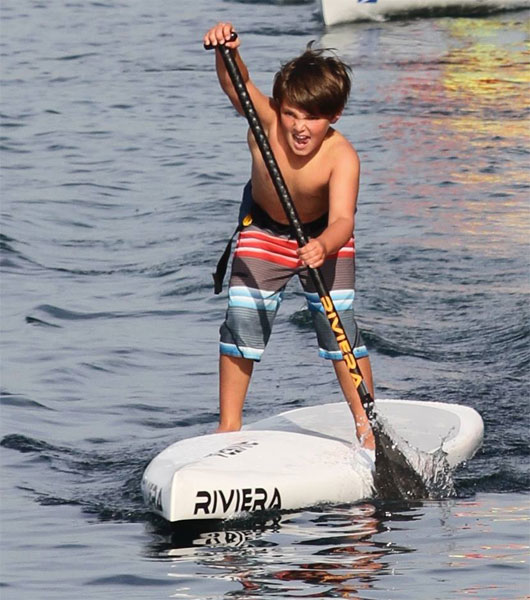 The latest stop of the SoCal Race Series, the Lanakila Classic, was held in Redondo today. In a repeat of the previous SoCal race (Hal Rosoff) it was Thomas Maximus taking line honours on his unlimited board and Spaniard-turned-Californian Belar Diaz beating the locals to claim the competitive 14 foot class. The Spaniard has been on a bit of a roll lately and will no doubt be looking to turn that form into a medal at the upcoming ISA Worlds in Nicaragua.
Meanwhile over in the women's race it was Brandi Baksic all the way, with the San Clemente local finishing five minutes clear. However the pic of the day belongs to Rob Rojas' son Conrad, who clearly gave it all as he crossed the line (see above).
Full results below via PaddleGuru.com while there's plenty more pics up on Facebook thanks to OnIt Pro.
Note: The official results have a few mistakes… but we do know the top six finishers in the 14′ class were:
1) Belar Diaz
2) Garrit Barth
3) Ryan Murphy
4) Rob Rojas
5) Brendan Light
6) Taylor Rambo
*****
2014 Lanakila Classic SUP Race Results
Click "M/F" to switch between men's and women's results
Click "Class" to show results from the different board classes
Click "Time" to reset the results…

| # | M/F | Name | Time | Class | # | Division |
| --- | --- | --- | --- | --- | --- | --- |
| 1 | M | Thomas Maximus | 0:44:17 | Unlim | 1 | Masters 40-49 |
| 2 | M | Belar Diaz | 0:46:35 | 14' | 1 | Open 20-39 |
| 3 | M | Garrit Barth | 0:46:38 | 14' | 2 | Open 20-39 |
| 4 | M | Ryan Murphy | 0:47:06 | 14' | 3 | Open 20-39 |
| 5 | M | Brendan Light | 0:47:35 | 14' | 4 | Open 20-39 |
| 6 | M | Clayton Walking Eagle | 0:48:08 | Unlim | 2 | Open 20-39 |
| 7 | M | Rob Rojas | 0:48:20 | 14' | 5 | Masters 40-49 |
| 8 | M | Taylor Rambo | 0:49:13 | 14' | 6 | Open 20-39 |
| 9 | M | Karl Ring | 0:49:53 | 12'6 | 1 | Masters 40-49 |
| 10 | M | Brandon Rambo | 0:49:55 | 12'6 | 2 | Open 20-39 |
| 11 | M | Jeramie Vaine | 0:50:02 | 12'6 | 3 | Open 20-39 |
| 12 | M | Evan Hibbard | 0:50:03 | 14' | 7 | U19 |
| 13 | M | Daniel Russell | 0:50:16 | 12'6 | 4 | U19 |
| 14 | M | Mike Vaughan | 0:50:29 | 14' | 8 | Masters 40-49 |
| 15 | M | Keith Meter | 0:50:38 | 12'6 | 5 | Masters 40-49 |
| 16 | M | Dale Marnati | 0:50:41 | 14' | 9 | Golden Masters 60+ |
| 17 | F | Brandi Baksic | 0:51:06 | F12'6 | 1 | Masters 40-49 |
| 18 | M | Mark Christman | 0:51:13 | Unlim | 3 | Masters 40-49 |
| 19 | M | James Donovan | 0:51:24 | 14' | 10 | Open 20-39 |
| 20 | M | Peter Deavila | 0:52:07 | 14' | 11 | Masters 40-49 |
| 21 | M | Patrick O'hea | 0:52:25 | 14' | 12 | Open 20-39 |
| 22 | M | Andew Mencinsky | 0:52:26 | 14' | 13 | Masters 40-49 |
| 23 | M | Donald Preston | 0:52:31 | 12'6 | 6 | Open 20-39 |
| 24 | M | David Meyler | 0:52:38 | 12'6 | 7 | Masters 40-49 |
| 25 | M | Brad Fyffe | 0:52:46 | 12'6 | 8 | Open 20-39 |
| 26 | M | John Goodman | 0:53:51 | 14' | 14 | Sr. Masters 50+ |
| 27 | M | Richard Davidson | 0:54:31 | 14' | 15 | Golden Masters 60+ |
| 28 | M | Gene Smith | 0:55:00 | 12'6 | 9 | Sr. Masters 50+ |
| 29 | M | Mark Miyamoto | 0:56:13 | 12'6 | 10 | Open 20-39 |
| 30 | M | Ian Light | 0:56:20 | 12'6 | 11 | U16 |
| 31 | M | Michael Sammis | 0:56:20 | 14' | 16 | Sr. Masters 50+ |
| 32 | M | John Gossett | 0:56:35 | 14' | 17 | Sr. Masters 50+ |
| 33 | F | Antoinette Cocco | 0:56:55 | F12'6 | 2 | Open 20-39 |
| 34 | M | Matt Chebatoris | 0:56:56 | 12'6 | 12 | Masters 40-49 |
| 35 | F | Sarah Messina | 0:56:57 | F12'6 | 3 | Open 20-39 |
| 36 | M | Ryland Hart | 0:58:06 | 12'6 | 13 | U16 |
| 37 | M | Pat Ryan | 0:59:33 | 14' | 18 | Golden Masters 60+ |
| 38 | F | Shae Foudy | 1:02:10 | F12'6 | 4 | U16 |
| 39 | F | Holly Mcmullen | 1:02:27 | F12'6 | 5 | Open 20-39 |
| 40 | F | Jennifer Humboldt | 1:03:34 | F12'6 | 6 | Masters 40-49 |
| 41 | M | Mike Guerrero | 1:04:58 | 12'6 | 14 | Sr. Masters 50+ |
| 42 | M | Chris Koerner | 1:06:00 | Surf | 1 | Sr. Masters 50+ |
| 43 | F | Jill Johnson | 1:06:05 | F12'6 | 7 | Masters 40-49 |
| 44 | F | Erika Benitez | 1:08:15 | F12'6 | 8 | U16 |
| 45 | M | Richard Briant | 1:08:16 | Surf | 2 | Masters 40-49 |
| 46 | M | Craig Hibbard | 1:08:31 | 14' | 19 | Sr. Masters 50+ |
| 47 | F | Lexi Alston | 1:08:33 | F12'6 | 9 | U16 |
| 48 | F | Conrad Andrea | 1:09:26 | F12'6 | 10 | Masters 40-49 |
| 49 | M | John Hackbart | 1:11:46 | 14' | 20 | Masters 40-49 |
| 50 | M | Sam Michel | 1:12:49 | 14' | 21 | Open 20-39 |
| 51 | M | Rusty Doms | 1:12:54 | 14' | 22 | Golden Masters 60+ |
| 52 | M | Matt Schneider | 1:13:18 | 12'6 | 15 | Open 20-39 |
| 53 | M | Redy Baisa | 1:13:27 | 12'6 | 16 | Sr. Masters 50+ |
| 54 | F | Belah Ellis | 1:14:06 | F12'6 | 11 | U16 |
| 55 | M | Noam Elroi | 1:14:45 | 12'6 | 17 | U16 |
| 56 | F | Michelle Gierst | 1:16:47 | F14' | 1 | Sr. Masters 50+ |
| 57 | M | Jeremy Godokiss | 1:16:48 | 14' | 23 | Open 20-39 |
| 58 | F | Amy Ehrenkranz | 1:17:57 | F12'6 | 12 | Sr. Masters 50+ |