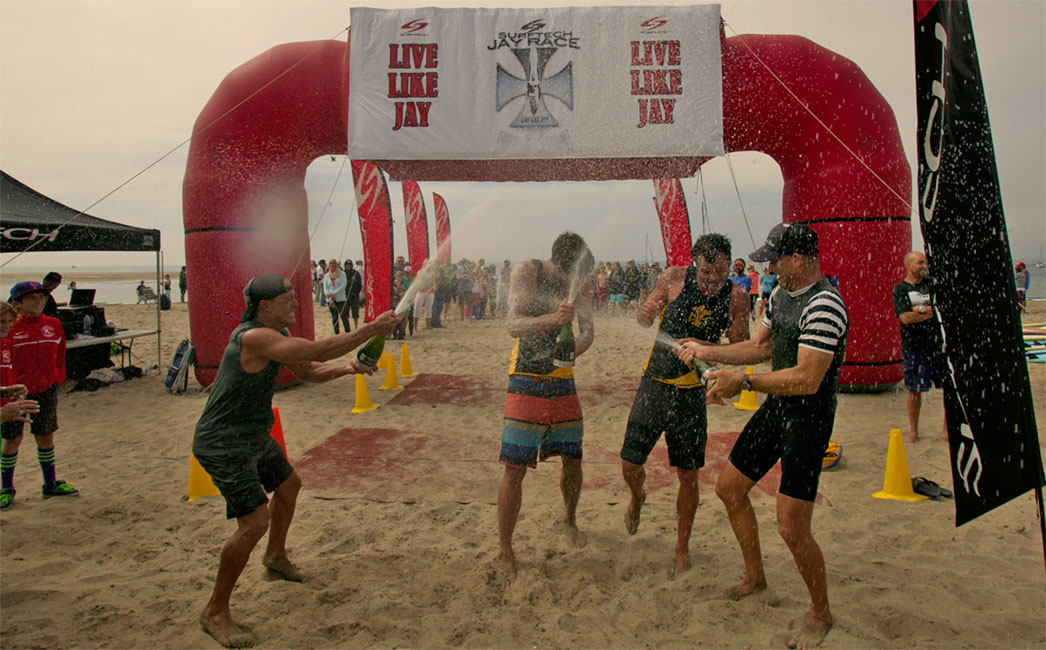 RESULTS: Morgan Hoesterey And Matt Becker Win The Jay Race In Santa Cruz
While much of the world was watching Idaho and Germany on the weekend, another favourite race was happening over in California. The Surftech Jay Race an annual race that honours the memory of Jay Moriarity and promote the culture of paddleboarding. The event has become a bit of an institution and this year drew 150 odd paddlers, including almost 100 SUPs.
Matt Becker and Morgan Hoesterey were the fastest around the long course. Quite fitting that Matt took the win, seeing the guy is one of the new young chargers out at Mavericks (mirroring the late, great Jay Moriarity).
We'll have some great pics from the water up soon. In the meantime here are the full results from the long course SUP race…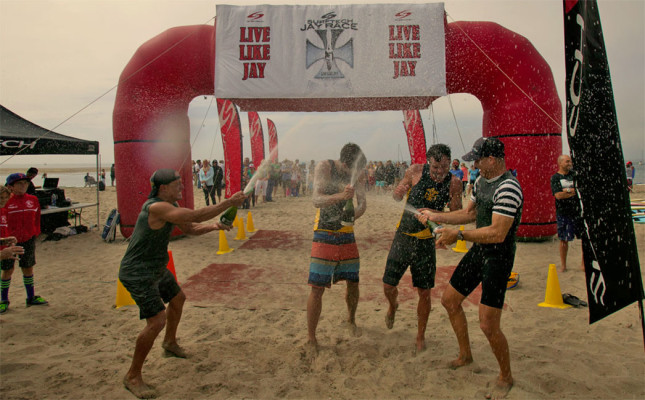 2014 Surftech Jay Race RESULTS
| # | Name | Time | Class | # | Division | # | Age |
| --- | --- | --- | --- | --- | --- | --- | --- |
| 1 | Keith Meter | 2:04:16 | Men's 12'6 | 1 | Open | 1 | 43 |
| 2 | Matt Becker | 1:54:15 | Men's 14' | 1 | Open | 1 | 19 |
| 3 | Jarkko Simonen | 1:56:15 | Men's 14' | 2 | Open | 2 | 35 |
| 4 | Jimmy Spithill | 1:59:21 | Men's 14' | 3 | Open | 3 | 34 |
| 5 | Bojan Bernard | 1:59:26 | Men's 14' | 4 | 50+ | 1 | 52 |
| 6 | Rob Graham | 2:00:56 | Men's Unlimited | 1 | Open | 1 | 49 |
| 7 | Rand Cater | 2:01:35 | Men's 14' | 5 | 50+ | 2 | 50 |
| 8 | Seth Springer | 2:03:16 | Men's 14' | 6 | Open | 4 | 37 |
| 9 | Robi Rousset | 2:04:44 | Men's 14' | 7 | Open | 5 | 28 |
| 10 | Nevvar Hickmet | 2:04:48 | Men's 14' | 8 | Open | 6 | 47 |
| 11 | Grant McFadyen | 2:04:49 | Men's 14' | 9 | Open | 7 | 45 |
| 12 | Joel Comer | 2:05:34 | Men's 14' | 10 | 50+ | 3 | 50 |
| 13 | Brad Seyffer | 2:06:01 | Men's 14' | 11 | Open | 8 | 41 |
| 14 | John Alexiou | 2:06:18 | Men's 14' | 12 | Open | 9 | 48 |
| 15 | Mike Irete | 2:06:55 | Men's 14' | 13 | Open | 10 | 46 |
| 16 | Patrick O'Hea | 2:07:31 | Men's 14' | 14 | Open | 11 | 38 |
| 17 | Mark Christman | 2:08:02 | Men's Unlimited | 2 | Open | 2 | 45 |
| 18 | Jay Gomez | 2:08:16 | Men's 14' | 15 | Open | 12 | 37 |
| 19 | Morgan Hoesterey | 2:08:38 | Women's 12'6 | 1 | Open | 1 | 33 |
| 20 | Andrew Mecinsky | 2:09:14 | Men's 14' | 16 | Open | 13 | 47 |
| 21 | Dax Willard | 2:10:52 | Men's 14' | 17 | Open | 14 | 35 |
| 22 | Renick Woods | 2:11:40 | Men's 14' | 18 | Open | 15 | 39 |
| 23 | Austin Schoeneman | 2:12:18 | Men's 14' | 19 | Open | 16 | 22 |
| 24 | Steve Chrapchynski | 2:14:00 | Men's 14' | 20 | Open | 17 | 43 |
| 25 | Scott Estrada | 2:14:28 | Men's 14' | 21 | Open | 18 | 46 |
| 26 | Fred Anderson | 2:15:48 | Men's 14' | 22 | 50+ | 4 | 62 |
| 27 | Geoff James | 2:16:43 | Men's 14' | 23 | 50+ | 5 | 51 |
| 28 | Jennifer Fuller | 2:16:56 | Women's 12'6 | 2 | 50+ | 1 | 51 |
| 29 | John Walsh | 2:17:46 | Men's 12'6 | 2 | Open | 2 | 38 |
| 30 | Scott Cheney | 2:18:16 | Men's 12'6 | 3 | 50+ | 1 | 51 |
| 31 | Heivarii Atamu | 2:18:26 | Men's 12'6 | 4 | Under 18 | 1 | 16 |
| 32 | Peter Phelan | 2:18:28 | Men's 14' | 24 | Open | 19 | 41 |
| 33 | Matt Evarts | 2:18:33 | Men's 14' | 25 | Open | 20 | 43 |
| 34 | Dave Harris | 2:18:58 | Men's 12'6 | 5 | 50+ | 2 | 59 |
| 35 | Kali'a Alexiou | 2:19:00 | Women's 12'6 | 3 | Under 18 | 1 | 13 |
| 36 | David Swidan | 2:19:48 | Men's 14' | 26 | Open | 21 | 45 |
| 37 | Stephen Pugh | 2:20:08 | Men's 14' | 27 | 50+ | 6 | 56 |
| 38 | Jean-Michel Trivi | 2:20:30 | Men's 14' | 28 | Open | 22 | 43 |
| 39 | Kyle Wade | 2:20:31 | Men's 14' | 29 | Open | 23 | 49 |
| 40 | Haakon Hoyer Nielsen | 2:20:34 | Men's 12'6 | 6 | Under 18 | 2 | 14 |
| 41 | Tai Boutell | 2:20:40 | Men's 14' | 30 | Open | 24 | 44 |
| 42 | Dave Rundio | 2:22:38 | Men's 14' | 31 | Open | 25 | 41 |
| 43 | Nick Vivar | 2:23:45 | Men's 14' | 32 | 50+ | 7 | 50 |
| 44 | Derek Burns | 2:23:53 | Men's 14' | 33 | Open | 26 | 49 |
| 45 | Tim Martin | 2:24:04 | Men's 14' | 34 | Open | 27 | 47 |
| 46 | Ruben Sanchez | 2:24:39 | Men's 12'6 | 7 | Open | 3 | 44 |
| 47 | Don Potter | 2:25:02 | Men's 14' | 35 | Open | 28 | 47 |
| 48 | Timothy Stienne | 2:25:19 | Men's 14' | 36 | Open | 29 | 30 |
| 49 | Joe Quinn | 2:26:20 | Men's 14' | 37 | Open | 30 | 48 |
| 50 | Rune Hoyer Nielsen | 2:26:46 | Men's 12'6 | 8 | Open | 4 | 43 |
| 51 | Wendy Ackermann | 2:27:04 | Women's 12'6 | 4 | Open | 2 | 48 |
| 52 | Lincoln West | 2:27:08 | Men's 14' | 38 | 50+ | 8 | 50 |
| 53 | Andy Colehower | 2:27:28 | Men's 14' | 39 | Open | 31 | 45 |
| 54 | Daniel Gutgesell | 2:27:42 | Men's 12'6 | 9 | Open | 5 | 43 |
| 55 | Steve Smith | 2:28:21 | Men's 12'6 | 10 | 50+ | 3 | 58 |
| 56 | Brian Williams | 2:28:23 | Men's 14' | 40 | Open | 32 | 41 |
| 57 | Erich Diekmann | 2:28:57 | Men's 12'6 | 11 | Open | 6 | 44 |
| 58 | Randy Lindsey | 2:30:13 | Men's 12'6 | 12 | Open | 7 | 34 |
| 59 | Michael Dillon | 2:31:38 | Men's 14' | 41 | 50+ | 9 | 62 |
| 60 | Chris Cole | 2:32:41 | Men's 14' | 42 | Open | 33 | 48 |
| 61 | Kristine Hamrick | 2:33:04 | Women's 12'6 | 5 | Open | 3 | 49 |
| 62 | Kate Dowling | 2:33:23 | Women's 12'6 | 6 | 50+ | 2 | 51 |
| 63 | Bruce Walters | 2:34:43 | Men's 12'6 | 13 | 50+ | 4 | 54 |
| 64 | Juerg Geser | 2:35:31 | Men's 14' | 43 | Open | 34 | 44 |
| 65 | Jim Claussen | 2:36:49 | Men's 14' | 44 | Open | 35 | 45 |
| 66 | Jason Alaniz | 2:37:25 | Men's 12'6 | 14 | Open | 8 | 46 |
| 67 | Michael Kerbyson | 2:40:07 | Men's 14' | 45 | Open | 36 | 47 |
| 68 | Burleigh Cooper | 2:40:25 | Men's 14' | 46 | Open | 37 | 39 |
| 69 | Ken Radliff | 2:40:42 | Men's 12'6 | 15 | 50+ | 5 | 53 |
| 70 | Gilbert Garcia | 2:40:44 | Men's 14' | 47 | 50+ | 10 | 53 |
| 71 | Billy Demartini | 2:41:59 | Men's Unlimited | 3 | Open | 3 | 29 |
| 72 | Eden Samuels | 2:42:32 | Men's 12'6 | 16 | 50+ | 6 | 62 |
| 73 | Valerie Kchachadourian | 2:44:48 | Women's 12'6 | 7 | 50+ | 3 | 52 |
| 74 | Francine Tone | 2:45:35 | Women's 12'6 | 8 | 50+ | 4 | 58 |
| 75 | Mark Sessler | 2:45:47 | Men's 14' | 48 | Open | 38 | 44 |
| 76 | Mark Craig | 2:46:51 | Men's 14' | 49 | Open | 39 | 46 |
| 77 | Daniel Nutt | 2:47:43 | Men's 14' | 50 | 50+ | 11 | 58 |
| 78 | Vince Felicetta | 2:48:04 | Men's 12'6 | 17 | Open | 9 | 48 |
| 79 | Alex Groswird | 2:50:06 | Men's 14' | 51 | 50+ | 12 | 60 |
| 80 | Jeremy Taylor | 2:52:40 | Men's 12'6 | 18 | Open | 10 | 38 |
| 81 | Nicole Harris | 2:53:45 | Women's 14' | 1 | Open | 1 | 46 |
| 82 | Steve Harris | 2:53:46 | Men's 14' | 52 | Open | 40 | 46 |
| 83 | Helen Cooper | 2:54:33 | Women's 12'6 | 9 | Open | 4 | 33 |
| 84 | Phil Storrer | 3:02:01 | Men's 14' | 53 | 50+ | 13 | 68 |
| 85 | Roshan Todd | 3:10:20 | Women's 14' | 2 | Open | 2 | 39 |
| 86 | Hunter Gallacher | 3:10:57 | Men's 12'6 | 19 | Open | 11 | 32 |
| 87 | Jessica Neafsey | 3:14:52 | Women's 12'6 | 10 | Open | 5 | 35 |