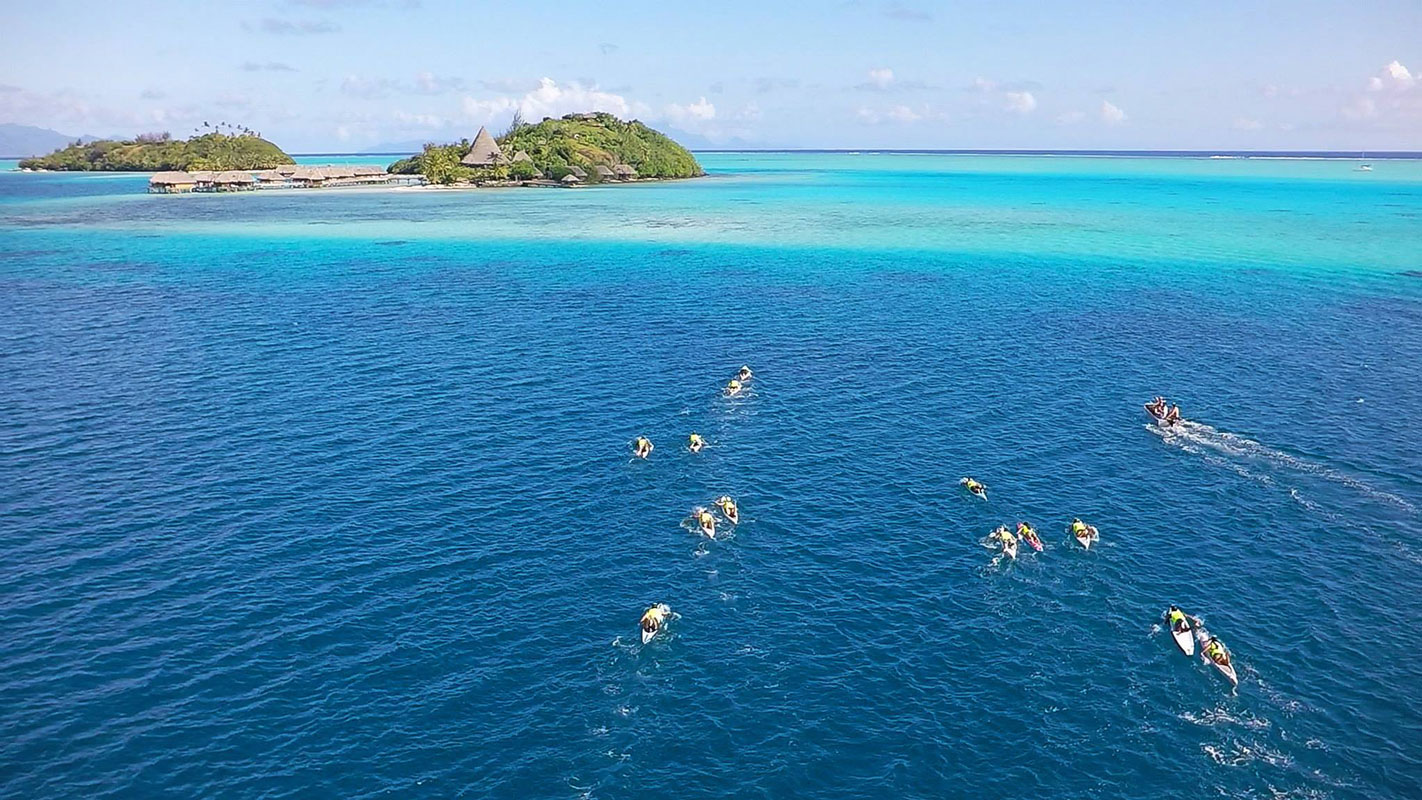 December 10, 2014
by Christopher Parker (@wheresbossman)
13 Awesome Aerial Photos That Reveal The Beauty (And Hide The Pain) Of Bora Bora's "Ironmana" Race
Last week I was privileged to spend a week on Bora Bora – the iconic island getaway that everybody is familiar with from every single travel show ever. Though it wasn't sipping cocktails and relaxing on the beach, instead my time on the island was a series of punishing ocean races known as the Bora Bora Liquid Festival, aka Ironmana.
The Ironmana race is painful – at times downright miserable – but also oddly rewarding. There's a slight sense of accomplishment in having survived the series of brutal swim, run, prone and stand up paddling events that our enigmatic leader Stephan spontaneously threw at us.
The fact we were in absolute paradise also helped.
So to give you an insight into the beautiful chaos of Ironmana, here are 13 awesome aerial images that tell the story of the event. Of course everything looks good from a drone, but when you combine a drone with an actual paradise location, it's downright awesome.
This is the work of TahitiFlyShoot, which is manned by renowned ocean photographer Tim McKenna. I believe these photos are actually stills from the drone video that's currently in production, so definitely keep an eye out for that.
Note: These images totally mask the pain we were all feeling and actually make Ironmana look like fun. Don't be fooled.
#1: Our playground…
#2: The time they made us line up at 6am and then paddle 32km even though it was already really, really hot…
#3: The finish line out front of the host venue, the Sofitel Bora Bora Marara Beach resort…
#4: The resort's "Private Island" that acted as the world's largest buoy turn…
#5: The distant peak in the middle of Bora Bora, from which the mountain gods laughed at our pain…
#6: The whacky relay race, which included an all-aboard prone leg… perhaps a new sport was born…
#7: The time we proned it for 10 kilometres… I was using an inflatable SUP by the way…
#8. The iconic water bungalows that Bora Bora is famous for…
#9. The time we went swimming with sharks…
#10. The crazy Tahitian warriors that made us feel really, really slow, such as the SUP marathon winner Nuihiti Buillard…
#11. The time we had to swim for 6 kilometres… which actually wasn't so bad considering where we were…
#12. The time they made us run… and swim… and SUP… and prone… all in one race…
#13. I don't think this one needs words.