April 21, 2014
by Christopher Parker (@wheresbossman)
Georges Cronsteadt Dominates Tahiti's "Iron SUP" Race Before Jetting Off To Carolina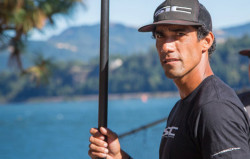 Tahiti's infamous Iron SUP race was held again on the weekend weekend. For those unfamiliar, this is an event that combines swimming, running and Stand Up Paddling (like an Ironman race but with SUP instead of bike) in what must be a fairly brutal experience. This year the triathlon-style race included a 2k swim, 3k run and 4k SUP on Friday, before following up with an 8km course race on Saturday and a 15km Distance event on Sunday.
Unsurprisingly it was Georges Cronsteadt, Tahiti's most recognisable paddler and a guy I rate as one of the best in the world, who took out the event. Though looking through the results Georges clearly had plenty of competition. Just check out the times in the distance race: For example Rete Ebb crossed the line only a few seconds after Georges. I'd never heard of Rete either, but turns out he's actually Georges' cousin and also happens to be world champion in long distance V1 racing (rudderless outrigger canoeing). Not a bad résumé.
So yeah, there's some talent in Tahiti that's for sure. Kinda scary to think what would happen if we all the Aussie/Hawaiian/American/European paddlers went to Tahiti for a big race (hint: most of us would get smoked). It's probably a good thing that outrigger canoeing is so insanely popular in Tahiti – that's the only thing keeping all these uber-talented paddlers from crossing over and focusing on stand up.
As Georges himself told me today:
"We have many talented paddlers here but they all focus on the six man and one man rudderless outrigger! However they are starting to practice SUP now…. I give it one or two years and they will all be coming to the international SUP races!"
But anyway back to the race: The Iron SUP was a valuable hit out for Georges as the SIC team rider will be hopping on a plane to the USA tomorrow, where he'll be up against the likes of Danny, Travis and Connor in the big Carolina Cup. It's been a swift comeback for the 33-year-old, who dramatically shattered his ankle during last year's Battle of the Paddle (when he was one of the hot favourites) and had to stay off the water for months. Georges seems to be back in his old from now though and will probably start as one of the three or four leading contenders this weekend.
On a side note: How brutal is this Iron SUP race format?! The whole swim/run/paddle thing sounds very punishing but could be a very cool new style of SUP racing. The Tahitians seem to love it, if anyone remembers that Ironmana video from a couple of months ago you'll know what I mean.
Anyway here are all the results and if you want some pics there are plenty on Facebook.
Long Distance Race

Slalom Course Race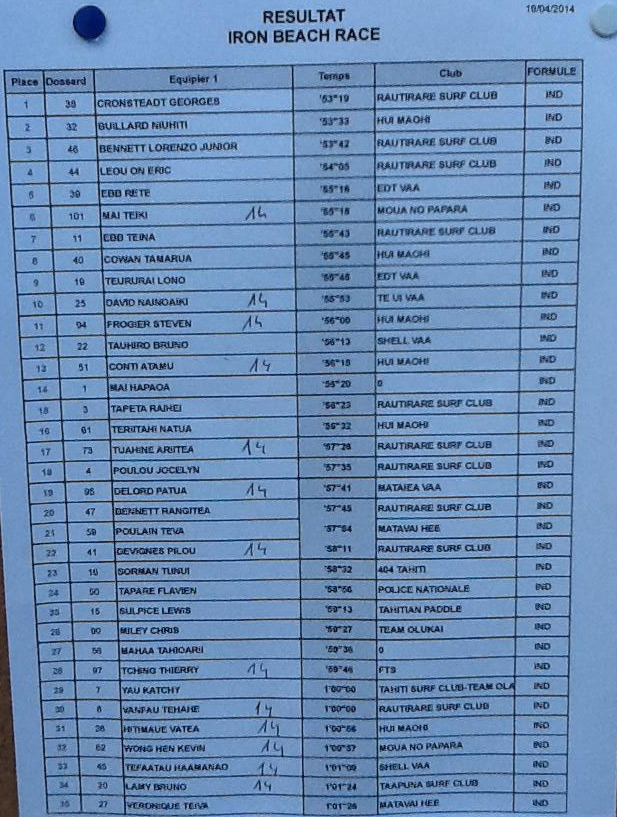 Swim/Run/SUP Race