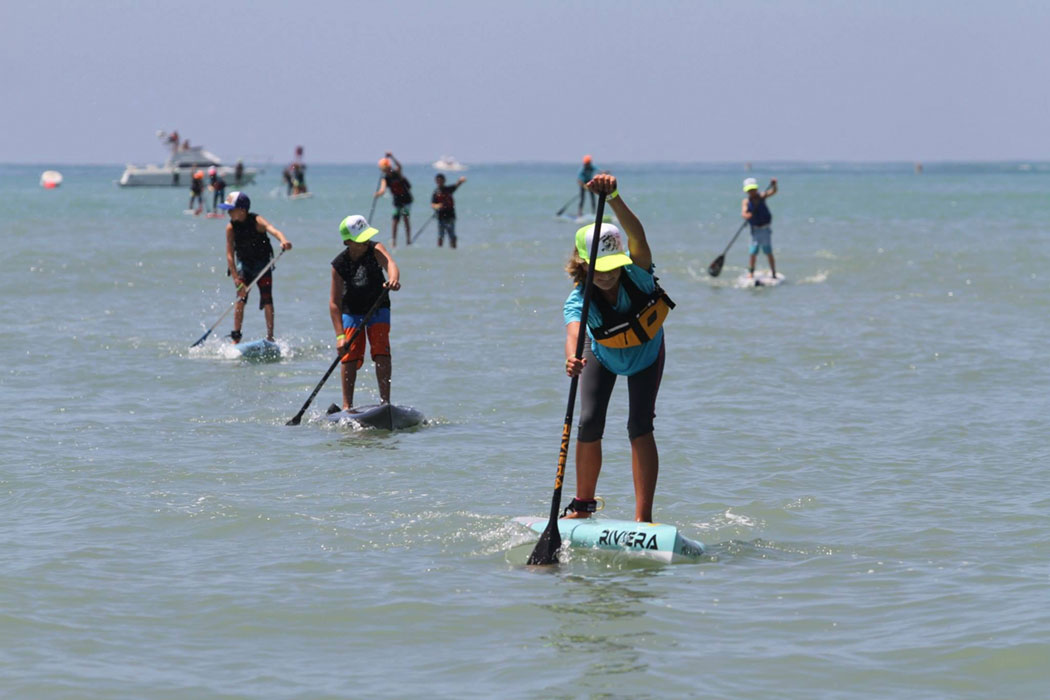 May 31, 2014
by Christopher Parker (@wheresbossman)
Kids Take Centre Stage As Hobie Hennessey's Waterman's Challenge Returns SUP Racing To Doheny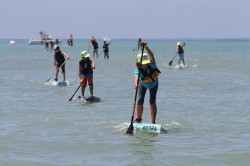 Earlier today a small but classy field of paddlers descended on one of SUP racing's traditional homes, Doheny State Beach in Dana Point, California. The 2014 Hobie Hennessey's Waterman's Challenge was a two-race event, combining a 5 miler with an elite surf race to crown the overall winners.
Conditions were picture perfect for a SUP race, with sunny skies, dead calm wind and small but fun waves peeling into Doheny. Kind of a shame we have to leave this place in October…
So after combining results from the two disciplines, Anthony Vela and Candice Appleby came out on top. There were also solid performances from the likes of Brandi Baksic, Team USA star Shae Foudy, Sean Pangelinan and Ryan Murphy (edit: and Brennan Rose/Javier Jimenez).
However from all reports the highlight was the kids' racing, where a bunch of very enthusiastic groms blazed around the course in a showcase of SUP racing's future. The Paddle Acacemy's GromChallenge race actually came close to drawing the biggest field of the day, with 29 boys and girls making it look easy and reminding us older paddlers that our time is almost through.
Oh and I also saw a few cool pics of Mexico's rising star, Javier "Bicho" Jimenez and Brennan Rose near the pointy end of the men's surf race, however they're not in the results… not sure why.
UPDATE: Seems like Bicho and Brennan were leading the 5 miler but took the wrong course and were DQ'd. They still raced in the surf race and finished 1-2 there as well, however they weren't in contention for the overall results you see below. But DQ or not, these guys have been in fine form lately, particularly Bicho… Now that everyone knows Titouan Puyo's name, perhaps Javier Jimenez will take over his role as "World's #1 Dark Horse"?
Anyway there's a whole stack of really good photos up on Facebook thanks to Riviera's Mike Muir.
A selection of the finest below…
(scroll down for full results)
---
Not sure if the overall results were based on combined times or combined points (coz AV and Candice would have either way), but anyway here are the results from each race. Click on "5 Miler" or "Surf Race" to show results from each race, or click "Combined" to see who had the fastest overall times.
Hobie Hennessey's Waterman's Challenge

| # | Name | COMBINED | 5 Miler | Surf Race | Age |
| --- | --- | --- | --- | --- | --- |
| 1 | Anthony Vela | 1:11:45 | 0:54:59 | 0:16:45 | 18-39 |
| 2 | Sean Pangelinan | 1:12:05 | 0:54:44 | 0:17:21 | 18-39 |
| 3 | Ryan Murphy | 1:12:27 | 0:54:44 | 0:17:43 | 18-39 |
| 4 | Noa Hopper | 1:12:51 | 0:55:01 | 0:17:50 | U17 |
| 5 | Karl Ring | 1:13:23 | 0:55:27 | 0:17:56 | 40-49 |
| 6 | Dave Boehne | 1:13:38 | 0:55:43 | 0:17:55 | 18-39 |
| 7 | Colin McPhillips | 1:14:46 | 0:57:46 | 0:16:59 | 18-39 |
| 8 | Brian Haag | 1:15:11 | 0:56:40 | 0:18:31 | 18-39 |
| 9 | Byron Kurt | 1:15:33 | 0:57:09 | 0:18:25 | 50+ |
| 10 | Brendan Light | 1:15:39 | 0:57:20 | 0:18:20 | 18-39 |
| 11 | Chris Boland | 1:16:41 | 0:57:49 | 0:18:52 | 50+ |
| 12 | Jedd Hasay | 1:17:05 | 0:58:31 | 0:18:34 | 18-39 |
| 13 | Yann Lauletta | 1:17:07 | 0:58:35 | 0:18:32 | 18-39 |
| 14 | Mark Miyamoto | 1:17:26 | 0:58:49 | 0:18:38 | 18-39 |
| 15 | Nick Scheel | 1:18:53 | 0:58:56 | 0:19:57 | U17 |
| 16 | EJ Johnson | 1:20:28 | 0:59:52 | 0:20:36 | 50+ |
| 17 | Darren Del Monico | 1:21:01 | 1:01:17 | 0:19:43 | 40-49 |
| 18 | Steve Funk | 1:21:04 | 1:00:33 | 0:20:31 | 40-49 |
| 19 | Donald Preston | 1:21:26 | 1:01:13 | 0:20:13 | 18-39 |
| 20 | Scott Rose | 1:22:08 | 1:01:48 | 0:20:20 | 40-49 |
| 21 | Ryan Knysh | 1:25:32 | 1:04:34 | 0:20:59 | 18-39 |
| 22 | Dylan Goode | 1:25:43 | 1:04:39 | 0:21:04 | U17 |
| 23 | Myles Blazer | 1:27:10 | 1:06:23 | 0:20:47 | U17 |
| 24 | Kyle O'Kelly | 1:41:33 | 1:18:36 | 0:22:57 | 40-49 |
| 25 | Daniel Russell | n/a | 0:55:30 | DNS | U17 |
| 26 | Mark Raaphorst | n/a | 1:00:30 | DNS | 40-49 |
| 27 | Mace Camhe | n/a | 1:00:53 | DNS | 40-49 |
| 28 | Alic Funk | n/a | 1:05:20 | DNS | 18-39 |
| 29 | Ted Canedy | n/a | 1:19:38 | DNS | 40-49 |
| 30 | Erik Alston | n/a | 1:23:24 | DNS | 40-49 |
Hobie Hennessey's Waterwoman's Challenge

| # | Name | COMBINED | 5 Miler | Surf Race | Age |
| --- | --- | --- | --- | --- | --- |
| 1 | Candice Appleby | 1:18:22 | 0:58:26 | 0:19:55 | 18-39 |
| 2 | Brandi Baksic | 1:20:07 | 0:59:26 | 0:20:42 | 40-49 |
| 3 | Shae Foudy | 1:20:08 | 0:59:25 | 0:20:42 | 18-39 |
| 4 | Kelsa Gabehart | 1:24:54 | 1:02:44 | 0:22:10 | 18-39 |
| 5 | Alleanna Clark | 1:26:41 | 1:04:14 | 0:22:27 | U17 |
| 6 | Kristin Thomas | n/a | 1:04:19 | DNS | 50+ |
| 7 | Erica Santos | n/a | 1:16:12 | DNS | 40-49 |
| 8 | Jenny Gibbons | n/a | 1:16:35 | DNS | 40-49 |
Paddle Academy's WaterGrom Challenge

| # | Name | Time | Boy/Girl | Age |
| --- | --- | --- | --- | --- |
| 1 | Nick Scheel | 0:08:33 | Boy | 15-17 |
| 2 | Max Fleming | 0:08:34 | Boy | 15-17 |
| 3 | Ryan Funk | 0:09:07 | Boy | 12-14 |
| 4 | Tyler Bashor | 0:09:14 | Boy | 12-14 |
| 5 | Ryan Maloney | 0:09:17 | Boy | 15-17 |
| 6 | Trevor Bashor | 0:09:27 | Boy | 15-17 |
| 7 | Peter Shoemaker | 0:09:40 | Boy | 15-17 |
| 8 | Kai Mcphillips | 0:09:40 | Boy | 9-11 |
| 9 | Erika Benitez | 0:09:45 | Girl | 12-14 |
| 10 | Christine Shoemaker | 0:09:56 | Girl | 12-14 |
| 11 | Alleanna Clark | 0:10:04 | Girl | 15-17 |
| 12 | Lexi Alston | 0:10:22 | Girl | 12-14 |
| 13 | Maya Robilio | 0:10:23 | Girl | 9-11 |
| 14 | Alexandria Higginson | 0:10:39 | Girl | 9-11 |
| 15 | Tai Diggins | 0:10:46 | Boy | 9-11 |
| 16 | Keagan Lamar | 0:10:51 | Boy | 9-11 |
| 17 | Dane Hillis | 0:10:52 | Boy | 9-11 |
| 18 | Jade Howson | 0:10:57 | Girl | 9-11 |
| 19 | Dax Mcphillips | 0:11:08 | Boy | 9-11 |
| 20 | Cole Vander Broek | 0:11:33 | Boy | 12-14 |
| 21 | Darcy Forcier | 0:12:04 | Girl | 12-14 |
| 22 | Belah Ellis | 0:12:20 | Girl | 9-11 |
| 23 | Carter Vander Broek | 0:12:25 | Boy | 8 & Under |
| 24 | Gavin Mencinsky | 0:12:32 | Boy | 9-11 |
| 25 | Malaya Ring | 0:12:33 | Girl | 8 & Under |
| 26 | Jonas Graham | 0:13:28 | Boy | 9-11 |
| 27 | Walker Graham | 0:15:07 | Boy | 8 & Under |
| 28 | Trevor Mencinsky | 0:17:32 | Boy | 8 & Under |
| 29 | Kelly Ann Doody | 0:19:23 | Girl | 12-14 |
Hennessey's 9 Mile Race

| # | Name | Time | Guy/Girl | Class |
| --- | --- | --- | --- | --- |
| 1 | Jack Wygal | 1:15:45 | Guy | SUP 14' |
| 2 | Dale Marnati | 1:20:19 | Guy | SUP 14' |
| 3 | Andew Mencinsky | 1:20:32 | Guy | SUP 14' |
| 4 | Robert Howson | 1:21:22 | Guy | SUP 14' |
| 5 | Ryan Pingree | 1:22:14 | Guy | Prone Stock |
| 6 | Matt Hartnett | 1:24:13 | Guy | SUP 14' |
| 7 | Sean Sullivan | 1:25:46 | Guy | SUP 14' |
| 8 | Mark Pighini | 1:27:29 | Guy | SUP 14' |
| 9 | William Kindel | 1:29:00 | Guy | Prone Unlimited |
| 10 | Steven Beuder | 1:29:12 | Guy | Prone Unlimited |
| 11 | Kerstin Ouellet | 1:29:13 | Girl | SUP 14' |
| 12 | Andrew Mcginnis | 1:30:20 | Guy | SUP 14' |
| 13 | Rene Bruce | 1:34:19 | Guy | SUP 14' |
| 14 | Terri Wargo | 1:37:17 | Girl | SUP 14' |
| 15 | Adam Sandler | 1:45:06 | Guy | Prone Stock |
Fun 3 Mile Race

| # | Name | Time | M/F | Class |
| --- | --- | --- | --- | --- |
| 1 | Rod Loftis | 0:44:38 | Guy | SUP 14' |
| 2 | Tyler Bashor | 0:45:54 | Guy | SUP 12'6" |
| 3 | Rick Stinson | 0:46:32 | Guy | SUP 14' |
| 4 | John Andel | 0:46:51 | Guy | SUP 12'6" |
| 5 | Les Hopper | 0:48:16 | Guy | SUP 14' |
| 6 | Lexi Alston | 0:49:50 | Girl | SUP 12'6" |
| 7 | Cameron Fraser | 0:50:12 | Guy | SUP 12'6" |
| 8 | Jim Jr Jenks | 0:50:23 | Guy | SUP 14' |
| 9 | Kristin Kaczmarek | 0:51:18 | Girl | SUP 12'6" |
| 10 | Chris Cheek | 0:51:48 | Guy | SUP 14' |
| 11 | John Nordin | 0:52:18 | Guy | SUP 12'6" |
| 12 | Susie Hopper | 0:52:30 | Girl | SUP 12'6" |
| 13 | Alley Miesch-nie | 0:53:12 | Girl | SUP 12'6" |
| 14 | Drew Ohlmeyer | 0:54:07 | Guy | SUP 14' |
| 15 | Michael Skelly | 0:54:37 | Guy | SUP Surfboard |
| 16 | Gretchen Benedetto | 0:55:04 | Girl | SUP 12'6" |
| 17 | Jim Wolfe | 0:56:42 | Guy | SUP 12'6" |
| 18 | James Yanoschik | 0:56:49 | Guy | SUP 14' |
| 19 | Kennady Rose | 0:59:27 | Girl | SUP 12'6" |
| 20 | Matt Jenks | 0:59:37 | Guy | SUP Surfboard |
| 21 | Mitch Jenks | 1:04:49 | Guy | SUP Surfboard |
| 22 | Michelle Brislen | 1:05:31 | Girl | SUP 12'6" |
| 23 | Brandon Rootsaert | 1:05:32 | Guy | SUP Surfboard |
| 24 | Kennedy Underwood | 1:06:09 | Girl | SUP 12'6" |
| 25 | Alfredo Fernandez | 1:17:33 | Guy | Prone Unlimited |
(The raw results are up on Paddle Guru)