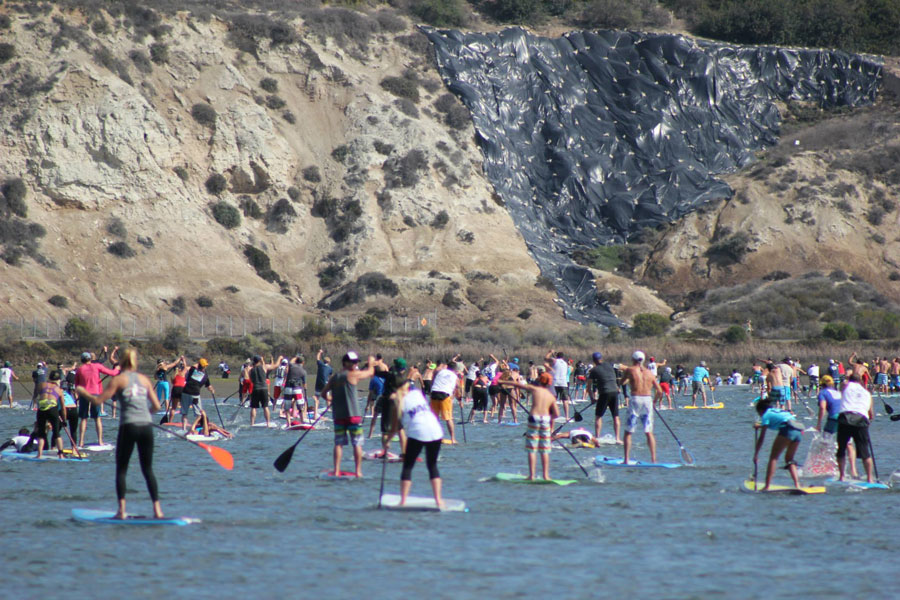 February 9, 2014
by Christopher Parker (@wheresbossman)
[RESULTS] Hundreds Of Paddlers Hit Newport For Annual Hal Rosoff Classic
Hundreds of paddlers hit the water in Southern California yesterday for the annual Hal Rosoff Classic, a much loved race based out of the iconic Newport Aquatic Center. The 2014 edition featured close to 150 stand up paddlers and taking line honours on his unlimited was Thomas Maximus.
Meanwhile in the battle of the 14 footers, Spaniard-turned-SoCal-resident Belar Diaz put in an impressive performance on the brand new Fanatic Falcon flatwater design to claim 1st, ahead of Sean Pangelinan in a sprint to the line. Taylor Rambo and Rob Rojas filled the minor 14′ placings for Team Riviera while Karl Ring was the fastest of the 12'6 board class.
In the women's race, Gail Vento was the quickest on her 14, while Kristin Thomas won the 12'6 division ahead of up-and-coming youngsters Shae Foudy (Under 16) and Alyson Fromm (under 19).
The crew from OnIt Pro have over a thousand photos (seriously) up on Facebook. Here's gallery #1, gallery #2 and gallery #3 (most of the SUP pics are in #3).
Full results below…
---
2014 Hal Rosoff Classic SUP Race Results
Click "Class" or "Division" to filter results by board class / age division
Click "Time" to reset the results
Click here for the raw results (including outrigger and surfski divisions)

| # | M/F | Name | Time | Class | # | Division | # |
| --- | --- | --- | --- | --- | --- | --- | --- |
| 1 | M | Thomas Maximus | 0:35:05 | Unlim | 1 | Masters 40-49 | 1 |
| 2 | M | Belar Diaz | 0:37:06 | 14' | 1 | Open 20-39 | 1 |
| 3 | M | Sean Pangelinan | 0:37:07 | 14' | 2 | Open 20-39 | 2 |
| 4 | M | Taylor Rambo | 0:37:30 | 14' | 3 | Open 20-39 | 3 |
| 5 | M | Rob Rojas | 0:37:37 | 14' | 4 | Masters 40-49 | 1 |
| 6 | M | Dick Deboer | 0:38:33 | Unlim | 2 | Masters 40-49 | 2 |
| 7 | M | Brendan Light | 0:38:37 | 14' | 5 | Open 20-39 | 4 |
| 8 | M | Brent Campbell | 0:38:40 | 14' | 6 | Open 20-39 | 5 |
| 9 | M | Dave Boehne | 0:38:49 | 14' | 7 | Open 20-39 | 6 |
| 10 | M | Jeramie Vaine | 0:39:00 | 14' | 8 | Open 20-39 | 7 |
| 11 | M | Jack Wygal | 0:39:40 | 14' | 9 | Masters 40-49 | 2 |
| 12 | M | Clayton Walking Eagle | 0:40:13 | 14' | 10 | Open 20-39 | 8 |
| 13 | M | Karl Ring | 0:40:18 | 12'6 | 1 | Masters 40-49 | 1 |
| 14 | M | Daniel Russell | 0:40:36 | 12'6 | 2 | U19 | 1 |
| 15 | M | Chad Bashor | 0:40:46 | 14' | 11 | Masters 40-49 | 3 |
| 16 | M | Jeff Warner | 0:41:15 | 14' | 12 | Masters 40-49 | 4 |
| 17 | M | Dale Marnati | 0:41:24 | 14' | 13 | Golden Masters 60+ | 1 |
| 18 | M | Cody Silvester | 0:41:29 | 14' | 14 | Open 20-39 | 9 |
| 19 | M | Nevvar Hickmet | 0:41:30 | 14' | 15 | Masters 40-49 | 5 |
| 20 | M | Patrick O'hea | 0:41:39 | 14' | 16 | Open 20-39 | 10 |
| 21 | F | Gail Vento | 0:41:39 | F14' | 1 | Open 20-39 | 1 |
| 22 | M | Keith Meter | 0:41:41 | 12'6 | 3 | Masters 40-49 | 2 |
| 23 | M | Rick Ranjo | 0:41:43 | 14' | 17 | Masters 40-49 | 6 |
| 24 | M | Brent Pascoe | 0:42:34 | 12'6 | 4 | Open 20-39 | 1 |
| 25 | M | Mace Camhe | 0:42:35 | 14' | 18 | Masters 40-49 | 7 |
| 26 | M | Jayson Campbell | 0:42:36 | 12'6 | 5 | Open 20-39 | 2 |
| 27 | M | Donald Preston | 0:42:42 | 12'6 | 6 | Open 20-39 | 3 |
| 28 | M | Nick Scheel | 0:42:44 | 12'6 | 7 | U16 | 1 |
| 29 | M | David Meyler | 0:43:05 | 12'6 | 8 | Masters 40-49 | 3 |
| 30 | M | Matt Hartnett | 0:43:06 | 14' | 19 | Open 20-39 | 11 |
| 31 | M | Dylan Goode | 0:43:22 | 14' | 20 | U19 | 1 |
| 32 | M | Ron Remeyer | 0:43:31 | 14' | 21 | Sr. Masters 50+ | 1 |
| 33 | M | Andew Mencinsky | 0:43:36 | 14' | 22 | Masters 40-49 | 8 |
| 34 | M | Matt Macarewich | 0:43:44 | Unlim | 3 | Sr. Masters 50+ | 1 |
| 35 | M | Jeremiah Murphy | 0:43:49 | 12'6 | 9 | Masters 40-49 | 4 |
| 36 | M | Ryan Ekedal | 0:43:54 | 14' | 23 | Open 20-39 | 12 |
| 37 | M | Rodney Ellis | 0:43:59 | 12'6 | 10 | Masters 40-49 | 5 |
| 38 | M | Robert Howson | 0:44:02 | 12'6 | 11 | Sr. Masters 50+ | 1 |
| 39 | M | Michael Copley | 0:44:18 | 14' | 24 | Golden Masters 60+ | 2 |
| 40 | F | Kristin Thomas | 0:44:21 | F12'6 | 1 | Sr. Masters 50+ | 1 |
| 41 | M | John Goodman | 0:44:33 | 14' | 25 | Sr. Masters 50+ | 2 |
| 42 | M | Jack Warner | 0:44:37 | 12'6 | 12 | U19 | 2 |
| 43 | M | Ian Light | 0:44:41 | 12'6 | 13 | U16 | 2 |
| 44 | F | Shae Foudy | 0:44:47 | F12'6 | 2 | U16 | 1 |
| 45 | F | Alyson Fromm | 0:44:51 | F12'6 | 3 | U19 | 1 |
| 46 | M | Richard Davidson | 0:45:20 | 14' | 26 | Golden Masters 60+ | 3 |
| 47 | M | Sean Madden | 0:45:45 | 14' | 27 | Masters 40-49 | 9 |
| 48 | M | Terence Omalley | 0:45:51 | 12'6 | 14 | Open 20-39 | 4 |
| 49 | M | Michael Kelley | 0:45:59 | 12'6 | 15 | Masters 40-49 | 6 |
| 50 | M | Jeremy Jones | 0:46:10 | 12'6 | 16 | Masters 40-49 | 7 |
| 51 | M | David Mallari | 0:46:22 | 14' | 28 | Masters 40-49 | 10 |
| 52 | M | Chris Hammond | 0:46:38 | 14' | 29 | Masters 40-49 | 11 |
| 53 | F | Connie Kraus | 0:46:42 | F14' | 2 | Sr. Masters 50+ | 1 |
| 54 | M | Rod Loftis | 0:46:54 | 12'6 | 17 | Masters 40-49 | 8 |
| 55 | M | John Bland | 0:47:02 | 12'6 | 18 | Golden Masters 60+ | 1 |
| 56 | M | Matt Chebatoris | 0:47:21 | 12'6 | 19 | Masters 40-49 | 9 |
| 57 | F | Terri Plunkett | 0:47:34 | F12'6 | 4 | Masters 40-49 | 1 |
| 58 | M | Dale Goode | 0:47:57 | 12'6 | 20 | Sr. Masters 50+ | 2 |
| 59 | M | Mark Pighini | 0:48:03 | 14' | 30 | Sr. Masters 50+ | 3 |
| 60 | M | Erik Williams | 0:48:10 | 14' | 31 | Open 20-39 | 13 |
| 61 | M | Bruce Stavron | 0:48:13 | 14' | 32 | Sr. Masters 50+ | 4 |
| 62 | M | Karl Treiberg | 0:48:18 | 12'6 | 21 | Sr. Masters 50+ | 3 |
| 63 | M | Richard Sweitz | 0:48:20 | 14' | 33 | Sr. Masters 50+ | 5 |
| 64 | M | Rob Simonson | 0:48:23 | 14' | 34 | Masters 40-49 | 12 |
| 65 | F | Jill Vickery | 0:51:32 | F12'6 | 5 | Masters 40-49 | 2 |
| 66 | M | Billy Kho | 0:51:38 | 12'6 | 22 | Sr. Masters 50+ | 4 |
| 67 | M | Trevor Bashor | 0:51:39 | 12'6 | 23 | U16 | 3 |
| 68 | M | John Andel | 0:51:43 | 12'6 | 24 | Open 20-39 | 5 |
| 69 | M | Tony Forcier | 0:51:44 | 14' | 35 | Sr. Masters 50+ | 6 |
| 70 | M | Mark Quest | 0:51:51 | 12'6 | 25 | Masters 40-49 | 10 |
| 71 | M | Brian Mcwilliams | 0:52:04 | 14' | 36 | Masters 40-49 | 13 |
| 72 | M | Pat Ryan | 0:52:13 | 14' | 37 | Golden Masters 60+ | 4 |
| 73 | F | Kerstin Ouellet | 0:52:14 | F12'6 | 6 | Masters 40-49 | 3 |
| 74 | M | Adam Hart | 0:52:37 | 14' | 38 | Open 20-39 | 14 |
| 75 | M | Eric Bardot | 0:52:54 | 12'6 | 26 | Open 20-39 | 6 |
| 76 | M | Robert Gates | 0:53:02 | 14' | 39 | Open 20-39 | 15 |
| 77 | M | Dave Harris | 0:53:06 | 12'6 | 27 | Sr. Masters 50+ | 5 |
| 78 | M | David Hansch | 0:53:08 | 14' | 40 | Golden Masters 60+ | 5 |
| 79 | M | Myles Blazer | 0:53:12 | 12'6 | 28 | U16 | 4 |
| 80 | M | Norm Scheel | 0:53:34 | 14' | 41 | Masters 40-49 | 14 |
| 81 | F | Cat Bell | 0:53:43 | F12'6 | 7 | Open 20-39 | 1 |
| 82 | F | Helen Taylor | 0:53:47 | F14' | 3 | Sr. Masters 50+ | 2 |
| 83 | M | Nicholas Borsodi | 0:53:50 | 12'6 | 29 | Open 20-39 | 7 |
| 84 | M | Cameron Fraser | 0:53:51 | 12'6 | 30 | Sr. Masters 50+ | 6 |
| 85 | F | Paige Edwards | 0:53:54 | F12'6 | 8 | U19 | 2 |
| 86 | F | Terri Wargo | 0:53:58 | F14' | 4 | Masters 40-49 | 1 |
| 87 | F | Gretchen Benedetto | 0:54:02 | F12'6 | 9 | Sr. Masters 50+ | 2 |
| 88 | M | John Siggs | 0:54:06 | 14' | 42 | Sr. Masters 50+ | 7 |
| 89 | M | Tyler Bashor | 0:54:14 | 12'6 | 31 | U16 | 5 |
| 90 | M | Scott Campbell | 0:54:23 | 14' | 43 | Masters 40-49 | 15 |
| 92 | M | John Balogh | 0:55:12 | 12'6 | 32 | Masters 40-49 | 11 |
| 91 | F | Kim Mcdermott | 0:55:12 | F12'6 | 10 | Open 20-39 | 2 |
| 93 | M | Mike Garmon | 0:55:20 | 14' | 44 | Masters 40-49 | 16 |
| 94 | F | Erica Davis | 0:55:20 | F Surf | 1 | Open 20-39 | 1 |
| 95 | M | Larry Vickery | 0:55:26 | 12'6 | 33 | Golden Masters 60+ | 2 |
| 96 | F | Holly Mcmullen | 0:55:47 | F12'6 | 11 | Open 20-39 | 3 |
| 97 | M | Max Carran | 0:57:32 | 14' | 45 | U16 | 1 |
| 98 | M | Michael Nguyen | 0:57:38 | 14' | 46 | Open 20-39 | 16 |
| 99 | M | Rich D'souza | 0:57:40 | 14' | 47 | Sr. Masters 50+ | 8 |
| 100 | M | Jason Meffe | 0:57:48 | 14' | 48 | Open 20-39 | 17 |
| 101 | M | Ryan Leighton | 0:58:27 | Surf | 1 | Open 20-39 | 1 |
| 102 | M | Chris Sinatra | 0:58:40 | 14' | 49 | Masters 40-49 | 17 |
| 103 | M | Richard Lauduski | 0:59:13 | 14' | 50 | Sr. Masters 50+ | 9 |
| 104 | M | Chris Koerner | 0:59:14 | Surf | 2 | Sr. Masters 50+ | 1 |
| 105 | F | Christine Graham | 0:59:16 | F12'6 | 12 | Sr. Masters 50+ | 3 |
| 106 | F | Kristin Kaczmarek | 0:59:19 | F12'6 | 13 | Open 20-39 | 4 |
| 107 | M | Michael Erlinger | 0:59:52 | Unlim | 4 | Masters 40-49 | 3 |
| 108 | M | Greg Brunson | 0:59:58 | 14' | 51 | Masters 40-49 | 18 |
| 109 | F | Lisa Hazelton | 1:00:13 | F12'6 | 14 | Sr. Masters 50+ | 4 |
| 110 | F | Erika Benitez | 1:01:22 | F12'6 | 15 | U16 | 2 |
| 111 | F | Suzie Graf | 1:01:25 | F14' | 5 | Sr. Masters 50+ | 3 |
| 112 | F | Melissa Romero | 1:01:29 | F14' | 6 | Sr. Masters 50+ | 4 |
| 113 | F | Suzie Yeo | 1:01:37 | F12'6 | 16 | Sr. Masters 50+ | 5 |
| 114 | F | Lexi Alston | 1:02:28 | F12'6 | 17 | U16 | 3 |
| 115 | M | Tai Diggins | 1:02:38 | 12'6 | 34 | U16 | 6 |
| 116 | F | Cassandra Lauduski | 1:02:52 | F12'6 | 18 | Open 20-39 | 5 |
| 117 | M | Chris Butler | 1:03:01 | 14' | 52 | Masters 40-49 | 19 |
| 118 | F | Alexandria Higginson | 1:03:27 | F12'6 | 19 | U16 | 4 |
| 119 | M | Hugo Martinez | 1:03:39 | 12'6 | 35 | Open 20-39 | 8 |
| 120 | F | Cheryl Mcmurray | 1:03:46 | F12'6 | 20 | Sr. Masters 50+ | 6 |
| 121 | F | Jeanne Stavron | 1:03:53 | F12'6 | 21 | Sr. Masters 50+ | 7 |
| 122 | M | Wayne Berge | 1:03:59 | 12'6 | 36 | Sr. Masters 50+ | 7 |
| 123 | F | Julie Garrido | 1:04:09 | F14' | 7 | Masters 40-49 | 2 |
| 124 | F | Emily Seiersen | 1:04:13 | F14' | 8 | U19 | 1 |
| 125 | F | Kelli Foudy | 1:04:15 | F12'6 | 22 | Masters 40-49 | 4 |
| 126 | M | Gregory Crouse | 1:04:23 | Surf | 3 | Masters 40-49 | 1 |
| 127 | M | Darren Burgett | 1:05:32 | 12'6 | 37 | Masters 40-49 | 12 |
| 128 | F | Jennifer Humboldt | 1:05:34 | F12'6 | 23 | Masters 40-49 | 5 |
| 129 | M | Chase Howard | 1:05:39 | 12'6 | 38 | U16 | 7 |
| 130 | M | Tim Hazlewood | 1:05:54 | 12'6 | 39 | Golden Masters 60+ | 3 |
| 131 | M | Brian Macdougall | 1:06:12 | 12'6 | 40 | Masters 40-49 | 13 |
| 132 | M | James Yanoschik | 1:06:23 | 14' | 53 | Sr. Masters 50+ | 10 |
| 133 | Mixed | Felisha Kieswetter | 1:06:34 | 12'6 | 41 | Sr. Masters 50+ | 8 |
| 134 | F | Trista Mcwilliams | 1:06:43 | F12'6 | 24 | Open 20-39 | 6 |
| 135 | M | Ryan Olufson | 1:06:56 | 12'6 | 42 | Open 20-39 | 9 |
| 136 | F | Belah Ellis | 1:07:12 | F12'6 | 25 | U16 | 5 |
| 137 | M | Willie Rosoff | 1:07:22 | 12'6 | 43 | Sr. Masters 50+ | 9 |
| 138 | M | Pete Corrao | 1:07:34 | 14' | 54 | Sr. Masters 50+ | 11 |
| 139 | F | Brenda Yanoschik | 1:07:45 | F12'6 | 26 | Sr. Masters 50+ | 8 |
| 140 | M | Brian Young | 1:07:54 | 12'6 | 44 | Masters 40-49 | 14 |
| 141 | F | Alida Ramganesh | 1:08:22 | F12'6 | 27 | Masters 40-49 | 6 |
| 142 | M | Shad Eischen | 1:08:45 | Surf | 4 | Open 20-39 | 2 |
| 143 | M | Ken Baldwin | 1:09:52 | Surf | 5 | Sr. Masters 50+ | 2 |
| 144 | F | Veronica Kingsbury | 1:10:10 | F12'6 | 28 | Masters 40-49 | 7 |
| 145 | M | Mike Miklavic | 1:11:47 | 12'6 | 45 | Open 20-39 | 10 |
| 146 | F | Jade Howson | 1:12:34 | F12'6 | 29 | U16 | 6 |
| 147 | F | Rosa Burgett | 1:16:40 | F12'6 | 30 | Masters 40-49 | 8 |
---
Wanna see more SUP race results? Check out Race Results by Rivera…