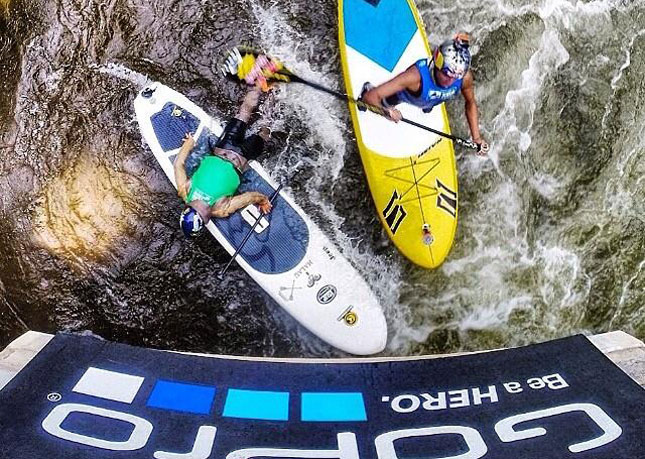 June 10, 2014
by Christopher Parker (@wheresbossman)
[RESULTS] GoPro Mountain Games Give Us A Preview Of What To Expect In Idaho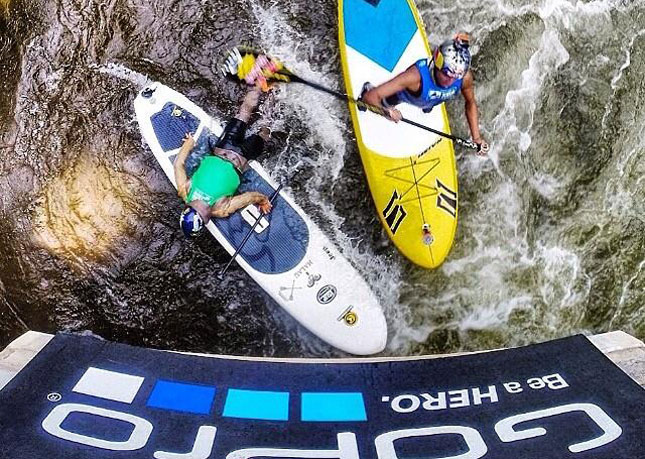 Looks like a bunch of all-star paddlers were in Vail, Colorado on the weekend for the GoPro Mountain Games. The event featured a couple of interesting SUP races: the downriver sprint and the SUP cross, both of which gave us a glimpse of what's in store at the big Payette River Games next week.
Spencer Lacy and Haley Mills took out the destruction derby that was the SUP Cross, while Gillian Gibree was the quickest in the women's sprints.
Over in the men's sprints Kai Lenny showed he's one of those annoyingly "good-at-freakin-everything" kind of athletes, taking out the downriver sprint ahead of Mike Tavares. After reading Kai's summary of the event, it seems the wunderkind is pretty stoked with this kind of SUP racing format.
Though actually it sounds like Dan Gavere had the fastest time in the sprints but was DQ'd on a technicality, so look out for him at Payette River Games next week.
Along with Dan, we'll also be seeing Kai, Mike, Haley, Gillian and plenty of other athletes from the Mountain Games jump back in the river in Idaho next week. They'll join the likes of Travis Grant, Jamie Mitchell and Candice Appleby to battle it out for the record $50,000 prize purse.
But back to Vail: Full results are below while SUP the Mag has a good video recap of the action:
2014 GoPro Mountain Games SUP Race Results
SUP Cross – Men's Final
1st: Spencer Lacy
2nd: Mike Tavares
3rd: Takahata Masayuki
SUP Cross – Women's Final
1st: Haley Mills
2nd: Louise Jull
3rd: Jenny MacArthur
SUP Sprint – Men
1st: Kai Lenny (0:18:24.83)
2nd: Mike Tavares (0:18:25.16)
3rd: Masayuki Takahata (0:18:27.49
4th: Slater Trout (0:18:31.76)
5th: Spencer Lacy (0:18:35.72)
6th: Charlie MacArthur (0:18:39.38)
7th: Ben Sarrazin (0:18:44.91)
8th: Bradley Hilton (0:18:46.38)
9th: Matt Paula (0:19:26.01)
10th: Jeremiah Williams (0:19:28.34)
11th: Mike Harvey (0:19:30.76)
12th: Tsuyoshi Miyake (0:19:31.76)
13th: Ken Hoeve (0:19:37.18)
14th: Alex Mauer (0:19:42.38)
15th: Steven Nyman (0:19:46.92)
16th: Peter Hall (0:20:05.31)
17th: Kyle Ansel (0:20:12.04)
18th: John Blackshire (0:20:16.04)
19th: Eliah Norman (0:20:19.15)
20th: Sean Vierling (0:20:22.19)
21st: Joey Saputo (0:20:27.34)
22nd: Matthew Buckley (0:20:28.36)
23rd: Andy O'Brien (0:20:28.88)
24th: Morgan Mason (0:20:53.59)
25th: Scott Powers (0:21:04.07)
26th: Jason Barber (0:21:34.36)
27th: Miles Harvey (0:21:35.07)
28th: Craig Birk (0:21:41.17)
29th: Gabriel Gray (0:22:15.22)
30th: Sameer Gupta (0:23:04.75)
31st: Sean McCoy (0:25:15.01)
32nd: Michael Neustedter (0:30:18.58)
SUP Sprint – Women
1st: Gillian Gibree (0:19:49.92)
2nd: Natali Zollinger (0:19:53.20)
3rd: Jenny MacArthur (0:20:18.65)
4th: Haley Mills (0:20:24.34)
5th: Gentian Nuzzo (0:20:55.43)
6th: Nikki Gregg (0:20:56.85)
7th: Brittany Parker (0:21:07.09)
8th: Katie Crites (0:21:13.41)
9th: Yodi Borg (0:21:13.66)
10th: Ashley Bean (0:21:18.08)
11th: Emily St. Ruth (0:21:56.54)
12th: Kalee Barrantes (0:22:16.40)
13th: Nadia Kaliszewski (0:2:39.52)
14th: Sabrina Dermody (0:23:17.15)
15th: Lindsay Gonzalez (0:23:22.63)