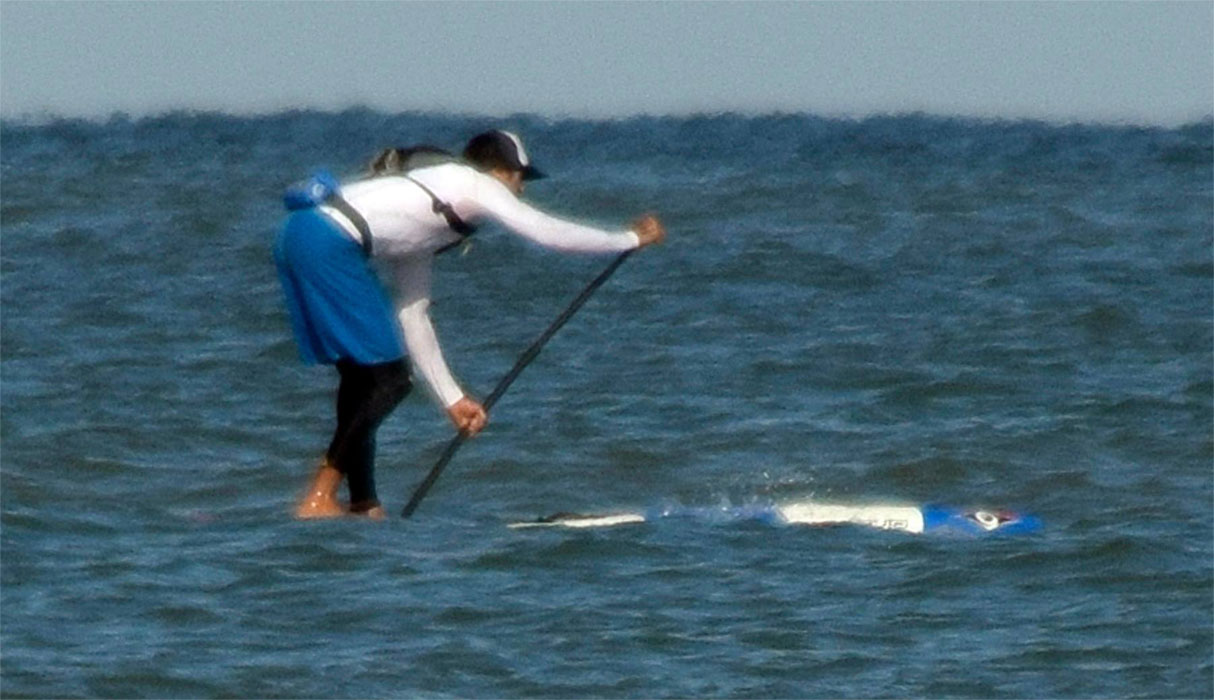 May 22, 2014
by Christopher Parker (@wheresbossman)
Chase Kosterlitz, Jenny Kalmbach Reign Supreme In Florida
Chase Kosterlitz has defended his crown at a race in Florida for the umpteenth time, taking out Saturday's Florida Cup race in St. Pete Beach. Chase was quickest around the 10 mile Tampa Bay course, finishing three minutes clear of the very talented Ryan Helm.
It was an impressive performance from Chase, who has showed similar early season form at last month's Carolina Cup. The big guy from Florida (who recently moved to San Diego) hasn't lost in his home state since 2011. Not a bad track record. So while he's yet to crack the podium at his non-preferred BOP Elite Race, if there's ever a hard, grinding, long distance race, you'd be a brave punter to bet against Chase finishing near the front of the pack.
Meanwhile Jenny Kalmbach, who hosted a couple of technique clinics across the weekend, was too strong in the women's, coming home ahead of East Coast warrior Helga Goebel.
The 2014 Florida Cup appears to have been a big success. Over 200 paddlers turned out, with 113 finishing the Elite 10 race alone, quite an impressive number for a distance event. The East Coast, especially Florida, seems to be fast becoming the biggest market for SUP racing in terms of participation numbers.
Full results below…
Seems the race wasn't totally without drama though, as there was a bit of confusion about the start/finish (there's been a bit of that lately…). Apparently the officials changed the rules about which finishing buoys to go around after the race briefing but right before the start of the race, which caused confusion to some of the finishers.
---
2014 Florida Cup: 10 Mile SUP Race Results
| # | Name | Time | Class | # | Division | # |
| --- | --- | --- | --- | --- | --- | --- |
| 1 | Chase Kosterlitz | 01:35:38:00 | M14' | 1 | 18-49 | 1 |
| 2 | Ryan Helm | 01:38:00:00 | M14' | 2 | 18-49 | 2 |
| 3 | Kieran Grant | 01:40:00:00 | M14' | 3 | 18-49 | 3 |
| 4 | Patrick Klemawesch | 01:40:40:00 | Unlimited | 1 | 18-49 | 1 |
| 5 | Bill Kraft | 01:41:01:00 | M14' | 4 | 18-49 | 4 |
| 6 | Matt Arensman | 01:41:49:00 | M14' | 5 | 18-49 | 5 |
| 7 | Garrett Fletcher | 01:42:07:00 | M14' | 6 | 18-49 | 6 |
| 8 | Joseph Morel | 01:44:30:00 | M14' | 7 | 18-49 | 7 |
| 9 | Brad Ward | 01:44:59:00 | M14' | 8 | 18-49 | 8 |
| 10 | Nick Bjork | 01:45:19:00 | M14' | 9 | 18-49 | 9 |
| 11 | Andrew White | 01:45:27:00 | M14' | 10 | 18-49 | 10 |
| 12 | Michael Conlee | 01:46:19:00 | M14' | 11 | 18-49 | 11 |
| 13 | Chip Bock | 01:46:38:00 | Unlimited | 2 | 18-49 | 2 |
| 14 | Rob Mirlenbrink | 01:46:41:00 | Unlimited | 3 | 18-49 | 3 |
| 15 | Jake Portwood | 01:48:03:00 | M12'6 | 1 | 18-49 | 1 |
| 16 | Austin Hollingshead | 01:48:20:00 | M14' | 12 | U17 | 1 |
| 17 | Jenny Kalmbach | 01:48:52:00 | F12'6 | 1 | 18-49 | 1 |
| 18 | Rev Thom | 01:50:02:00 | M14' | 13 | 18-49 | 12 |
| 19 | Matt Wise | 01:50:56:00 | M12'6 | 2 | 18-49 | 2 |
| 20 | Jamie Twigg | 01:50:57:00 | M12'6 | 3 | 18-49 | 3 |
| 21 | Jim Valenti | 01:51:45:00 | M14' | 14 | 50+ | 1 |
| 22 | Trip Saunders | 01:51:57:00 | M14' | 15 | 18-49 | 13 |
| 23 | Quintin Chiapperino | 01:52:01:00 | M12'6 | 4 | U17 | 1 |
| 24 | David Dean | 01:52:44:00 | M14' | 16 | 50+ | 2 |
| 25 | Sam Wessinger | 01:53:26:00 | M14' | 17 | U17 | 2 |
| 26 | John Meskauskas | 01:53:52:00 | M12'6 | 5 | 18-49 | 4 |
| 27 | Carmine Pici | 01:54:05:00 | M14' | 18 | 50+ | 3 |
| 28 | Helga Goebel | 01:54:34:00 | F12'6 | 2 | 18-49 | 2 |
| 29 | John Sekas | 01:55:20:00 | M14' | 19 | 50+ | 4 |
| 30 | Chris Murphy | 01:55:46:00 | M14' | 20 | 18-49 | 14 |
| 31 | Cristian Prado | 01:55:58:00 | M12'6 | 6 | 18-49 | 5 |
| 32 | Frank Dillenburg | 01:57:06:00 | M14' | 21 | 50+ | 5 |
| 33 | Dennis Navarrete | 01:57:38:00 | M12'6 | 7 | 18-49 | 6 |
| 34 | Andrew Gaucho | 01:57:49:00 | M12'6 | 8 | 18-49 | 7 |
| 35 | Kristin Apotsos | 01:58:18:00 | F12'6 | 3 | 18-49 | 3 |
| 36 | Steve Thomas | 02:00:35:00 | M14' | 22 | 50+ | 6 |
| 37 | Jim Higgins | 02:00:51:00 | M14' | 23 | 50+ | 7 |
| 38 | Patrick Daugherty | 02:01:07:00 | M12'6 | 9 | 18-49 | 8 |
| 39 | Edimar Luque | 02:01:36:00 | F12'6 | 4 | 18-49 | 4 |
| 40 | Shelby Taylor | 02:01:54:00 | F12'6 | 5 | 18-49 | 5 |
| 41 | Mark Roberts | 02:03:30:00 | M12'6 | 10 | 18-49 | 9 |
| 42 | Kimberly Barnes | 02:03:52:00 | F12'6 | 6 | 18-49 | 6 |
| 43 | Dave Jalving | 02:04:27:00 | M14' | 24 | 18-49 | 15 |
| 44 | Heath Marston | 02:05:49:00 | M14' | 25 | 18-49 | 16 |
| 45 | Neil Uden | 02:06:35:00 | M12'6 | 11 | 18-49 | 10 |
| 46 | Ralf Steitz | 02:07:17:00 | M14' | 26 | 50+ | 8 |
| 47 | Karen Mirlenbrink | 02:07:36:00 | F12'6 | 7 | 18-49 | 7 |
| 48 | Christian Grause | 02:08:15:00 | M14' | 27 | 18-49 | 17 |
| 49 | Taylor Mock | 02:08:17:00 | M12'6 | 12 | 18-49 | 11 |
| 50 | Bailey Rosen | 02:08:35:00 | F12'6 | 8 | 18-49 | 8 |
| 51 | Rob Mayhew | 02:09:12:00 | M14' | 28 | 18-49 | 18 |
| 52 | Chris Rockwood | 02:09:22:00 | M12'6 | 13 | U17 | 2 |
| 53 | Connor Rush | 02:10:34:00 | M12'6 | 14 | U17 | 3 |
| 54 | Jeff Walton | 02:13:09:00 | M14' | 29 | 50+ | 9 |
| 55 | Brent Duty | 02:15:33:00 | M14' | 30 | 18-49 | 19 |
| 56 | Michael Maddux | 02:17:24:00 | M12'6 | 15 | 18-49 | 12 |
| 57 | Adam Pollock | 02:18:59:00 | M14' | 31 | 18-49 | 20 |
| 58 | Stephen Chase | 02:20:07:00 | M14' | 32 | 18-49 | 21 |
| 59 | David Rush | 02:21:45:00 | M14' | 33 | 50+ | 10 |
| 60 | Heather Kaarup | 02:22:19:00 | F12'6 | 9 | 18-49 | 9 |
| 61 | Jeffrey Brown | 02:22:27:00 | M14' | 34 | 50+ | 11 |
| 62 | Will Marston | 02:22:34:00 | M12'6 | 16 | U17 | 4 |
| 63 | Keith Beam | 02:22:49:00 | M12'6 | 17 | 18-49 | 13 |
| 64 | Meg Bosi | 02:23:10:00 | F12'6 | 10 | 18-49 | 10 |
| 65 | Katie Holz | 02:23:20:00 | F12'6 | 11 | 18-49 | 11 |
| 66 | Nannette Prevost | 02:23:23:00 | F12'6 | 12 | 18-49 | 12 |
| 67 | Elizabeth Morse | 02:23:27:00 | F12'6 | 13 | 18-49 | 13 |
| 68 | Richard Rodriguez | 02:23:45:00 | M12'6 | 18 | 50+ | 1 |
| 69 | Jesse Dasilva | 02:24:48:00 | M14' | 35 | 18-49 | 22 |
| 70 | Lloyd Reeves | 02:25:37:00 | M14' | 36 | 50+ | 12 |
| 71 | Marc Kron | 02:25:38:00 | M14' | 37 | 50+ | 13 |
| 72 | Matthew Love | 02:26:40:00 | M12'6 | 19 | 18-49 | 14 |
| 73 | Heidi Miller | 02:28:31:00 | F12'6 | 14 | 18-49 | 14 |
| 74 | Glenn Jenkins | 02:29:25:00 | M12'6 | 20 | 50+ | 2 |
| 75 | Keith Cook | 02:29:49:00 | M14' | 38 | 50+ | 14 |
| 76 | Lindy Carter | 02:30:10:00 | F14' | 1 | 50+ | 1 |
| 77 | Kaleb Cook | 02:30:17:00 | M12'6 | 21 | U17 | 5 |
| 78 | Justin Hayskar | 02:30:38:00 | M14' | 39 | 18-49 | 23 |
| 79 | John Predmore | 02:32:32:00 | M12'6 | 22 | 18-49 | 15 |
| 80 | Gabriela Castro | 02:33:55:00 | F12'6 | 15 | 18-49 | 15 |
| 81 | Arnold Schmidt | 02:35:49:00 | M12'6 | 23 | 50+ | 3 |
| 82 | Monique Walker | 02:39:44:00 | F12'6 | 16 | 18-49 | 16 |
| 83 | Lisa Cool | 02:40:21:00 | F12'6 | 17 | 18-49 | 17 |
| 84 | Jennifer Crews | 02:41:10:00 | F12'6 | 18 | 18-49 | 18 |
| 85 | Matt Kearney | 02:41:37:00 | M12'6 | 24 | 18-49 | 16 |
| 86 | Jessi Farber | 02:42:16:00 | F12'6 | 19 | 18-49 | 19 |
| 87 | Karen Mayer | 02:43:41:00 | F12'6 | 20 | 18-49 | 20 |
| 88 | Evey Hammond | 02:45:13:00 | F12'6 | 21 | 18-49 | 21 |
| 89 | Trina Casburn | 03:00:29:00 | F12'6 | 22 | 18-49 | 22 |
| 90 | Joe Vetter | 03:03:00:00 | M12'6 | 25 | 50+ | 4 |
Click here for results from the rec race and other events