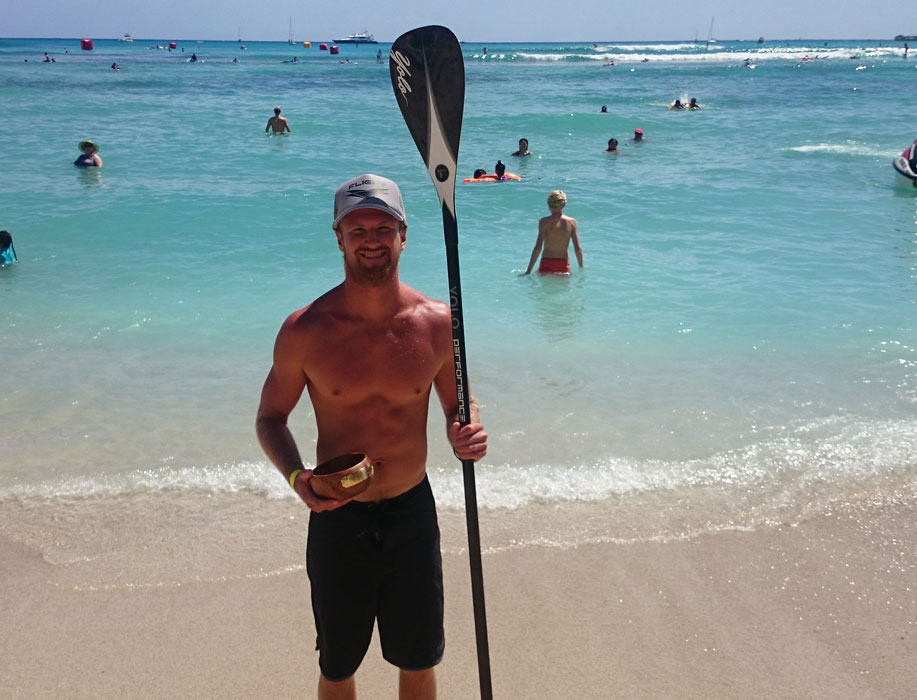 August 16, 2014
by Christopher Parker (@wheresbossman)
Andrew Logreco Wins The Duke's OceanFest Downwind Race… On A 12'6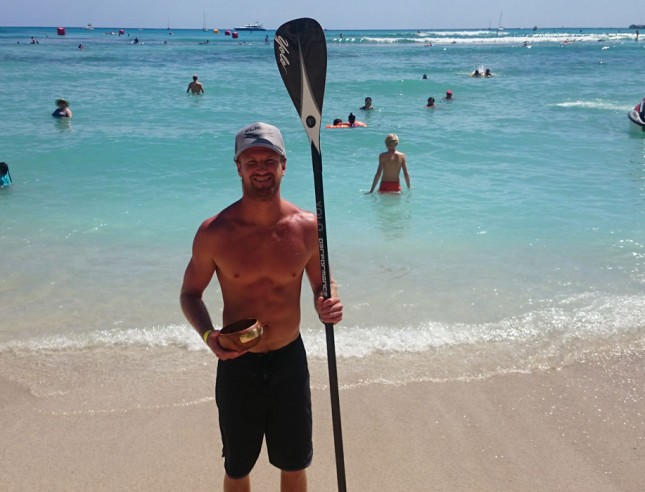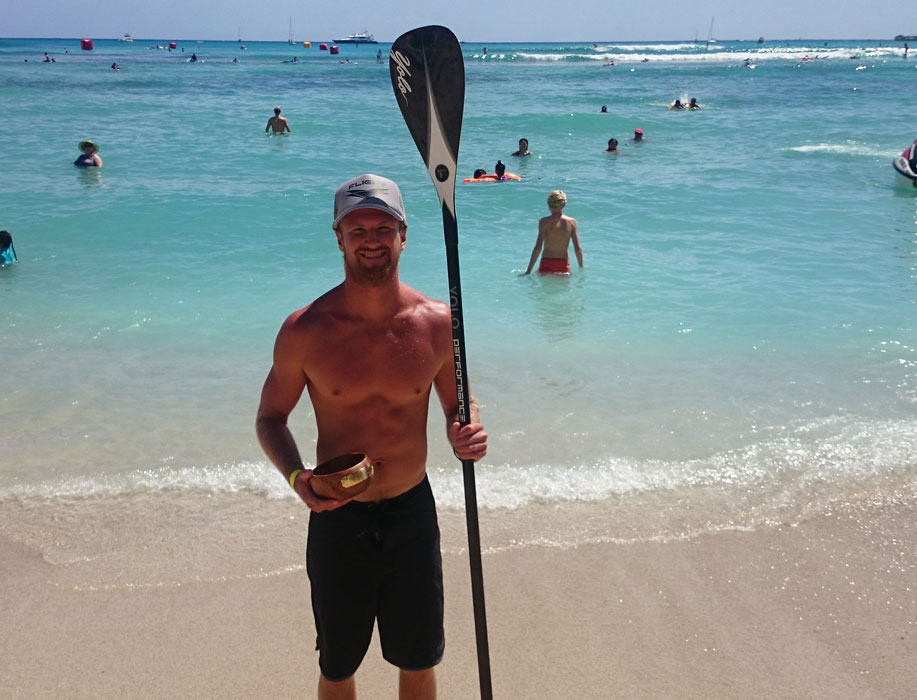 Andrew Logreco and Morgan Hoesterey have taken out today's Hawaii Paddleboard Championships, aka the Duke Race, as part of Duke's OceanFest here in Waikiki.
With the Ultimate SUP Showdown just 24 hours away there are a whole stack of world beaters in town. Most of the pros chose to sit out today's super hot, 9 mile downwinder from Hawaii Kai to the beach at Waikiki, however there were still a few big guns on the start line.
Despite paddling a board five feet shorter than most of his rivals, it was Logreco who took out the line honours. The North Shore lifeguard, one of the true characters of stand up paddling (regularly sports a mullet and wore a Justin Bieber shirt – after losing a bet – at Molokai a couple of weeks ago) absolutely crushed it out there today. He finished nearly a minute ahead of the extremely under-rated Kaeo Abbey while also beating home unlimited masters such as Livio Menelau.
The highly fancied Aussie, Jake Jensen, was third (also on a 12'6, though he was 2 minutes behind Logreco).
The wind was pretty good for today's Hawaii Kai downwinder. Not all time, but definitely some big runners in the mid part of the race. Though as we rounded Diamond Head for the final few kilometres to the finish, our angle totally shifted and suddenly it became a cross-wind grind to the line. Didn't help that it was crazy hot today or that a few of us – yours truly included – thought we'd wing it and paddle without a water pack.
The Hawaii Paddleboard Championships are one of the longest-running paddleboard races in the world, dating back to the early 90s if I'm not mistaken. And of course it's all part of Duke's OceanFest, an iconic event that pays homage to the great Duke Kahanamoku and promotes everything he stood for.
Anyway here are the results. Come back tomorrow to see how the main event – the Ultimate SUP Showdown – goes down…
2014 Hawaii Paddleboard Championships RESULTS
NOTE: Bit of confusion in the raw results – the vaguely named "SUP Men's 14′ Unlimited w/rudder" division features both 14′ and Unlimited paddlers
| # | Name | Time | Division |
| --- | --- | --- | --- |
| 1 | Andrew Logreco | 1:22:24 | SUP Men's 12'6 & UNDER 19-35 |
| 2 | Kaeo Abbey | 1:23:12 | SUP Men's 14'6 & OVER 1-35 |
| 3 | Jackson Maynard | 1:23:34 | Prone Unlimited Men's Open |
| 4 | Jake Jensen | 1:24:13 | SUP Men's 12'6 & UNDER 19-35 |
| 5 | Livio Menelau | 1:26:21 | SUP Men's 14'6 & OVER 36-55 |
| 6 | Aaron Napoleon | 1:27:33 | SUP Men's 14'6 & OVER 36-55 |
| 7 | Ingo Rademacher | 1:28:58 | SUP Men's 14'6 & OVER 36-55 |
| 8 | Christian Bradley | 1:29:29 | SUP Men's 14'6 & OVER 1-35 |
| 9 | Noah Okamura | 1:31:30 | SUP Men's 14'6 & OVER 1-35 |
| 10 | Jimmy Fitt | 1:31:47 | SUP Men's 14'6 & OVER 36-55 |
| 11 | Roberto Lopes | 1:31:57 | SUP Men's 14'6 & OVER 36-55 |
| 12 | Keoni Watson | 1:32:14 | Prone Unlimited Men's Open |
| 13 | Robert Stehlik | 1:35:31 | SUP Men's 14'6 & OVER 36-55 |
| 14 | Christopher Parker | 1:36:18 | SUP Men's 14'6 & OVER 1-35 |
| 15 | Belar Diaz | 1:36:28 | SUP Men's 12'6 & UNDER 36-55 |
| 16 | Marc Rocheleau | 1:36:29 | Prone Unlimited Men's Open |
| 17 | Jeff Chang | 1:37:11 | SUP Men's 14' Unlimited w/rudder |
| 18 | Hunter Pflueger | 1:39:01 | Prone Men's Stock Under 19 |
| 19 | Ed Wheeler | 1:39:22 | SUP Men's 14'6 & OVER 36-55 |
| 20 | Don Lui-Kwan | 1:39:33 | SUP Men's 14'6 & OVER 36-55 |
| 21 | Matt Becker | 1:39:37 | SUP Men's 14' Unlimited w/rudder |
| 22 | Riggs Napoleon | 1:39:40 | SUP Men's Juniors 12'6 & UNDER 1 |
| 23 | Jon Lui-Kwan | 1:40:03 | SUP Men's 14'6 & OVER 36-55 |
| 24 | Buzzy Kerbox | 1:41:21 | SUP Men's 14' Unlimited w/rudder |
| 25 | Brad Feldman | 1:42:27 | SUP Men's 14'6 & OVER 36-99 |
| 26 | Alain Teurquetil | 1:42:51 | SUP Men's 14' Unlimited w/rudder |
| 27 | Dale Hope | 1:43:06 | SUP Men's 14' Unlimited w/rudder |
| 28 | Jan Tillmann | 1:43:36 | SUP Men's 14' Unlimited w/rudder |
| 29 | Ryan Foley | 1:43:43 | SUP Men's 14' Unlimited w/rudder |
| 30 | Morgan Hoesterey | 1:43:50 | SUP Female 14' Unlimited W/RUD |
| 31 | Andrew Ching | 1:44:21 | SUP Men's 14' Unlimited w/rudder |
| 32 | Gregory Quinn | 1:44:26 | Prone Male Senior 12'STOCK 36-55 |
| 33 | Andrew Ozimec | 1:44:35 | Prone Unlimited Men's Open |
| 34 | Patrick Wong | 1:44:41 | Prone Male Senior 12'STOCK 36-55 |
| 35 | Mick Bibetta | 1:45:03 | Prone Unlimited Men's Open |
| 36 | Matthew Dubrule | 1:45:29 | Prone Unlimited Men's Open |
| 37 | David Cordell | 1:47:14 | SUP Men's 14' Unlimited w/rudder |
| 38 | Layne Owen | 1:47:16 | SUP Men's 14' Unlimited w/rudder |
| 39 | Douglas Sangillo | 1:47:58 | Prone Male 12'STOCK 19-35 |
| 40 | Bill Taylor | 1:48:08 | Prone Male Senior 12'STOCK 36-55 |
| 41 | Alika Willis | 1:48:26 | SUP Men's 14' Unlimited w/rudder |
| 42 | Michael Cheape | 1:49:09 | Prone Male Senior 12'STOCK 36-55 |
| 43 | Kevin Seid | 1:49:45 | SUP Men's 14' Unlimited w/rudder |
| 44 | Kamuela Aea | 1:49:51 | SUP Men's 12'6 & UNDER 36-55 |
| 45 | Govi Tillotson | 1:50:20 | Prone Male 12'STOCK 19-35 |
| 46 | Ed Price | 1:51:07 | SUP Men's 14' Unlimited w/rudder |
| 47 | Mark Matheson | 1:51:37 | Prone Male Senior 12'STOCK 36-55 |
| 48 | Stuart Nagata | 1:52:00 | SUP Men's 14'6 & OVER 36-55 |
| 49 | Dennis Pang | 1:52:31 | SUP Men's 14' Unlimited w/rudder |
| 50 | Douglas Legrande | 1:53:07 | SUP Men's 14' Unlimited w/rudder |
| 51 | Lucas Won | 1:53:21 | SUP Men's 12'6 & UNDER 36-55 |
| 52 | Colleen Tessler | 1:53:54 | Prone FEMALE 12'STOCK 19-35 |
| 53 | Scott Shimada | 1:54:36 | Prone Male Senior 12'STOCK 36-55 |
| 54 | Sam Pae | 1:56:03 | SUP Men's 14'6 & OVER 36-55 |
| 55 | John Hicks | 1:56:32 | Prone Male Senior 12'STOCK 36-55 |
| 56 | Alex Cahcuela | 1:57:04 | SUP Men's 14'6 & OVER 36-55 |
| 57 | Carlo Prado | 1:57:34 | SUP Men's 14' Unlimited w/rudder |
| 58 | Roger Cabral | 1:58:31 | SUP Men's 14' Unlimited w/rudder |
| 59 | Clark Abby | 1:58:59 | Prone Unlimited Men's Open |
| 60 | Kukunaokala Mendonca | 1:59:06 | Prone Male Senior 12'STOCK 36-55 |
| 61 | Shane Sakai | 2:01:10 | SUP Men's 12'6 & UNDER 36-55 |
| 62 | Herbie Titcomb | 2:03:02 | SUP Men's 14' Unlimited w/rudder |
| 63 | Gerry Mosel | 2:03:37 | SUP Men's 14'6 & OVER 36-99 |
| 64 | Mark Eugenio | 2:04:37 | Prone Male Senior 12'STOCK 36-55 |
| 65 | Albert Verdadero | 2:05:23 | SUP Men's 12'6 & UNDER 36-55 |
| 66 | Natalie Scarborough | 2:06:11 | SUP Female 14' Unlimited W/RUD |
| 67 | Joanna Balancieri | 2:06:30 | Prone Female Senior 12'STOCK 36-9 |
| 68 | Rafa Ortiz | 2:06:47 | Prone MALE SENIOR 12'STOCK 36-55 |
| 69 | Clare Seeger Mawae | 2:07:28 | SUP 14'6 & OVER FEMALE 36-UP |
| 70 | Alex Mawae | 2:08:51 | SUP Men's Juniors 12'6 & UNDER 1 |
| 71 | Joan Fukumoto | 2:11:16 | Prone Female Senior 12'STOCK 36-9 |
| 72 | Beau Hodge | 2:15:10 | SUP Men's 14' Unlimited w/rudder |
| 73 | Laola Aea | 2:15:35 | SUP Female 14' Unlimited W/RUD |
| 74 | Mike Meyer | 2:17:20 | Prone Male Senior 12'STOCK 36-55 |
| 75 | Joshua Jackson | 2:19:43 | Prone Male 12'STOCK 19-35 |
| 76 | Heidi Daniels | 2:19:51 | Prone Unlimited WOMEN'S OPEN DIVISION |
| 77 | John Carper | 2:24:47 | SUP Men's 12'6 & UNDER 56-UP |
| 78 | Michael Lorne | 2:34:04 | Prone Male Master 12'STOCK 56-UP |
| 79 | Kevin Kondo | 2:34:17 | SUP Men's 12'6 & UNDER 56-UP |
| 80 | John Mogie | 2:34:35 | SUP Men's 12'6 & UNDER 36-55 |
| 81 | Peg Tatum | 2:41:32 | SUP FEMALE 12'6 & UNDER 36-UP |
| 82 | Andy Seyr | 2:44:49 | SUP Men's 14'6 & OVER 36-55 |
| 83 | Bruce Magel | 2:46:37 | SUP Men's 12'6 & UNDER 56-UP |
| 84 | Seachelle Rivera | 2:48:09 | SUP FEMALE Juniors 12'6 & UNDE |
| 85 | Jennifer Lee | 2:55:48 | SUP Female 14' Unlimited W/RUD |
| 86 | Mary Garriss | 3:39:55 | SUP FEMALE 12'6 & UNDER 36-UP |
Click here for raw results (including prone results)