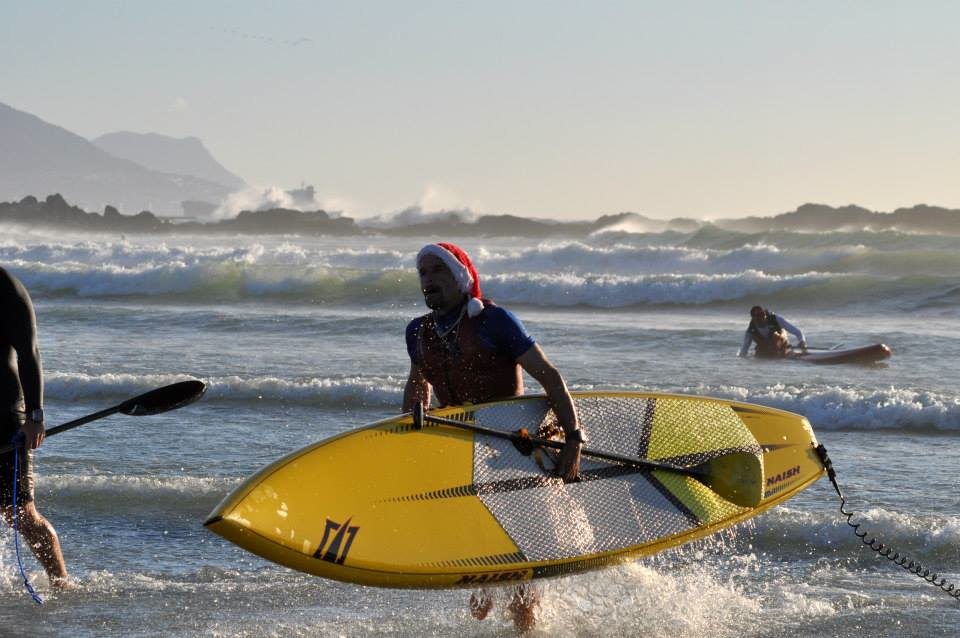 December 12, 2014
by Peter Petersen
Fast Winds And Fast Times For Cape Town's Downwind Dash Finale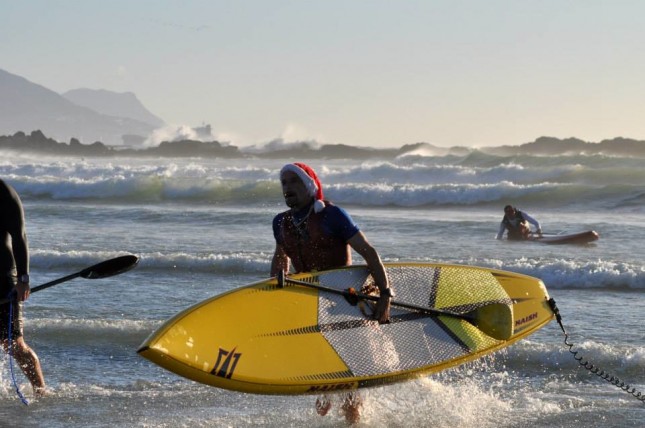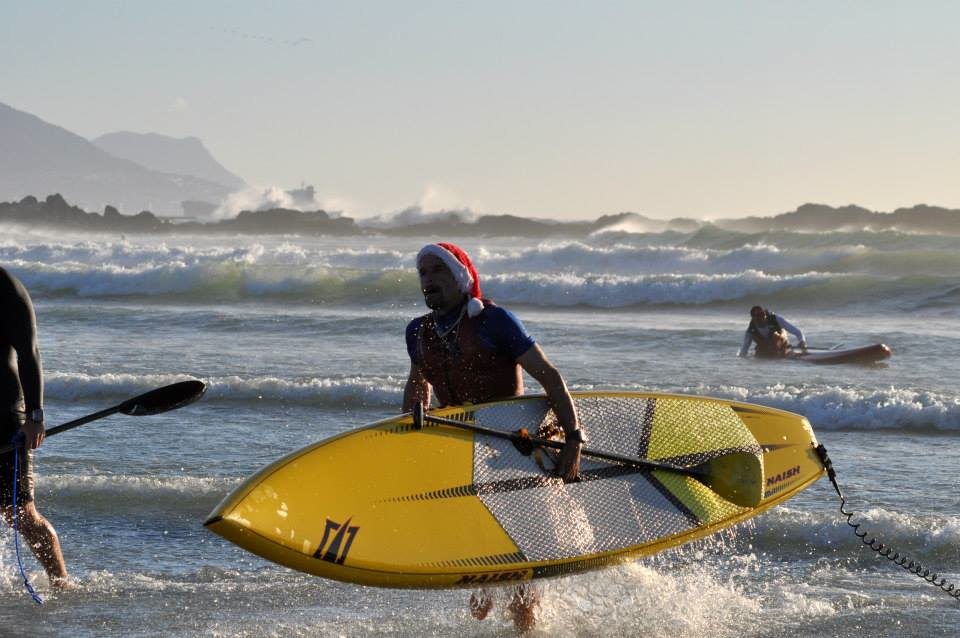 After last week's feisty downwinder saw wind, waves and a broken board, this week's fifth and final race in the Oct-Dec edition of the long-standing PRIMI Naish Downwind Dash series here in Cape Town, South Africa was another cracker.
Excellent 20-34 knots greeted the 38 paddlers at the start-line on Wednesday night, with a 15 second, 2 metre swell threatening to cause havoc once again.
Held whenever there is sufficient wind over the 10 consecutive Wednesday nights from Oct-Dec, this year's end of season PRIMI Naish series yielded 5 counting races. It has been a very windy season so far but often the wind would blow on a Tuesday or a Thursday, or both, but not on a Wednesday meaning we have to cancel the classic Milnerton to Big Bay downwind run on five occasions.
The first group of starters, which got annihilated last week, all made it out safely this time. However it was the second, more experienced group that took a set on the head. Only Ivan van Vuuren made it out after pulling a sneaky move and clearing the set. Ethan Koopmans and Tom King managed to stay on their boards but got held back a fair bit while pretty much the rest of the field took a rinsing.
The wind was epic for the first 4-5km and the front guys were setting a blistering pace around 4min/km (15km/h!) and it took a drop in the wind on the second half of the course for Ethan and Tom to catch up to Ivan. Ivan prefers the windy sections, so he left the hard working pair of Ethan and Tom to fight it out for the win.
Tom King has upped his game significantly and never let Ethan out of his sights as they entered Small Bay together. Here the lead changed a couple of times but in the end Ethan just managed to snatch victory, making it five wins out of five. This also gave Ethan the overall title, while Tom settles for 2nd and, after having seemingly closed the gap, will be hungry for next year.
Greg Bertish (49:27) took a leisurely 5th on the day to secure 3rd overall while Ivan held onto 3rd (46.57) and 2nd overall in the legends category.
Tonight's speeds by the top pair of Ethan (42.53) and Tom (42.57) was exceptional and they both were within a minute of the course record. That's particularly impressive as both were held up at the start plus the end section once again suffered from less wind and rough seas. The pair also closed the gap on the winning surfski paddler to just five minutes, something that's never been done before – a year ago the skis were always at least 10 minutes ahead.
So the times are improving and we're expecting our downwinder to become a sub-40 minute run very soon.
Tarryn Kyte (58:18) managed to shake off her board breaking experience from last week and took the win in the Ladies division. However first timer Jalou Langeree (59:18) from Holland kept with her right til the end. Jalou is a professional kiteboarder and, in a show of her great fitness, had actually already kited twice earlier in the day! Third lady over the line was Patricia Kohrs in almost an hour flat (1:00:03).
Monika Wolgemuth (1:00:59) once again dominated the "Divas" division, finishing very close to the top 3 ladies and taking the overall Divas title.
Two of Holland's fastest, both of whom have qualified for the Dutch ISA Worlds Team, Mr. Ike Frans (58:40) and Emma Reijnmerink (1:05:57), set respectable times and are hungry to come back for more downwinders in the new year. Both will be using Cape Town as their training base in preparation for the ISA Worlds in May.
A total of 77 paddlers took part in this years edition of the PRIMI Naish Downwind Dash and the series is continuing to grow from strength to strength.
The prize-giving was held at Big Bay Lifesaving Club and big thanks must go out to our time keepers, Lollo, Jen and Aden + Derricks Lifesaving crew in the safety boat.
We also upheld a yearly tradition of dressing up in a "x-masy fashion" and each paddler brought a present which is given to a hospice for kids in Cape Town.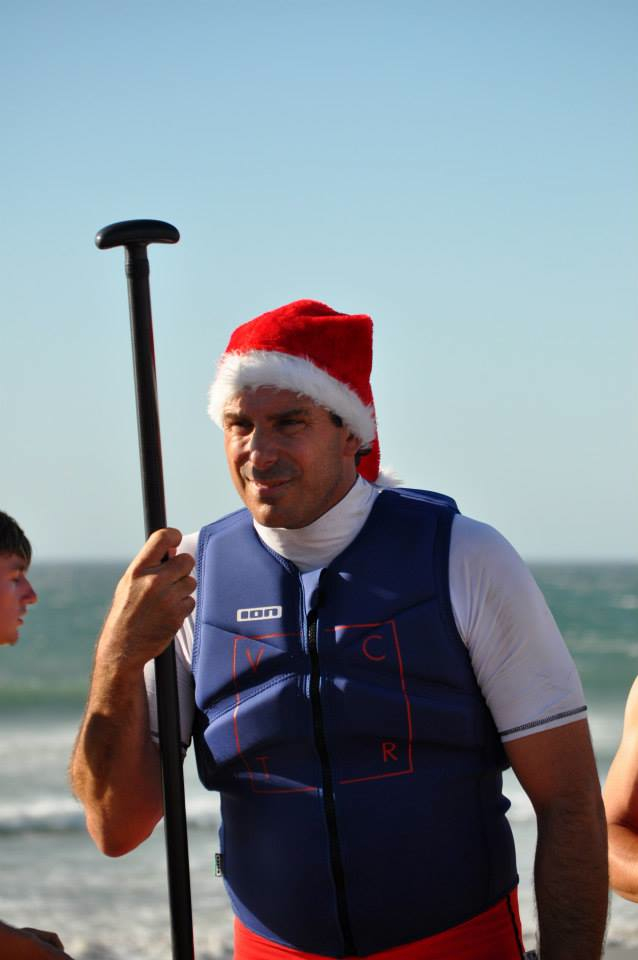 The wind is now up almost every day and we will resume with the 2015 PRIMI Naish Downwind Dash series on the 7th of January, where we'll look for another 10 weeks of windy racing!
Congratulations to our winners from this series!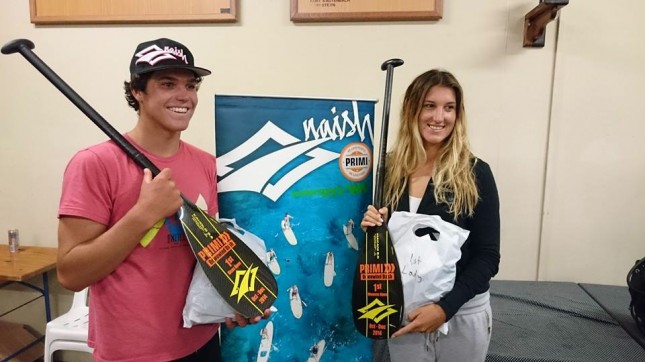 2014 PRIMI Naish Downwind Dash (Oct-Dec edition) Overall Champions
Open:
1. Ethan Koopmans (Naish)
2. Tom King (Coreban)
3. Greg Bertish (Coreban)
Ladies:
1. Tarryn Kyte (Coreban)
2. Monika Wohlgemuth (Naish)
3. Tammy Robarts (Naish)
Juniors:
1. Ethan Koopmans (Naish)
2. Joshua Robertson (SIC)
3. Kimon Dos Santos (SIC)
Divas:
1. Monika Wohlgemuth (Naish)
2. Maleen Hoekstra (Naish)
3. Patricia Kohrs (Naish)
Legends:
1. Peter Petersen (Naish)
2. Ivan van Vuuren (Coreban)
3. Adrian van Varik (Coreban)