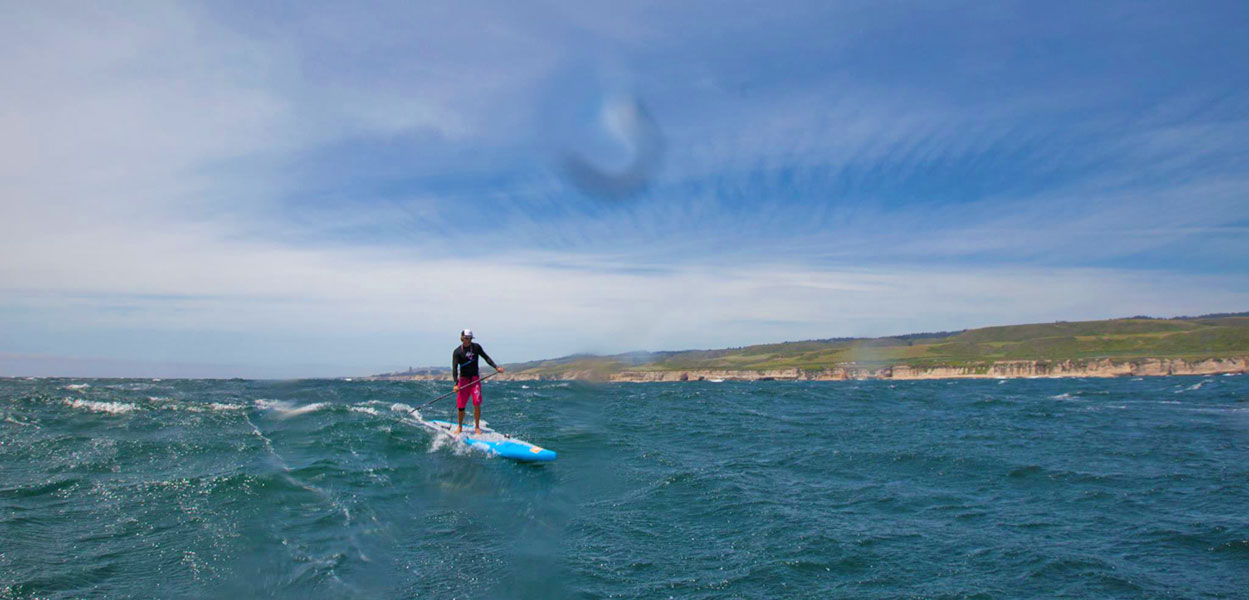 May 22, 2014
by Christopher Parker (@wheresbossman)
Jamie Mitchell, Morgan Hoesterey Win Ghostryders' Davenport Downwinder As The Wind Fires In NorCal
Jamie Mitchell has continued to work his way back into the racing scene, putting on a vintage display to comfortably win the Davenport Downwinder on the weekend, an event hosted by the Ghostryders paddling club out of Santa Cruz.
Not only did JM win the race, he did it on a 12'6 while most of the field were on 14 footers. The 10x World Champ's time of 1 hour 47 minutes was 3 minutes clear of Matt Becker and over ten minutes clear of third-placed Eric Starnes.
Equally impressive was Morgan Hoesterey, who not only took out the women's race on a 12'6 but also finished with the sixth-fastest overall time, beating home 90% of the men's 14′ division while she was at it.
Also doing well was 2013 America's Cup hero skipper, Jimmy Spithill, who crossed the line 4th overall.
The 5th edition of this iconic regional race scored some very nice downwind conditions, with the wind firing along the 16 mile course in Northern California. The race starts at Davenport Landing and heads south, finishing beside the Santa Cruz pier.
Over 120 paddlers took part this year across the SUP, prone, outrigger and surfski divisions.
More coverage on the official Ghostryders page.
There's an awesome race gallery on Facebook, including some great water shots, thanks to Rob Born.
A bunch of nice photos from Clayton Ryon as well.
Video footage on board with Kenny Howell, one of the surfski guys, gives a pretty good insight into the conditions.
Scroll down for the full results…
---
2014 Davenport Downwinder RESULTS
Click "Division" to switch between men's and women's results
Click "Time" to reset the results

| # | Name | Time | Division | # |
| --- | --- | --- | --- | --- |
| 1 | Jamie Mitchell | 1:47:59 | Men's 12'6 | 1 |
| 2 | Matt Becker | 1:50:50 | Men's 14' | 1 |
| 3 | Eric Starnes | 1:58:22 | Men's 14' | 2 |
| 4 | Jimmy Spithill | 2:00:15 | Men's 14' | 3 |
| 5 | Jeramie Vaine | 2:01:17 | Men's 14' | 4 |
| 6 | Morgan Hoesterey | 2:02:40 | Women's 12'6 | 1 |
| 7 | Robi Rousset | 2:04:37 | Men's Unlimited | 1 |
| 8 | Seth Springer | 2:05:19 | Men's 14' | 5 |
| 9 | John Griffith | 2:05:38 | Men's Unlimited | 2 |
| 10 | Hunter Griffith | 2:06:03 | Men's Unlimited | 3 |
| 11 | Bojan Bernard | 2:06:12 | Men's 14' | 6 |
| 12 | Tyler Schmuckle | 2:06:17 | Men's 14' | 7 |
| 13 | John Walsh | 2:06:22 | Men's 14' | 8 |
| 14 | Keith McConnaughay | 2:06:44 | Men's 14' | 9 |
| 15 | Zack Wormhoudt | 2:07:48 | Men's 14' | 10 |
| 16 | Joel Comer | 2:08:49 | Men's 14' | 11 |
| 17 | Tony Mueller | 2:09:24 | Men's 14' | 12 |
| 18 | Matt Evarts | 2:10:52 | Men's 14' | 13 |
| 19 | Dave Jensen | 2:11:17 | Men's 14' | 14 |
| 20 | Vince Longo | 2:11:54 | Men's 14' | 15 |
| 21 | Dusty Wiggins | 2:12:45 | Men's 14' | 16 |
| 22 | John Alexiou | 2:13:48 | Men's 14' | 17 |
| 23 | Jay Gomez | 2:14:50 | Men's 14' | 18 |
| 24 | Greg Welch | 2:16:32 | Men's 14' | 19 |
| 25 | Nevvar Hickmet | 2:16:34 | Men's 14' | 20 |
| 26 | Kalia Alexiou | 2:16:40 | Women's 14' | 1 |
| 27 | Peter DeAvila | 2:17:08 | Men's 14' | 21 |
| 28 | Jean-Michel Trivi | 2:18:15 | Men's 14' | 22 |
| 29 | Jeff Jones | 2:20:12 | Men's 14' | 23 |
| 30 | Kevin Scott | 2:21:23 | Men's 14' | 24 |
| 31 | Mike Irete | 2:21:27 | Men's 14' | 25 |
| 32 | Jen Fuller | 2:22:23 | Women's 14' | 2 |
| 33 | Ogee | 2:23:42 | Men's 12'6 | 2 |
| 34 | Jean-Michel Rathle | 2:23:47 | Men's 12'6 | 3 |
| 35 | Eric Diggins | 2:24:25 | Men's 12'6 | 4 |
| 36 | Grant McFadyen | 2:25:12 | Men's 14' | 26 |
| 37 | Scott Cheney | 2:26:21 | Men's 12'6 | 5 |
| 38 | Mike Dillon | 2:26:25 | Men's 14' | 27 |
| 39 | Tai Boutell | 2:27:15 | Men's 14' | 28 |
| 40 | Alison Riddle | 2:27:58 | Women's 12'6 | 2 |
| 41 | Geoff James | 2:29:25 | Men's 14' | 29 |
| 42 | Stephen Pugh | 2:30:14 | Men's 14' | 30 |
| 43 | David Swidan | 2:32:48 | Men's 14' | 31 |
| 44 | Kyle Wade | 2:33:58 | Men's 14' | 32 |
| 45 | Johnny Kessel | 2:34:14 | Men's 14' | 33 |
| 46 | Dino Wilson | 2:35:00 | Men's 12'6 | 6 |
| 47 | Bill Sullivan | 2:36:33 | Men's 12'6 | 7 |
| 48 | Dave Rundio | 2:37:14 | Men's 14' | 34 |
| 49 | Alon Altaman | 2:37:40 | Men's 14' | 35 |
| 50 | Guy Dickson | 2:39:12 | Men's 14' | 36 |
| 51 | Valerie Khachadourian | 2:54:15 | Women's 14' | 3 |
| 52 | Phil Tresenrider | 3:01:05 | Men's 12'6 | 8 |
| 53 | Mike Conway | 3:11:59 | Men's 12'6 | 9 |
(
click here
for results from the prone, outrigger and surfski divisions)