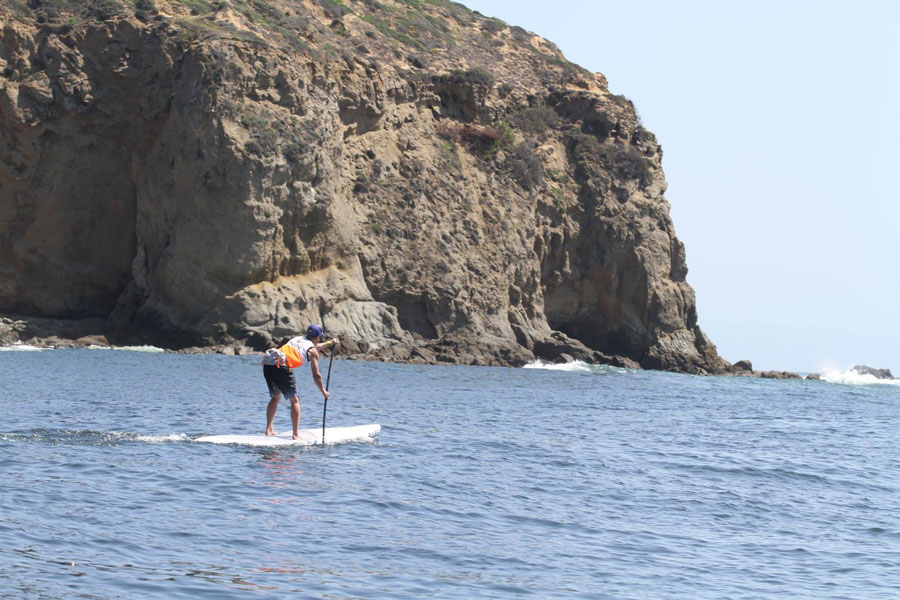 April 7, 2014
by Christopher Parker (@wheresbossman)
16 Great Photos From The California Coastal Relay
One of the more unique races in the paddling world went down yesterday, with the California Coastal Relay testing the limits of competitors in the original mecca of stand up, Orange County. There were two courses: 38 miles from Long Beach down to Dana Point or, if you wanted to keep it more realistic, an 18 miler from Newport to Dana. Paddlers completed the massive course in teams of two, with set changeover points every five or six miles.
The race enjoyed some very nice Spring weather and many of Southern California's paddling community alumni showed up to enjoy it. Everyone from Danny Ching, Thomas Maximus, Brandi Baksic, Jimmy Terrell, Kristin Thomas, Chance Fielder, Taylor Rambo right through to honourary Californians Jamie Mitchell and Lina Augaitis were on show.
In the battle of the men's 14 footers it was the combo of Chance Fielder and Ryan Murphy edging out the dream team of Jamie Mitchell and Jimmy Terrell, while the Queen of SoCal SUP, Brandi Baksic, decided to take a seat and take out the women's OC-1 relay, as did Danny Ching. Lina Augaitis partnered with her sponsor, Braly Joy from SIC, to take out the mixed race, while Team USA representative Shae Foudy combined with Jen Humboldt to claim the women's 12'6 and Tayolor Rambo/Brian Haag took the men's.
The California Coastal Relay comes from a long line of outrigger relay races, where long distance, two-paddler team events are the norm. So this could be an interesting format for the SUP world, what do ya think? Up until now the only big race that does this kinda thing is Molokai 2 Oahu, where 2- and 3- person SUP teams have always competed.
Anyway the full results are up on PaddleGuru and you can also enjoy some fine photos courtesy of Riviera Paddlesurf's Mike Muir.