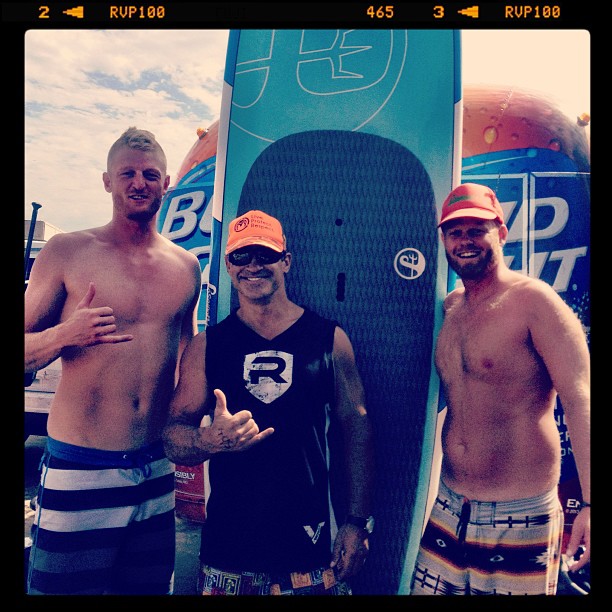 July 15, 2013
by Christopher Parker (@wheresbossman)
[RESULTS] Tommy Zahn Paddle Race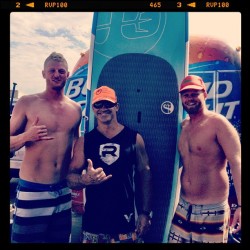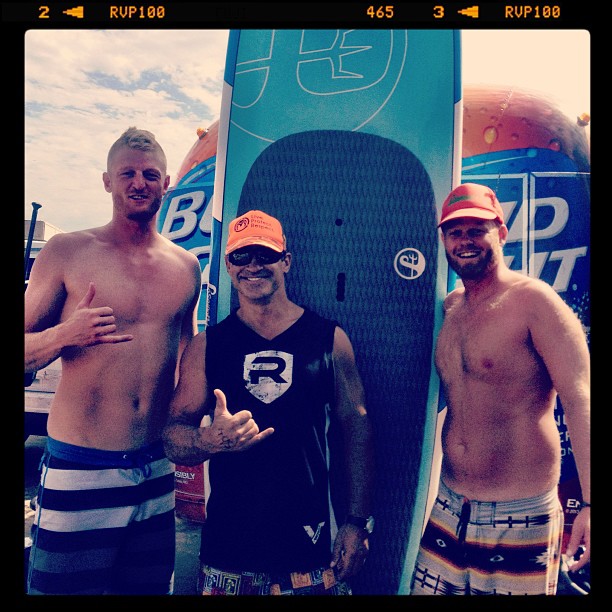 Results from this past weekend's Tom Zahn Paddle Race in California.
As fate would have it, another Tom took out the victory, with Thomas Maximus first over the line in a time of 1 hour 27 minutes. The big guy was four minutes clear of second placed Chance Fielder (who took 1st in the 14′ class), while Sandy Hill won the women's.
The wind picked up throughout the day making for some fun downwind bumps, with the 9.7 mile race finishing in Malibu under sunny skies. From all reports the boys from Poseidon SUP put on a great event, so pencil it in for next year…
Full results below.
2013 Tom Zahn Paddle Race RESULTS
| Overall | Name | Time | M/F | Race | Board Class |
| --- | --- | --- | --- | --- | --- |
| 1 | Thomas Maximus | 1:27 | M | SUP | Unlimited |
| 2 | Chance Fielder | 1:31 | M | SUP | 14' |
| 3 | George Plesek | 1:32 | M | Prone | Unlimited |
| 4 | Roch Frey | 1:32 | M | Prone | Unlimited |
| 5 | Chuck Glenn | 1:33 | M | SUP | 14' |
| 6 | Thomas Gallagher | 1:34 | M | SUP | Unlimited |
| 7 | Peter DeAvila | 1:37 | M | SUP | 14' |
| 8 | Ryan Murphy | 1:37 | M | SUP | 14' |
| 9 | Brendan Light | 1:38 | M | SUP | 14' |
| 10 | Brad Rambo | 1:40 | M | SUP | 14' |
| 11 | Griffin Ross | 1:42 | M | SUP | 12'6" |
| 12 | Greg Welch | 1:47 | M | SUP | 14' |
| 13 | Blake Hubbell | 1:51 | M | Prone | 12' |
| 14 | Kevin Dalit | 1:51 | M | Prone | 12' |
| 15 | Jo Ambrosi | 1:52 | M | Prone | 12' |
| 16 | Ian Light | 1:55 | M | SUP | 12'6" |
| 17 | Chris Curl | 1:58 | M | SUP | 14' |
| 18 | Chris Forsbes | 2:00 | M | SUP | 12'6" |
| 19 | Robert Thurmond | 2:03 | M | Prone | 12' |
| 20 | Shaun Tierney | 2:05 | M | SUP | 14' |
| 21 | Rabbi Shifren | 2:10 | M | Prone | 12' |
| 22 | Mauricio Leon De La Barra | 2:11 | M | Prone | 12' |
| 23 | Matt Chebatoris | 2:13 | M | SUP | 12'6" |
| 24 | Sandy Hill | 2:21 | F | SUP | 14' |
| 25 | Bill Kalmenson | 2:22 | M | Prone | Unlimited |
| 26 | Brennan Gerster | 2:22 | M | Prone | 14' |
| 27 | AJ Brostowicz | 2:23 | M | SUP | 12'6" |
| 28 | Frank Perna | 2:23 | M | SUP | 14' |
| 29 | William Uniack | 2:25 | M | Prone | 12' |
| 30 | Jessie Graff | 2:45 | M | SUP | 12'6 |
| 31 | George Toberman | 2:49 | M | Prone | Unlimited |
| 32 | Mimi Toberman | 2:49 | F | Prone | Unlimited |
| 33 | Craig Kuylandall | 2:59 | M | Prone | |
| 34 | Allan Kurtz | 2:59 | M | SUP | 14' |
| 35 | Amir Goldfiner | 3:00 | M | SUP | 14' |
| 36 | Melanie Goldfiner | 3:02 | F | SUP | 14' |
| 37 | Jamie Kurtz | 3:03 | F | SUP | 14' |
| 38 | Christian Shubin | 3:03 | M | SUP | 12'6 |