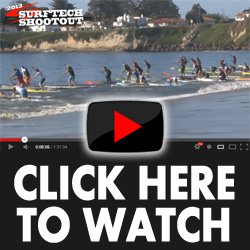 March 24, 2013
by Christopher Parker (@wheresbossman)
WATCH: Relive The Entire Surftech Shootout SUP Race (Yep, All 90 Minutes Of It)
Clear your schedule for the next hour and a half, because you can now watch the entire SUP race from yesterday's Surftech Shootout in Santa Cruz. The "Surf & Sand Duel SUP Race" featured 6.2-miles of paddling around Steamer Lane, with a couple of quarter-mile soft-sand runs thrown in for good measure.
There's a great battle for victory right to the line between Slater Trout and Chuck Glynn (if you're impatient, that heats up around the 1 hour 5 minute mark…) though it looks like it was a great day to paddle in Santa Cruz no matter what.
Awesome job by the team from SUPConnect.com for putting together a slick webcast of the action. Race organisers take note: If you want some buzz around your event, get these guys to cover it.
Watch the full clip below then check out the 2013 Surftech Shootout SUP Race Results.