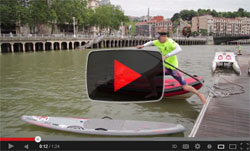 Video Preview: Stand Up World Series Heads To Hamburg As The "SUP World Cup" Gets Reborn
The next stop on the 2013 Stand Up World Series is just around the corner, with the Camp David SUP World Cup being held in Hamburg, Germany on the 17th & 18th August.
Most Europeans (and the adventurous international paddlers among us) will remember Hamburg from circa 2009/2010, when the Jever SUP World Cup set the standard for Stand Up Paddle racing in Europe. Well now it's back, and though it has a slightly different name it looks like it'll have the same level of elite talent. Kai Lenny, Annabel Anderson, Casper Steinfath, Beau O'Brian, Paul Jackson, Bart de Zwart and Eric Terrien are just a few of the names that'll be battling it out.
We'll have a full preview of the Hamburg SUP World Cup next week, plus updates during race weekend from our new correspondent Bart de Zwart, but in the meantime here's something to get you excited: