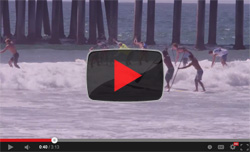 September 23, 2013
by Christopher Parker (@wheresbossman)
WATCH: Day Two @ Huntington Beach Pro
Watch highlights from Day 2 of racing action at the Huntington Beach Pro, the penultimate stop of the 2013 Stand Up World Series. After Kai Lenny took out the sprints in the waves on Saturday, Sunday saw the Distance Race. But unlike traditional distance events, this one utilised the surf as paddlers completed several 1-1.5 mile laps, going in and out of the waves at the end of each one.
This definitely made it more exciting to watch and also really mixed up the order of the race. A few paddlers got lucky, a few got unlucky but in the end it was the young Aussie Jake Jensen taking out the win.
I don't think I've ever seen so many lead changes in such a short amount of time, as Jake, Connor Baxter, Kai Lenny, Kody Kerbox, Casper Steinfath and Mo Freitas were all in the hunt at different points of the race.
Using waves in a distance race is pretty awesome. We saw the same thing at the ISA Worlds back in February and hopefully more events follow suit…