October 7, 2013
by Christopher Parker (@wheresbossman)
This Weekend: The Kai/Connor Finale (And The Crowning Of Annabel) As Stand Up World Series Wraps Up At Turtle Bay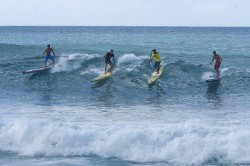 One of the more competitive SUP races of the year will be happening on Oahu's North Shore this weekend, as the 2013 Stand Up World Series wraps up with its "Finals @ Turtle Bay" event. While the two days of racing will feature a pretty big stack of the world's fastest young paddlers, most of the eyes will be on Connor Baxter and Kai Lenny, who have battled head-to-head in the Series all year and are the only two guys vying for the title.
We'll also see the likes of Casper Steinfath and Zane Schweitzer battling for the overall third place in the 2013 Series, as well as under-20 chargers like Kody Kerbox, Noa Ginella, Riggs Napoleon and several others.
Meanwhile on the women's side, Annabel Anderson will be doing a victory lap as her flawless 2013 means she's already wrapped up the overall World Series title.
But it's the Connor/Kai rivalry that will draw the most attention. Nobody else has won an event this year, with Connor taking five wins and Kai two. Those numbers suggest Connor should already have this title wrapped up, however the end-of-season rankings are based on a paddler's best three events (70% of the final score) plus the results from the Finals (30% of the final score). That means that even with a near-flawless year, Connor still has to perform in the Finals to win.
So what exactly does Connor have to do to take the title away from Kai? Let's look at the scenarios…
MEN: Realistically only Kai Lenny and Connor Baxter can win the overall 2013 World Series title, however Connor has a slight lead in the ratings so Kai has all the work to do.
– If Connor wins both the Distance and Sprints, he wins the title.
– If they split the wins (eg. Connor wins the Distance and Kai gets second, then they reverse the result in the Sprints) Connor still wins.
– If Kai wins both the Distance and the Sprints, he wins the overall title.
– Things get complicated if Connor wins the Distance and Kai gets second, but then Kai wins the Sprints and Connor gets worse than second… in that case all kinds of scenarios come into play. However to be safe, Kai pretty much has to make it a clean sweep of the event to guarantee the overall Series victory, or just hope that Connor has a shocker in one of the two races.
WOMEN: Nobody can beat Annabel. Simple. Actually technically they can, if Annabel has an absolute shocker or gets injured and finishes right at the back of the field, but it's exceptionally unlikely…
The 2012 Finals @ Turtle Bay was a classic event, with a solid swell producing plenty of carnage and memorable shots, such as the ones above and below. There are some decent waves forecast for this weekend, so we can only hope for a repeat…
But no matter what happens or who wins, we'll have all the results and pics straight after the event here on SUPracer.com, as well as a live stream of the knockout sprint races on Sunday afternoon. In the meantime here's the official teaser vid to get you excited…