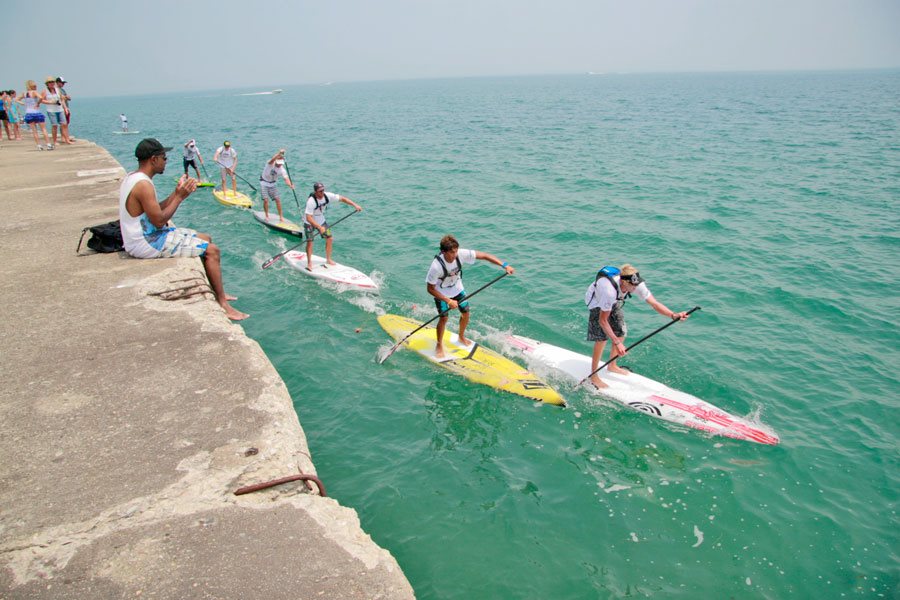 August 22, 2013
by Christopher Parker (@wheresbossman)
Stand Up World Series Hits Chicago This Weekend As The Kai/Connor Rivalry Reignites
UPDATE: Check out the Stand Up World Series Chicago RESULTS
The 2013 Stand Up World Series is in week two of three straight weeks of elite racing action. Last week it was Hamburg, Germany, next week it's San Fran but this week it's the Chicago World Paddle Challenge. This is the sixth stop of the 2013 Series and will see a good stack of the world's finest battling it out, though there's a pretty good chance it'll be a repeat of last year when we saw a classic Kai/Connor showdown.
There's plenty of talent competing on Lake Michigan this weekend but all eyes will be on the budding rivalry between Connor Baxter and Kai Lenny, and with good reason: Nobody else has won a World Series event this year… Connor claimed the first four events of the 2013 Stand Up World Series (Chile, Brazil, France, and Spain) while Kai won last weekend's event in Germany (when Connor was absent) and hasn't finished worse than 2nd this year. So yeah, they're a pretty safe bet for the podium…
But while the two young guns go in as favourites, there will be plenty of guys paddling fast and looking to cause an upset. I wouldn't be surprised to see the likes of Paul Jackson, Jake Jensen, Slater Trout, Kody Kerbox, Ryan Helm and more stick with Kai and Connor, especially considering it's all flat water in Chicago (think: drafting).
Meanwhile over on the women's side of the event we'll see the all-conquering Annabel Anderson in action again, fresh from her win in Hamburg and undefeated in the short history of the SUWS, though chasing hard will be Aussie Angie Jackson, the runner-up in Germany last weekend.
But no matter what happens, the Chicago World Paddle Challenge will be webcast LIVE and we'll be streaming it here on SUPracer.com, so you can see exactly how it all goes down. Check back in Saturday morning to follow along.
In the meantime here's the official preview vid to get you excited…