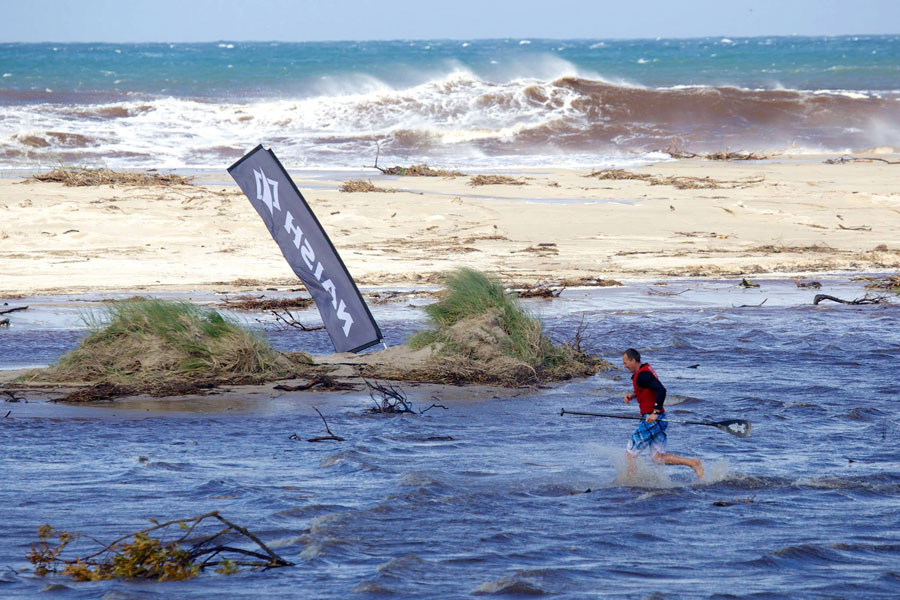 August 21, 2013
by Peter Petersen
Gale Force Winds @ 4th Round Of South African SUP Race Tour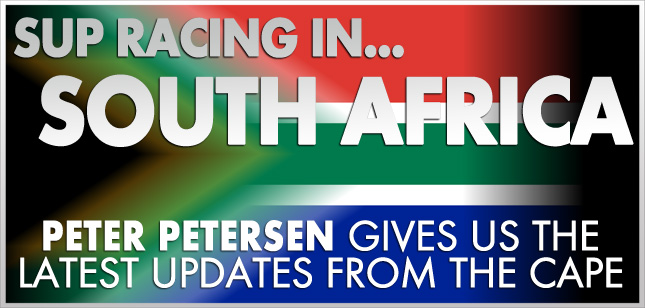 Kleinmond in the Western Cape hosted the NaishSUP/SUP Cape Town Estuary Sprint for the 3rd year running. This event forms part of the Gravity Adventure Festival which is a 3 day event attracting over 1,000 athletes from runners to canoeists and cyclists to SUPs!
This year the weather was predicted to be pretty rough – and with 50knot winds blasting through the event site on Friday night – the campsite had been flattened and it was very wet. Despite this the intrepid Cape Town SUP crew was joined by paddlers from upcountry Johannesburg and Durban as valuable points were on offer for the SUPSA national tour title and the chance of an invite to ISA's Worlds.
With local ace Dylan Frick away on duty at the Hamburg Camp David World Tour stop, Ethan Koopmans and Anton Nel were eyeing out the prize as they are both in contention for the runners up spot in the overall ranking.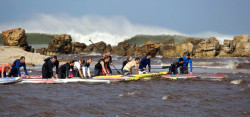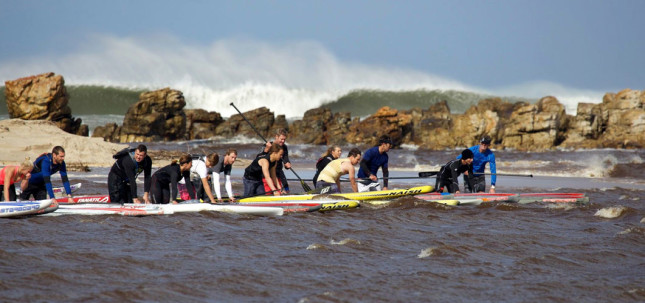 The winds had abated by Saturday morning but by race time it was back up gusting over 30knots making the course pretty challenging. An up and downwind leg with a little 100m dog-leg made for an interesting test of skills. Andrew Cillie took the start with Anton on his heels while Ethan got boxed in a bit and had some work to do. By end of lap one Ethan had caught up to Andrew with Anton somewhat further back. On lap two Ethan ran away with it while a stumble by Andrew at the top buoy allowed Anton and yours truly to catch up. The dog leg caused havoc as 30knot gusts blew the paddlers off line and on the final lap I capitalised on this to slip into 2nd. Anton, however quickly caught up and won the sprint to the line to take second while Ethan could celebrate a well deserved victory.
Brigette van Aswegen led from start to finish with Mishka Steyn taking a fine 2nd ahead of Shelley Bradfield from Durban who was literally blown away by the conditions. This opens up the race for the national title between Brigette and Shelley – the final race in Johannesburg on the 7th of Sept being the decider.
In the Juniors Kimon Dos Santos continued his fine form from Hawaii to pip Joshua Robertson and Wade Keet.
Ethan Koopmans also took out the technical course which was converted into a short downwind sprint as everyone had had enough of fighting the wind – so a double for Ethan who now goes into the last event needing to beat Anton one more time to book his ticket to the ISA worlds.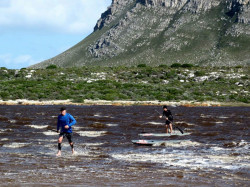 The short-course was likewise converted into a short downwinder on the beautiful estuary with the highlight being our 9yo future stars Cameron Tripney and Ethan Smyth taking to the water and beaming after tackling 30knot winds! Grant Donald baptised his new board with a win while Tarryn Kyte was close behind in 4th overall to take the Womans Short Course title.
Ethan will be representing South Africa at next weekends NaishONE European Championship held in St Moritz – he is in top form and we know he'll make us proud as Dylan has been making us proud in Germany!
Thanks to everyone for coming to SUP when the couch and fireplace was a mighty tempting proposition and especially for our up country paddlers Anton Nel (Johannesburg), Brandon Read and Shelley Bradfield (Durban) for making the trek and our sponsors: NaishSUP, SUP Cape Town, Blast, Biogen, Xpression on the Beach and Van Hunks.
Cheers,
– Peter
Big thanks to Peter Petersen of SUP Culture for his continued coverage of Stand Up Paddleboard Racing in South Africa, as well as his colourful updates from the big races around the world. Check out our SUP Racing in South Africa mini-site for moe updates from The Cape…
Scroll down past the great pics for results as well as the overall series leaderboard…
photos 1-6 © Maleen Hoekstra
photos 6-13 © Bruce Johnston