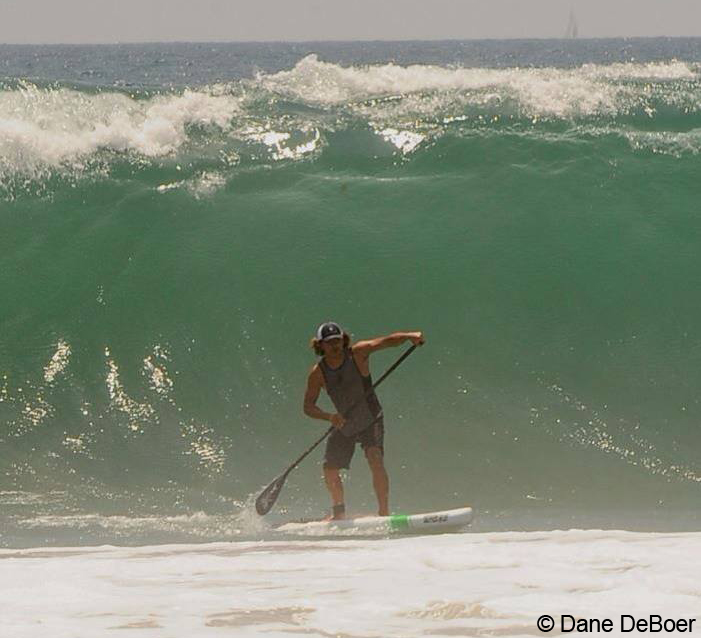 June 10, 2013
by Christopher Parker (@wheresbossman)
[RESULTS] Slater Trout, Brandi Baksic Claim Santa Monica Pier Paddle In Macking Surf
Santa Monica Pier Paddle Festival
, which was held in very solid surf and won by
Slater Trout
and
Brandi Baksic
.
Surviving the carnage and finishing runner-up in the 5.5 mile race was Team Mexico star (and official Rogue SUP Race Calendar pin-up boy) Fernando Stalla, just seven seconds behind Slater.
The 4th annual Santa Monica Pier Paddle offered $20,000 in cash and prizes and . The unusually big surf forced organisers to suspend a bunch of the amateur races, but the elite guys and girls were keen to get out there and entertain the thousands of fans on the beach.
Event organiser Joel Brand summed it up by saying: "In four years of holding this event we've never had surf that even came close to what we saw today. I'm grateful to our race team and the water safety agencies that the entire event went off without a single serious injury."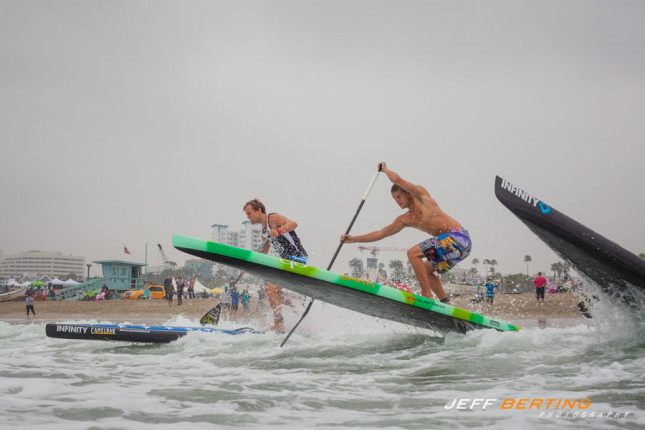 The shot of the day came courtesy of Mexico's Javier Jimenez, who got run down by a monster set during the team relay. Despite the carange, Jimenez's squad (Team Sayulita) took the win and claimed the $2k bounty in the Tommy Bahama Team Challenge Relay Cup.
The 2013 SM Pier Paddle was a charity event supporting "Heal the Bay" and its marine education house, the Santa Monica Pier Aquarium that's housed beneath the historic Pier Carousel. Heal the Bay scores a portion of proceeds from the event.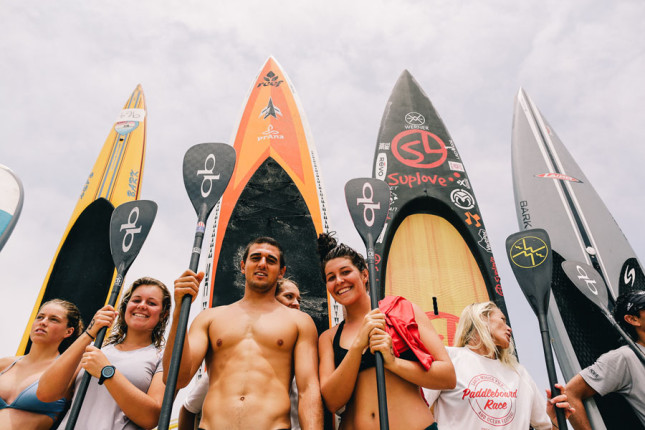 Scroll down for the full SUP race results.
If you somehow missed our post about it yesterday, here's an encore performance of the epic highlights vid:
*****
2013 Santa Monica Pier Paddle Festival SUP Race Results
Course: 5.5 miles
Waves: macking
Click "M/F" to switch between Men's and Women's Results
Click "Division" or "Class" to sort results by Age Division or Board Class
Click "Time" to reset the results

| # | M/F | # | Name | Time | Class | # | Division | # | Age |
| --- | --- | --- | --- | --- | --- | --- | --- | --- | --- |
| 1 | M | 1 | Slater Trout | 1:15:08 | Elite 14' | 1 | 0-99 M | 1 | 18 |
| 2 | M | 2 | Fernando Stalla | 1:15:15 | Elite 14' | 2 | 0-99 M | 2 | 26 |
| 3 | M | 3 | Brennan Rose | 1:15:17 | Elite 14' | 3 | 0-99 M | 3 | 24 |
| 4 | M | 4 | Matt Becker | 1:15:23 | Elite 14' | 4 | 0-99 M | 4 | 18 |
| 5 | M | 5 | Ryan Helm | 1:15:37 | Elite 14' | 5 | 0-99 M | 5 | 39 |
| 6 | M | 6 | Brian Murphy | 1:15:52 | Elite 14' | 6 | 0-99 M | 6 | 30 |
| 7 | M | 7 | Javier Jimenez | 1:15:53 | Elite 14' | 7 | 0-99 M | 7 | 18 |
| 8 | M | 8 | Riggs Napoleon | 1:18:53 | Elite 14' | 8 | 0-99 M | 8 | 15 |
| 9 | M | 9 | Jared Vargas | 1:18:56 | Elite 14' | 9 | 0-99 M | 9 | 29 |
| 10 | M | 10 | Chance Fielder | 1:19:23 | Elite 14' | 10 | 0-99 M | 10 | 41 |
| 11 | M | 11 | Dave Boehne | 1:21:26 | Elite 14' | 11 | 0-99 M | 11 | 37 |
| 12 | M | 12 | Brendan Light | 1:21:57 | Elite 14' | 12 | 0-99 M | 12 | 18 |
| 13 | M | 13 | Tyler Morgan | 1:22:17 | Elite 14' | 13 | 0-99 M | 13 | 36 |
| 14 | M | 14 | Mike Murphy | 1:23:53 | Elite 14' | 14 | 0-99 M | 14 | 34 |
| 15 | M | 15 | Peter Deavila | 1:24:35 | Elite 14' | 15 | 0-99 M | 15 | 48 |
| 16 | M | 16 | Sean Poynter | 1:25:36 | Elite 14' | 16 | 0-99 M | 16 | 23 |
| 17 | M | 17 | Seth Springer | 1:26:29 | Elite 14' | 17 | 0-99 M | 17 | 36 |
| 18 | F | 1 | Brandi Baksic | 1:27:25 | F Elite 12'6 | 1 | 0-99 F | 1 | 40 |
| 19 | F | 2 | Halie Harrison | 1:29:33 | F Elite 12'6 | 2 | 0-99 F | 2 | 18 |
| 20 | M | 18 | Shawn Fejerang | 1:30:07 | 12'6 & under | 1 | 14-39 M | 1 | 17 |
| 21 | M | 19 | Rob Graham | 1:31:29 | Open 14' | 1 | 40-49 M | 1 | 48 |
| 22 | M | 20 | EJ Johnson | 1:31:39 | 12'6 & under | 2 | 50-99 M | 1 | 50 |
| 23 | M | 21 | Bob Crane | 1:31:46 | Open 14' | 2 | 50-99 M | 1 | 51 |
| 24 | M | 22 | Noa Hopper | 1:32:02 | 12'6 & under | 3 | 14-39 M | 2 | 14 |
| 25 | M | 23 | Scott Rose | 1:33:33 | Open 14' | 3 | 40-49 M | 2 | 47 |
| 26 | F | 3 | Talia Gangini Decoite | 1:33:55 | F Elite 12'6 | 3 | 0-99 F | 3 | 20 |
| 27 | F | 4 | Tamara Lentz | 1:34:26 | F Elite 12'6 | 4 | 0-99 F | 4 | 39 |
| 28 | F | 5 | Sarah Messina | 1:35:31 | F Elite 12'6 | 5 | 0-99 F | 5 | 31 |
| 29 | M | 24 | Mike Vaughan | 1:35:36 | Elite 14' | 18 | 0-99 M | 18 | 41 |
| 30 | F | 6 | Kristin Thomas | 1:36:44 | F Elite 12'6 | 6 | 0-99 F | 6 | 50 |
| 31 | M | 25 | Steve Chrapchynski | 1:37:06 | Open 14' | 4 | 40-49 M | 3 | 42 |
| 32 | M | 26 | Geovani Cervantes Perez | 1:40:16 | 12'6 & under | 4 | 14-39 M | 3 | 27 |
| 33 | M | 27 | Lawrence Johnson | 1:40:35 | 12'6 & under | 5 | 40-49 M | 1 | 48 |
| 34 | M | 28 | Nakoa Decoite | 1:41:21 | Elite 14' | 19 | 0-99 M | 19 | 25 |
| 35 | F | 7 | Tehani Gangini | 1:41:42 | F Elite 12'6 | 7 | 0-99 F | 7 | 18 |
| 36 | M | 29 | Norman Scheel | 1:42:48 | Elite 14' | 20 | 0-99 M | 20 | 47 |
| 37 | M | 30 | Daniel Davis | 1:44:05 | 12'6 & under | 6 | 40-49 M | 2 | 44 |
| 38 | M | 31 | Nick Scheel | 1:44:08 | 12'6 & under | 7 | 14-39 M | 4 | 14 |
| 39 | F | 8 | Sofia Dewolfe | 1:46:01 | F 12'6 & under | 1 | 14-39 F | 1 | 18 |
| 40 | M | 32 | Barklie Griggs | 1:46:25 | 12'6 & under | 8 | 50-99 M | 2 | 50 |
| 41 | M | 33 | Rich Hill | 1:47:05 | 12'6 & under | 9 | 50-99 M | 3 | 50 |
| 42 | M | 34 | Kevin Roberts | 1:47:09 | Elite 14' | 21 | 0-99 M | 21 | 42 |
| 43 | M | 35 | Simon Swart | 1:47:13 | Open 14' | 5 | 40-49 M | 4 | 49 |
| 44 | M | 36 | Daryl Caringi | 1:47:33 | 12'6 & under | 10 | 40-49 M | 3 | 43 |
| 45 | F | 9 | Shae Foudy | 1:49:22 | F Elite 12'6 | 8 | 0-99 F | 8 | 14 |
| 46 | M | 37 | Taizen Pied | 1:52:09 | 12'6 & under | 11 | 14-39 M | 5 | 27 |
| 47 | M | 38 | Brian Pena | 1:52:10 | 12'6 & under | 12 | 14-39 M | 6 | 26 |
| 48 | M | 39 | Ian Light | 1:53:52 | 12'6 & under | 13 | 14-39 M | 7 | 14 |
| 49 | M | 40 | Tim Sanford | 1:57:23 | SUP surf | 1 | 0-99 M | 1 | 40 |
| 50 | F | 10 | Alleanna Clark | 1:58:12 | F 12'6 & under | 2 | 14-39 F | 2 | 14 |
| 51 | F | 11 | Manya Clark | 1:58:26 | F 12'6 & under | 3 | 40-49 F | 1 | 46 |
| 52 | M | 41 | John Clark | 1:58:26 | Open 14' | 6 | 40-49 M | 5 | 45 |
| 53 | F | 12 | Andrea Conrad | 2:09:27 | F 12'6 & under | 4 | 40-49 F | 2 | 45 |
| 54 | M | 42 | Ken Clark | 2:13:41 | 12'6 & under | 14 | 14-39 M | 8 | 37 |
| 56 | M | 44 | Jeremy Godo Kiss | 2:19:33 | 12'6 & under | 16 | 14-39 M | 9 | 39 |
| 55 | M | 43 | Michelle Gierst | 2:19:33 | 12'6 & under | 15 | 40-49 M | 4 | 49 |
| 57 | M | 45 | Jason Meffe | 2:19:51 | SUP surf | 2 | 0-99 M | 2 | 38 |
| 58 | M | 46 | Mike Reisbord | 2:20:52 | Open 14' | 7 | 40-49 M | 6 | 44 |
Check out the full results from Saturday's