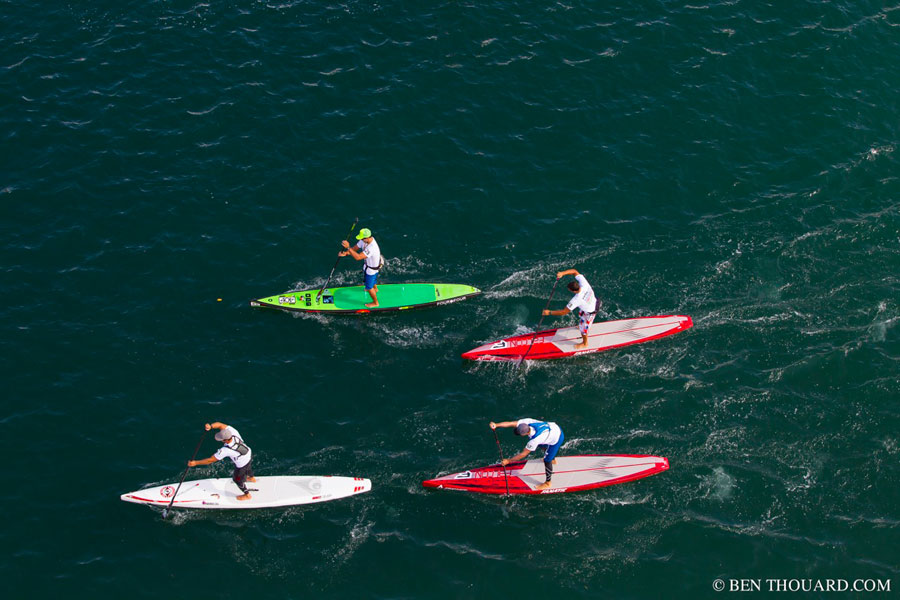 December 5, 2013
by Christopher Parker (@wheresbossman)
Paddle Royal Predictions: Who's Going To Win The Last Big Race Of The Year?
UPDATE: Get the full 2013 Paddle Royal RESULTS
(Spoiler alert: nailed the predictions…)
Here we are in San Juan, Puerto Rico for the "Last Big Race Of The Year" aka Paddle Royal. After taking the red eye from LAX with the Mad Scientist (and randomly bumping into Danny Ching, Thomas Maximus and Chance Fielder as we were all about to board) we were picked up at the airport by the event organisers (who've gone out of their way to look after the athletes at this event) and taken to the luxury hotel that's right beside the start/finish line.
We're in for a big weekend of racing: Not only have a dozen or more of the world's finest descended on the island, but the unique format of Paddle Royal will see not one but FIVE different races decide the overall event title.
Paddle Royal starts on Saturday with the epic Long Distance race, before we finish on Sunday with four different short-medium distance course and sprint races. Points from all five races are combined (with the distance race being counted twice) and each paddler's worst result is dropped before the final rankings list is produced.
This means that to win the overall crown and take the lion's share of the $26,000 prize purse (it's $7,000 for the winner, $4,000 for second), you've gotta be an all rounder. You've got to have endurance to win the distance race (which involves both pure flat water stretches as well as rough open ocean conditions…), you've got to know how to work your board around the buoys during the course races, while you've gotta have speed & power for the sprints.
Yes, it's a tough one. But who's going to step up and win? Well I figured it would be fun to try and predict the exact finishing order for the weekend. This is tough, not only because the field is tight and conditions are unpredictable, but because I know almost all these guys personally and feel bad about leaving anyone out.
But let's cut to it… who's it gonna be?
In the women's I'm predicting a very tight tussle between the three leading challengers, who I'm calling now to be Puerto Rico regular Gail Vento, the veteran Brandi Baksic and one of the up-and-coming and still very highly underrated paddlers, Lina Augaitis.
I saw first hand how Lina blew away the field in the Tahoe distance race before finishing a very impressive third in the BOP Distance Race in California. The bumpy ocean isn't Lina's favourite playground, but she's a machine in the flat. She'll lose a few seconds on the buoy turns of the course race as well, but those events contain enough flat water stretches that I think the Canadian will be able to hold on for the overall win.
Also challenging for the placings will the likes of Cecile Gondre, who's unknown outside France but hits the podium regularly in her home country, while also in town is young gun Bailey Rosen and reigning Hennessey's champion Kristin Thomas.
Obviously in the men's event it's hard to ever bet against Danny Ching. He starts favourite in pretty much every race he enters and is also the defending champ of this event, so he'll be familiar with the challenging open-ocean course already. Danny had been my lock for #1 all week, however I started doubting myself when he asked yesterday: "Hey Chris can you tape my shoulder on Saturday morning?"
Right…
Here's the thing: The champ pulled his shoulder when he was surfing last week. It's still covered in tape and his range of motion is definitely limited. If he hadn't already booked his plane ticket and hotel, Danny probably wouldn't be here right now.
But still… this is Danny Ching… even an 80% fit Danny is a very hard person to beat. So my pick for overall #1 still goes to Danny, but I think it's going to be extremely tight at the top.
The green-capped one's biggest competition will likely come from last year's runner-up Eric Terrien and in-form young gun Jake Jensen from Australia. The only question mark is whether or not Eric will survive tomorrow's open ocean leg on his super-narrow, very-tippy BIC race board. It works extremely well in the flatwater, which will help the Frenchman come Sunday, but if conditions get rough and Eric loses too many spots in the distance race, he could slip out of the overall top three.
Apart from these three guys there are still plenty of names challenging for the top spots, including Danny's new training partner Slater Trout. Slater has been absent from most big races this year and there's a question mark on where he's at in relation to the other elite paddlers atm. He had a disappointing Battle campaign in September, however I have a feeling Slater will come good this weekend. Chase Kosterlitz will also be up there; the Floridian could go top 3 in the distance race but will probably slip a couple of spots in Sunday's course races. Then there's Ryan Helm, who's flown in from Mexico and is always a bit of an unknown quantity. Ryan finished third overall in last year's event but has had, even by his own admission, some rather up-and-down results so far this year.
So I see a few unique groupings fighting for (and within) the top 10…
The Three Contenders: Danny, Jake, Eric.
The Three Challengers: Ryan, Chase, Slater
The Wildcards: Nick and Chuck
The Consistent Performers: Belar Diaz, Jim Terrell, Thomas Maximus, Chance Fielder
The Local Dark Horses: I'm not so familiar with the local scene, but apart from Nick Leason (who's a lock for the top 10) I know that Adrian Garcia finished 9th last year and the BVIs' Nat Ford has been talked up, plus I expect a few others have come on strong in the past 12 months.
But enough with trying to cover all bases and make everyone happy. Let's just get brutal and decide exactly where everyone's going to finish this weekend…
Boss Man's Bold Predictions
TOP 10 MEN – OVERALL
1st: Danny Ching
2nd: Jake Jensen
3rd: Eric Terrien
4th: Slater Trout
5th: Chase Kosterlitz
6th: Ryan Helm
7th: Chuck Glynn
8th: Nick Leason
9th: Belar Diaz
10th: Thomas Maximus
TOP 3 WOMEN – OVERALL
1st: Lina Augaitis
2nd: Brandi Baksic
3rd: Gail Vento
So there you go… Paddle Royal 2013… Check back over the weekend for our full coverage of the race and to see whether or not my reputation still stands.
*****
FRIDAY UPDATE: Ok… it's Friday arvo… eve of the race… and it's really, REALLY bumpy out there.
The wind is howling, the swell is rising and a few of the competitors are looking a little nervous – particularly those that brought pure flatwater boards.
Just to refresh: the main event here at Paddle Royal, the 8-9 mile long distance race, takes competitors out of the protected San Juan lagoon and into the open ocean, before finishing back in the flats. About half the race is in the ocean, meaning you need a board that's quick on the flat but can still handle the bumps (which are predicted to be very big).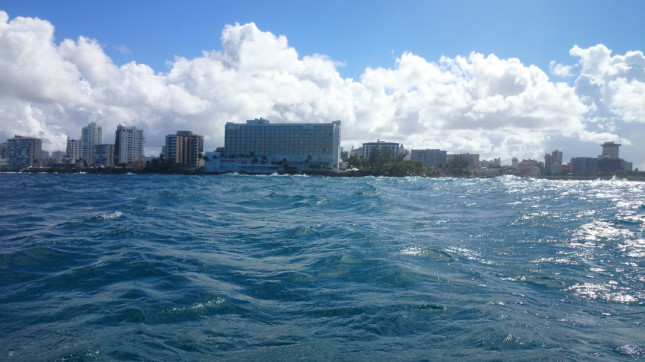 See that pic above? We went for a warmup paddle at lunchtime and conditions are kinda tricky out there… That's the hotel we're all staying at in the center (pretty swish by the way) and off to the right is the entry to the lagoon, out of which the competitors will paddle and then head to the right of this photo. Doesn't quite do it justice, but it's REALLY bumpy out there right now (and expected to be even bumpier tomorrow).
Here's another angle… Again, hardly does it justice, but you can clearly see it's not a place for flatwater boards… This is the opening into the lagoon looking out into the ocean. Competitors will head out there and then turn left, paddling along the coast for almost 5kms (3 miles) and battling the side-wind and large swell all along the way.


So that's definitely going to make things interesting and may totally mix up the results as well. But too late. I'm sticking with my predictions and going down with the ship if things get messy.
Here's the full course for the Paddle Royal distance race just to put it in perspective. Stay tuned for results on Saturday afternoon Puerto Rico time…