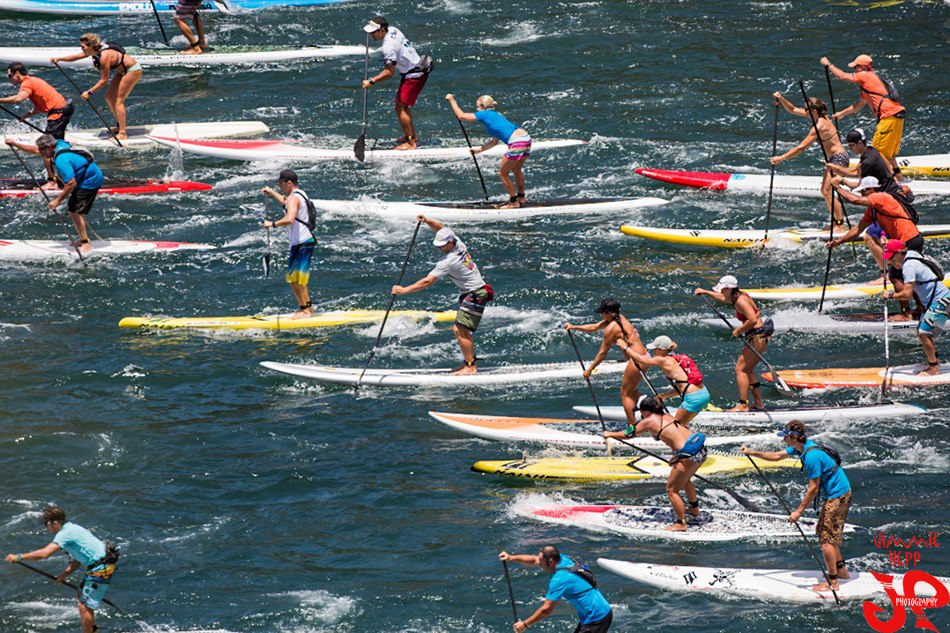 May 5, 2013
by Christopher Parker (@wheresbossman)
[RESULTS] Paddle Imua SUP Race (Maui)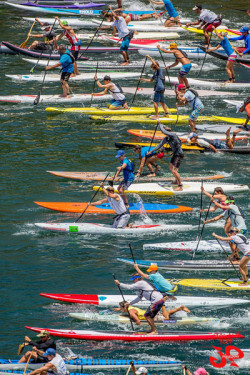 The 2013 Paddle Imua SUP Race went down on Maui yesterday, with very close to 100 Stand Up Paddlers hitting the world famous Maliko downwind course.
In the end it was Livio Menelau who took line honours just over a minute ahead of Jeremy Riggs, while Andrea Moller dominated the women's race to the surprise of nobody.
Super grom Travis Baptiste put in a lightning quick time to claim the 14′ class and take third overall, with Aussie Ironwoman Queen Karla Gilbert another strong performer, taking out the women's 14′ class and crossing the line 2nd overall behind Andrea.
The race was held to benefit Camp Imua, a local charity on Maui, and for many paddles was also a warm-up for next week's big Olukai race.
Check out the full results below or take a look at the awesome Paddle Imua race photos.
2013 Paddle Imua – Winners
Men's Unlimited: Livio Menelau
Women's Unlimited: Andrea Moller
Men's 14: Travis Baptiste
Women's 14: Karla Gilbert
Men's 12'6: Bernd Roediger
Women's 12'6: Brit Oliphant
2013 Paddle Imua SUP Race – Full Results
Click "M/F" to switch between men's & women's results
Click "Board Class" to sort results by different board classes
(click here for raw results, including OC1 & prone times)
(…also check out the awesome gallery of Paddle Imua PHOTOS)

| # | M/F | M/F # | Name | Time | Board Class | Class # |
| --- | --- | --- | --- | --- | --- | --- |
| 1 | M | 1 | Livio Menelau | 1:15:50 | Unlimited | 1 |
| 2 | M | 2 | Jeremy Riggs | 1:17:12 | Unlimited | 2 |
| 3 | M | 3 | Travis Baptiste | 1:17:57 | 14' | 1 |
| 4 | M | 4 | Bart De Zwart | 1:20:52 | 14' | 2 |
| 5 | M | 5 | Ralf Sifford | 1:21:16 | Unlimited | 3 |
| 6 | M | 6 | Scott Trudon | 1:22:13 | Unlimited | 4 |
| 7 | M | 7 | Joshua Riccio | 1:24:07 | Unlimited | 5 |
| 8 | M | 8 | Bernd Roediger | 1:25:07 | 12'6 | 1 |
| 9 | F | 1 | Andrea Moller | 1:26:05 | F Unlimited | 1 |
| 10 | M | 9 | Junya McGurn | 1:27:41 | 14' | 3 |
| 11 | M | 10 | Martijn Van Deth | 1:28:15 | 14' | 4 |
| 12 | M | 11 | Matt Nottage | 1:29:12 | 14' | 5 |
| 13 | M | 12 | Art Aquino | 1:30:15 | Unlimited | 6 |
| 14 | F | 2 | Karla Gilbert | 1:30:44 | F 14' | 1 |
| 15 | M | 13 | Masao Fukayama | 1:31:07 | Unlimited | 7 |
| 16 | M | 14 | Ron St. John | 1:31:20 | 14' | 6 |
| 17 | M | 15 | Justin Gordon | 1:32:21 | Unlimited | 8 |
| 18 | F | 3 | Kathy Shipman | 1:32:49 | F 14' | 2 |
| 19 | M | 16 | Neil Turpin | 1:33:23 | 14' | 7 |
| 20 | M | 17 | Randy Royse | 1:35:18 | Unlimited | 9 |
| 21 | M | 18 | Ridge Lenny | 1:36:46 | 12'6 | 2 |
| 22 | M | 19 | John Bevenbergen | 1:37:18 | Unlimited | 10 |
| 23 | M | 20 | Frank Forbes | 1:38:38 | 12'6 | 3 |
| 24 | M | 21 | Benjamin Friberg | 1:39:39 | 14' | 8 |
| 25 | M | 22 | David Oakley | 1:39:47 | 14' | 9 |
| 26 | M | 23 | Greg Harbottle | 1:39:58 | Unlimited | 11 |
| 27 | M | 24 | Robert Stoner | 1:40:27 | Unlimited | 12 |
| 28 | M | 25 | Manny Ruiz | 1:40:38 | 12'6 | 4 |
| 29 | M | 26 | Chris Pagdilao | 1:40:50 | 14' | 10 |
| 30 | F | 4 | Devin Blish | 1:41:36 | F Unlimited | 2 |
| 31 | M | 27 | Vetea Ribet | 1:41:45 | 14' | 11 |
| 32 | F | 5 | Brit Oliphant | 1:41:55 | F 12'6 | 1 |
| 33 | M | 28 | Bram Denhaan | 1:43:39 | Unlimited | 13 |
| 34 | M | 29 | Bryan Altham | 1:44:04 | 12'6 | 5 |
| 35 | M | 30 | John Smalley | 1:44:35 | 14' | 12 |
| 36 | M | 31 | Michael Woodard | 1:44:58 | 14' | 13 |
| 37 | M | 32 | Fendall Moraitis | 1:45:25 | 14' | 14 |
| 38 | M | 33 | Martin Giroud | 1:45:47 | 14' | 15 |
| 39 | M | 34 | Bill Babcork | 1:45:59 | Unlimited | 14 |
| 40 | F | 6 | Sarah Delaunay | 1:46:02 | F 12'6 | 2 |
| 41 | M | 35 | Stephen Ross | 1:46:34 | Unlimited | 15 |
| 42 | F | 7 | Kimberley Sutton | 1:46:42 | F 14' | 3 |
| 43 | M | 36 | Emery Tavares | 1:46:52 | Unlimited | 16 |
| 44 | M | 37 | Tom Callan | 1:47:51 | 14' | 16 |
| 45 | M | 38 | Nathan Decker | 1:47:59 | Unlimited | 17 |
| 46 | M | 39 | Robin Bolos | 1:48:38 | Unlimited | 18 |
| 47 | M | 40 | Bruce Baptiste | 1:48:40 | 12'6 | 6 |
| 48 | M | 41 | Chris Lewis | 1:48:55 | Unlimited | 19 |
| 49 | M | 42 | Peter John | 1:49:37 | 14' | 17 |
| 50 | M | 43 | Donnie McGean | 1:50:21 | Unlimited | 20 |
| 51 | M | 44 | Mark Sarver | 1:51:01 | Unlimited | 21 |
| 52 | M | 45 | Pierre Coetzee | 1:51:07 | 14' | 18 |
| 53 | M | 46 | Jordan Kolton | 1:51:15 | 12'6 | 7 |
| 54 | M | 47 | Karl Rohlfing | 1:51:27 | Unlimited | 22 |
| 55 | M | 48 | Joseph Dratz | 1:51:32 | 14' | 19 |
| 56 | M | 49 | Pat McCarthy | 1:51:43 | Unlimited | 23 |
| 57 | M | 50 | Martin Vollert | 1:51:54 | Unlimited | 24 |
| 58 | F | 8 | Cristiane Martins | 1:52:01 | F 14' | 4 |
| 59 | M | 51 | Lance Okrasinski | 1:52:02 | 12'6 | 8 |
| 60 | F | 9 | Tehani Gangini | 1:52:37 | F 14' | 5 |
| 61 | M | 52 | David Bond | 1:53:54 | 14' | 20 |
| 62 | F | 10 | Courtney Brown | 1:53:57 | F 14' | 6 |
| 63 | M | 53 | Dave Weiss | 1:54:53 | Unlimited | 25 |
| 64 | F | 11 | Megan Abubo | 1:55:23 | F 12'6 | 3 |
| 65 | F | 12 | Lani Morey | 1:55:36 | F 12'6 | 4 |
| 66 | M | 54 | Scooter Metcalfe | 1:56:09 | 14' | 21 |
| 67 | M | 55 | Josef Erlemann | 1:57:44 | 14' | 22 |
| 68 | M | 56 | David Diller | 1:57:58 | 14' | 23 |
| 69 | F | 13 | Barbara Utech | 1:58:31 | F 14' | 7 |
| 70 | F | 14 | Sharon Look | 1:58:50 | F Unlimited | 3 |
| 71 | M | 57 | Robert Reader | 1:59:04 | 14' | 24 |
| 72 | M | 58 | Jeff Hudson | 1:59:28 | 14' | 25 |
| 73 | M | 59 | Grant MacDonald | 1:59:54 | 14' | 26 |
| 74 | M | 60 | Dan Coleman | 1:59:57 | 14' | 27 |
| 75 | F | 15 | Suzie Cooney | 2:00:06 | F 14' | 8 |
| 76 | M | 61 | Vinnie Armato | 2:00:12 | 12'6 | 9 |
| 77 | M | 62 | Ryan Schooley | 2:01:06 | 14' | 28 |
| 78 | M | 63 | Gary Niblock | 2:01:33 | 14' | 29 |
| 79 | M | 64 | Jason Hall | 2:02:01 | 12'6 | 10 |
| 80 | M | 65 | Scott Wilson | 2:02:09 | 12'6 | 11 |
| 81 | F | 16 | Lani Gomes | 2:07:43 | F 12'6 | 5 |
| 82 | M | 66 | Chris Freeman | 2:09:04 | 12'6 | 12 |
| 83 | M | 67 | Andreas Gessner | 2:11:00 | Unlimited | 26 |
| 84 | F | 17 | Peggy King | 2:11:30 | F Unlimited | 4 |
| 85 | F | 18 | Robyn Lee | 2:11:58 | F Unlimited | 5 |
| 86 | M | 68 | Armin Engert | 2:13:54 | 12'6 | 13 |
| 87 | F | 19 | Raquel Liima | 2:16:45 | F 14' | 9 |
| 88 | F | 20 | Amy Anderson | 2:17:32 | F 14' | 10 |
| 89 | F | 21 | Hillary Hardy | 2:17:42 | F 14' | 11 |
| 90 | M | 69 | Krak Arntson | 2:20:42 | 12'6 | 14 |
| 91 | F | 22 | Cecelia Cochran | 2:22:07 | F 12'6 | 6 |
| 92 | M | 70 | Alex Pricope | 2:23:47 | 14' | 30 |
| 93 | M | 71 | Steve Hunt | 2:25:44 | 12'6 | 15 |
| 94 | M | 72 | Olaf Sutor | 2:27:14 | 14' | 31 |
| 95 | M | 73 | Joe Griffiths III | 2:28:03 | 14' | 32 |
| 96 | F | 23 | Melissa Tumbleson | 2:28:07 | F 12'6 | 7 |
| 97 | F | 24 | Trisha Cruz | 2:33:39 | F Unlimited | 6 |
| 98 | M | 74 | Garth Marriott | 2:33:43 | Unlimited | 27 |