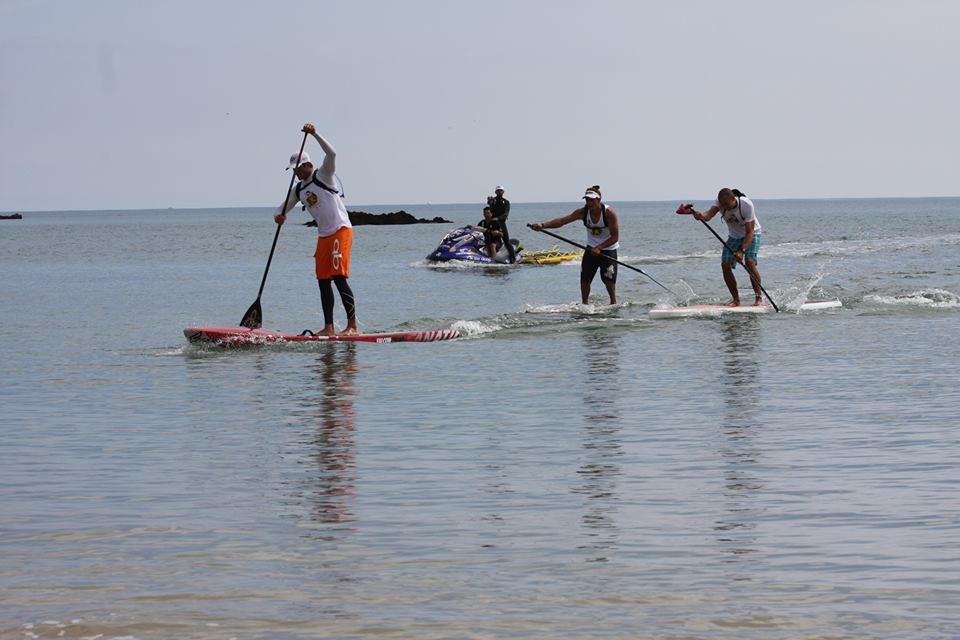 June 17, 2013
by Christopher Parker (@wheresbossman)
[RESULTS] Chase Kosterlitz Wins In Noja, Spain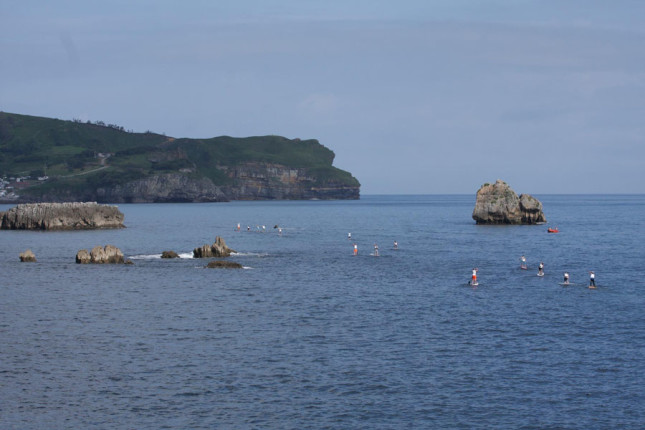 Chase Kosterlitz has taken out the 3rd edition of the "Deep SUP Race" in Noja, Spain on the weekend to continue his good form in Europe this Summer. The Fanatic International rider beat the best from Spain, including Roman Frejo, team mate Belar Diaz and reigning Spanish Champ Manuel Simoncelli, to win both the Distance and Beach races.
Taking third in the Distance Race and continuing his quick rise from out of nowhere was former elite kayaker Branislav Šrámek. The Czech paddler also picked up a very impressive Top 10 finish at the Lost Mills a few weeks ago and, considering how long (or short) he's been focused on Stand Up, is definitely a name to watch in Europe.
Meanwhile Laura Quetglas was far too strong, taking out the women's races and beating half the men in the process.
The setting for the event was the beautiful coastal town of Noja in the autonomous community of Cantabria, and the weekend featured a 13km Distance Race as well as a Beach Race in-and-out through small but fun waves.
Chase dominated both races but had plenty of company from the determined Europeans, especially in the distance event. Thanks to the flat ocean conditions, a four man draft train formed early and held together for much of the race, forcing the big guy from Florida to sprint to the line to claim the win.
The Deep SUP Race was the highlight of Week #4 in the European SUP racing Summer season (which we've nicknamed the "European SUP Racing Tour presented by NSP"). After this event, Chase and several big names from France (as well as the rest of Europe) will be driving North to Namur, Belgium for the $10,000 "Happy Summer SUP Challenge".
Meanwhile most of the Spaniards will stay in the region for the $20k "Bilbao World Paddle Challenge", which is happening an hour down the road from Noja and, as part of the 2013 Stand Up World Series, will also attract the likes of Connor Baxter and Kai Lenny to Europe for the second time this month.
But back to this past weekend's action; from all reports it was a super fun race in a beautiful part of the world, so keep this in mind when you're planning your 2014 schedule. You can get a full recap of the weekend (in either Spanish or dodgy Google English) over on the official SUP Cantabria site, or check out the full results and pics below…
*****
BEACH RACE
1st: Chase KOSTERLITZ (USA)
2nd: Belar DIAZ (Asturias)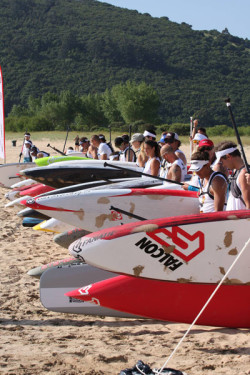 3rd: Roman FREJO (Navarra)
4th: Moritz MAUCH (GERMANY)
5th: Branislav SRAMEK (CZECH REPUBLIC)
6th: Manuel SIMONCELLI (Majorca)
7th: Bernat CASTELL (Majorca)
9th: William DOERING (Catalunya)
10th: Ramon BLANCO (Cantabria)
11th: Roman RIERA (Majorca)
12th: Tomas SANCHEZ (Catalunya)
13th: Natxo RIERA (Basque Country)
14th: Saul VIADERO (Cantabria)
15th: Paulino CAYON (Cantabria)
16th: Laura QUETGLAS (Majorca) [1st female]
17th: Dani ESPINOSA (Basque Country)
18th: Tomas TUBERT (Catalunya)
19th: Kike SEGOVIA (Cantabria)
20th: Javier BARTRA (Catalunya)
21st: Aitor GONZABAL (Basque Country)
22nd: David DOMINGUEZ (Cantabria)
23rd: Carlos RAMOS (Guadalajara)
24th: Carolina ZIEGLER (Catalunya) [2nd female]
25th: Victor CASTILLO (Cantabria)
26th: Carlos DOMINGUEZ (Cantabria)
27th: Miguel RAMOS (Guadalajara)
28th: Sara RAMOS (Guadalajara) [3rd female]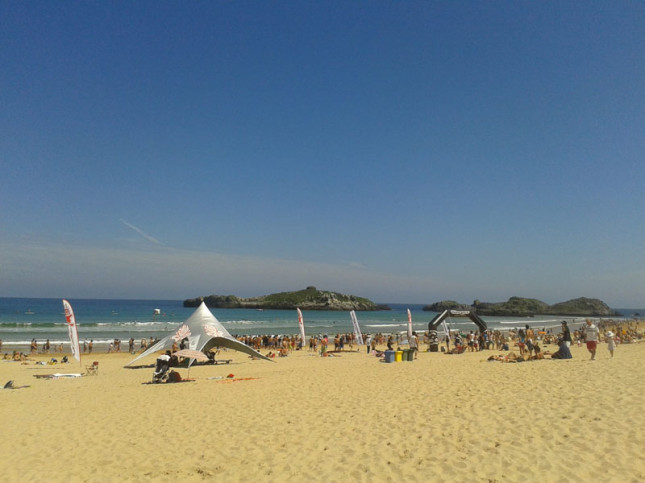 ELITE DISTANCE RACE
Course: 13km
Boards: 12'6″
1st: Chase KOSTERLITZ (USA): 01:22:10
2nd: Roman FREJO (Navarra): 01:22:15
3rd: Branislav SRAMEK (CZECH REPUBLIC): 01:22:28
4th: Belar DIAZ (Asturias): 01:23:05
5th: Manuel SIMONCELLI (Majorca): 01:23:23
6th: Moritz MAUCH (GERMANY): 01:26:43
7th: Bernat CASTELL (Majorca): 01:27:16
8th: Ramon BLANCO (Cantabria): 01:27:45
9th: Roman RIERA (Majorca): 01:30:12
10th: Laura QUETGLAS (Majorca): 01:30:27 [1st female]
11th: Paulino CAYON (Cantabria): 01:30:49
12th: Natxo RIERA (Basque): 01:32:04
13th: William DOERING (Catalunya): 01:32:48
14th: Saul VIADERO (Cantabria): 01:33:09
15th: Braulio SALCINES (Cantabria): 01:33:50
16th: Dani ESPINOSA (Basque Country): 01:38:00
17th: Javier BARTRA (Catalunya): 01:38:05
18th: Michel RODRIGUEZ (Cantabria): 01:38:08
19th: Victor CASTILLO (Cantabria): 01:38:30
20th: Miguel RAMOS (Guadalajara): 01:40:56
21st: Aitor RUIZ (Basque Country): 01:42:05
22nd: Tomas TUBERT (Catalunya): 01:42:45
23rd: Carolina ZIEGLER (Catalunya): 01:43:29 [2nd female]
24th: Carlota FERNANDEZ (Cantabria): 02:04:16 [3rd female]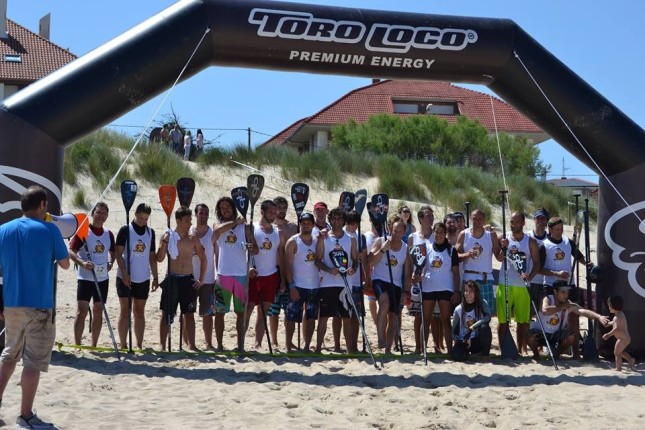 OPEN DISTANCE RACE
Course: 7km
Boards: 12'0″ & under
1st: Kike SEGOVIA (Cantabria): 57:14
2nd: Cesc MAS (Catalyuna): 58:48
3rd: Carlos RAMOS (Guadalajara): 59:35
4th: David DOMINGUEZ (Cantabria): 01:02:03
5th: Aitor GONZABAL (Basque Country): 01:05:14
6th: Fernano VIADERO (Cantabria): 01:06:39
7th: David PALMA (Basque Country): 01:12:09
8th: Carlos DOMINGUEZ (Cantabria): 01:13:51
9th: Sara RAMOS (Guadalajara): 01:18:50 [1st female]
10th: Encarnacion MARTIN (Basque Country): 01:20:20 [2nd female]