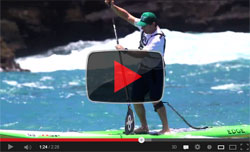 August 19, 2013
by Christopher Parker (@wheresbossman)
WATCH: First Edit From The 2013 Molokai 2 Oahu World Champs
Do nothing else for the next two and a half minutes: Here's the first official edit from Molokai 2013.
The Molokai 2 Oahu Paddleboard World Championships stand almost on their own in terms of prestige, with perhaps only the Battle of the Paddle being on the same level.
Just getting to the start line for this race is tough, then there's the small matter of paddling 32 miles across an open, often treacherous part of the ocean. This year was no exception, with record drop out rates and a dramatic finish to the SUP divisions, where Aussies Travis Grant and Terrene Black surprised the local favourites to claim memorable wins.