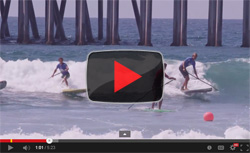 [VIDEO] Highlights From Day One @ Huntington (Stand Up World Series)
Check out some great video highlights from today's Stand Up World Series event in Huntington, where Kai Lenny survived the chaos to claim victory in the knockout sprint races.
There was some solid surf at HB today, which always makes for a more interesting SUP race. Also take a look at the Huntington Beach Pro results and then check back tomorrow (Sunday) to find out how the Distance Race went down.