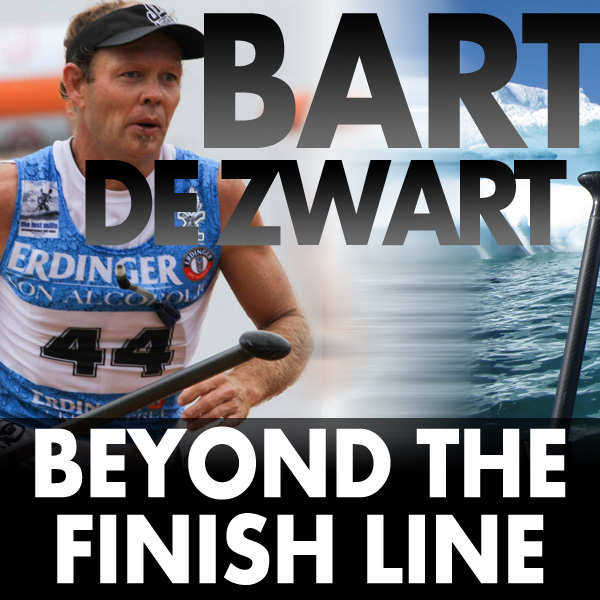 August 18, 2013
by Bart de Zwart
Bart de Zwart's Hamburg Recap Day Two: No Love Lost On The Water…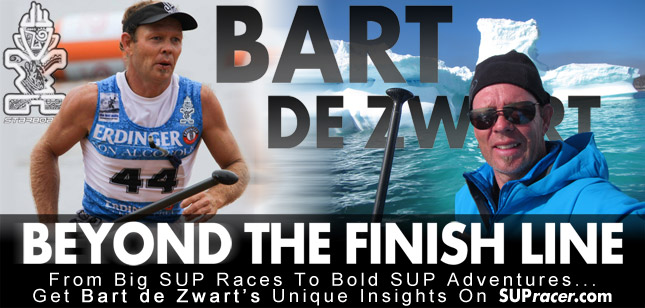 >>> Catch up with Bart's Hamburg SUP World Cup Day One Recap if you missed it yesterday
Hamburg SUP World Cup, Day Two
Today's Long Distance race was a 10-lap course around a floating pontoon in the harbour. The cool thing is there were spectators everywhere cheering us on.
The start was tight and narrow. Kai, Casper, Beau and Leonard got away clean while most of us got a little bit squeezed at the first turn, which was only 50 meters from the start. I thought I was clever to go all the way to the inside, but that turned out to be my worst start ever after I got stuck behind a little dingy boat.
A draft train formed in front of me with all of the main racers in there. Kai was leading the pack and I was trying to catch up to the back of it. The women started one minute behind us so I didn't get to see much of their race.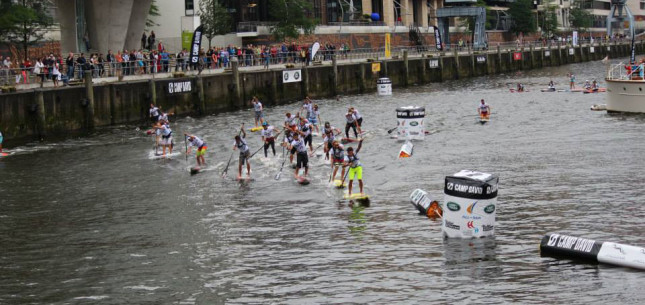 In the front of the men's draft pack, Kai led the whole way but behind him there was a constant changing of position, with paddlers sprinting, pushing and fighting for position. As Paul Jackson said after the race:
"We are all friends but on the water during a race like this, it's war… And then after the race we're all friends again!"
The holes in the nose of the board today were evidence of that.
The water in the harbour was very challenging again, with little bumps coming from all directions as the small waves from our boards bounced back off the harbour walls. The boards were all unstable and hard on the legs. I was on the Starboard Sprint, which is 12'6 x 24.5 inches. Fast but also narrow.
With Kai in command, the whole race was a battle for 2nd place. Paul Jackson tried once to take over, but it was mostly Casper in 2nd fighting with Beau O'Brian and Leonard Nika. Every boy turn someone tried to get the inside and pass. The first five laps it was a steady train of the top nine guys, with me trailing 50 meters behind and not able to make up ground.
The crowds were great, even when the promised rain started to pour down. Behind us, Annabel Anderson pulled away right from the start. Sonni Honscheid and Angie Jackson were fighting for 2nd, while Celine and Manca Notar battled for 4th place.
Right around the seventh of ten laps, Kai pulled away from the pack and profited from a little carnage at the buoy behind him. He clearly controlled the race and had a perfect strategy, making the right decisions at the right time. Behind him there was still a fight going on between Casper, Beau and Leonard, with Casper being in 2nd most of the way.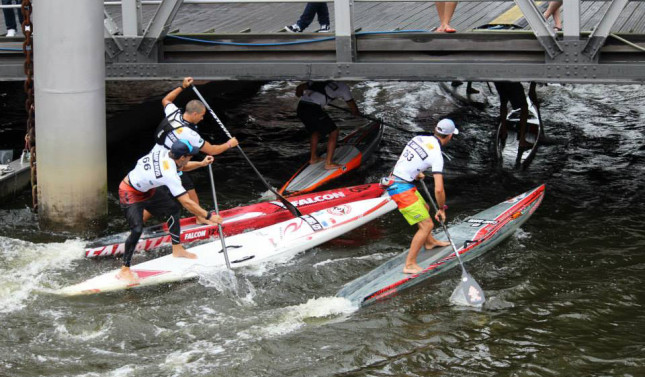 So it all came down to the final 100 meters of the race. Kai had a 30 second lead and won in a time of 57 minutes. Casper was just in front of Beau until the last 50 meters, where Beau found a little bump and glide, paddled hard and crossed three seconds ahead of Casper, with Leonard from Italy in 4th.
I came in just after the draft pack for 10th place, having paddled by myself the whole way, but that's what I deserved after my bad start.
In the women's race it was also Annabel paddling the whole course on her own and in a comfortable lead. She came in only a couple of minutes behind us. Around five minutes later it was a photo finish between Sonni and Angie, with the German winning by a tiny margin.
In all this was one of the better-organized races I've been to this year. Respect for Kai Lenny who had just a little extra in both races and for Starboard team riders Beau O'Brian and Leonard Nika, who have both had very consistent results this year.
However sticking even further above the field is Annabel Anderson, who always wins the women's races by a big margin. She is probably one of the hardest-training people I know and it is clearly paying off. Three years ago it was here in Hamburg that Annabel stepped on a race board for the first time. She has come a long way since.
Next week the Stand Up World Series will land in Chicago, where Kai Lenny will meet Connor Baxter, who hasn't lost a World Series event all year. So that will be an exciting new chapter in the rivalry between these two young stars.
My next race will be in two weeks time in Holland: the 220km 11-City Tour. I will be posting a daily report from the event here on SUPracer.com, so I'll chat with you then.
Aloha from Hamburg,
– Bart