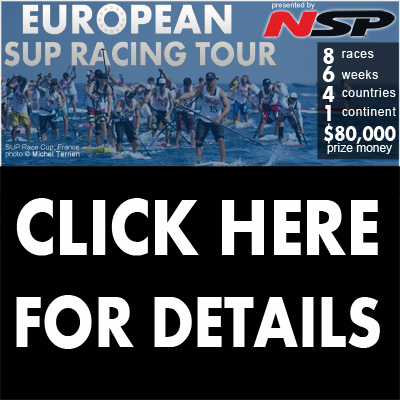 June 21, 2013
by Christopher Parker (@wheresbossman)
European SUP Racing Tour Week #5: Big Names And $30,000 On Offer This Weekend…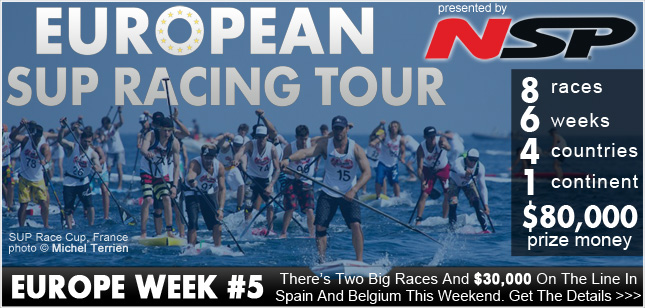 The 2013 European SUP Racing Tour presented by NSP has been a whole lotta of fun so far. Over the past month we've been all over France and into Germany, following some of the biggest names in the sport as they compete against Euro land's finest.
>>> MORE: Get all results, pics and vids from Europe on our European SUP Racing Tour mini-site
Europe is a definite hot spot for SUP racing. It's still a couple of years behind the likes of Hawaii and Australia in terms of talent, but it's already got the races and it's definitely got the enthusiasm and stoke among the paddlers themselves. In a couple of years I think it could be leading the way for Stand Up Paddle racing on a global level, so it's been great to see so many big names racing in Europe at the same time this Summer.
This really has been a breakout year for SUP racing in Europe.
But the fun isn't quite over, we're only up to Week #5 of the six-week "Tour" and this could be the biggest weekend yet, with two massive events offering a combined $30,000 in prize money, and a whole stack of big guns set to battle it out…
First up we've got the Bilbao World SUP Challenge in Spain, where Connor Baxter will try to extend the stellar recent form he's been enjoying his year. Though standing in Connor's way will be Europe's in-form paddlers; giant-killer Eric Terrien and the Danish Viking Casper Steinfath.
On the women's side Annabel Anderson will be an unbackable favourite; two weeks ago in Oleron she beat all but a handful of the Elite guys, so I'm not sure any girl, any where in the world could match the New Zealander right now. But giving it their best will be Spanish Champ Laura Quetglas as well as Sonni Hönscheid, who was extremely impressive in winning the Lost Mills main event a few weeks ago.
Bilbao also marks the fourth event of the 2013 Stand Up World Series, following on from the first stops in Chile, Brazil and Oleron. It should be a cracker of an event and best of all the Bilbao webcast will be running here on SUPracer.com all weekend, so you can follow it live.
Oh and there's also the small matter of a $20,000 prize purse. Not too shabby.
Spain isn't the only place with big name paddlers and lots of prize money on offer this weekend though; also coming up tomorrow is the Happy Summer SUP Challenge in Namur, Belgium.
This event was a favourite among the Euro paddlers in 2012 and with $10,000 on the line this year is sure to attract another strong lineup. The SUP race is part of a big, week-long party in the riverside city of Namur, which will also host blob jumping contests, live bands, DJs and probably a drop or two of the famed Belgian beer.
We'll keep you updated with results as they happen in Namur, but I can predict now that we'll be seeing the red boards of Fanatic International team riders Chase Kosterlitz and Olivia Piana out the front.
So that's Europe, Week 5. It's been a fun Summer so far and now that the sun is finally back out, it should be another great weekend of SUP racing.
Check back all weekend for race results, photos and videos of the action as it happens.
Plus keep your eye out for the LIVE WEBCAST from Bilbao starting mid-afternoon Spanish time. The scheduled start of Saturday's Distance Race is 4pm local time (10am East Coast, 7am West Coast, midnight Australia).
>>> MORE: Get all results, pics and vids from Europe on our European SUP Racing Tour mini-site