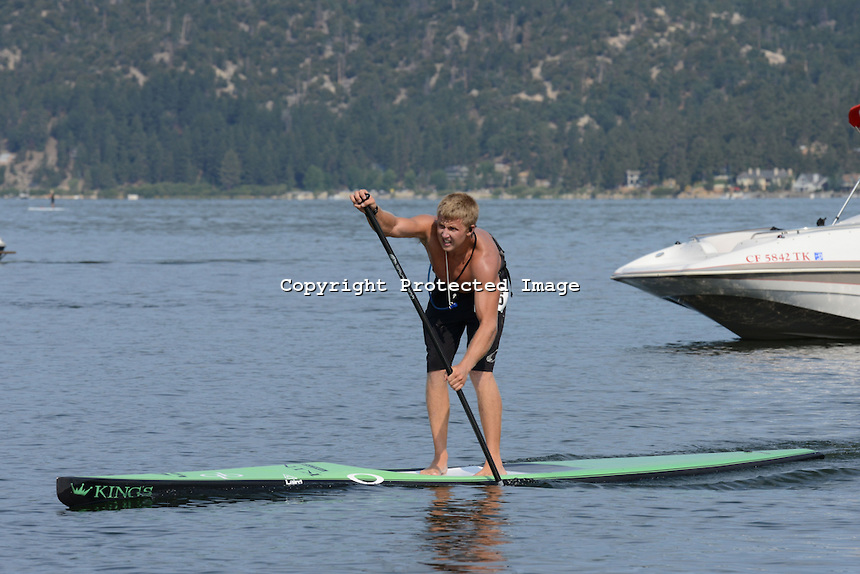 July 4, 2013
by Christopher Parker (@wheresbossman)
[RESULTS] Big Bear PaddleFest: SUP Racing At 6,700 Feet
Results are in from the Big Bear PaddleFest that was held on the weekend and won by Chucky Glynn. The racing went down at Big Bear Lake in California, which sits at 6,752 feet above sea level…
Not exactly your average SUP racing location but it still attracted a solid bunch of paddlers.
Glynn dominated, winning the main event as well as claiming the sprint race ahead of Spain's Belar Diaz. World-beater Annabel Anderson was also on the lake, beating most of the men on her way to an overall top 10 finish in the 20k'er. However the Kiwi was, for once, not the top female over the line, though in fairness she was paddling a much shorter board than line honours winner Heather Devito.
Looks like it was a fun event, so scroll down for the full results from the 20k, 10k and 5k SUP races (hey look! the U.S. finally discovered the metric system!).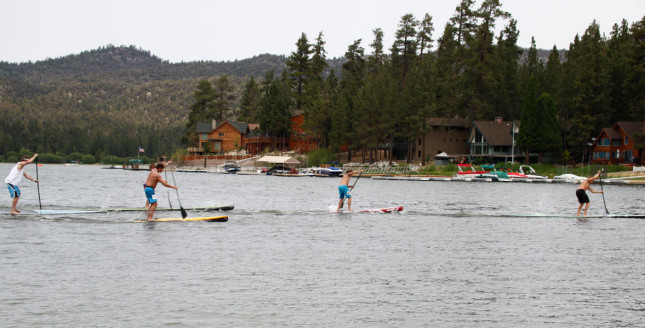 One of the top paddlers at the lake was Fanatic International team rider and part-time Carmen Sandiego impersonator, Belar Diaz, who had this to say about the day:
"The Big Bear Paddlefest was a very well-run event next to the beautiful Big bear Ski resort at 6700feet (2042m for us metrics). The organization has been running this event for a few years, and over the last few SUP has made an appearance. The main race was the 20km long distance, where prizes were an equally divided cash purse of $500 for the first paddlers over the line; interestingly enough two stand up paddlers took top honors in front of all the kayaks and even some surf-skis (although they did give us a few minutes head start).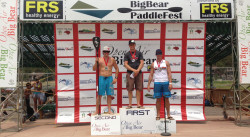 Big Bear PaddleFest wasn't a big race, but names like Chuck Glynn and Annabel Anderson certainly added some talent to it. The course was simple, go around the lake and finish at the same place that we started; the biggest obstacle were the ever present weeds that in my case forced me off the board five times. The field was almost all Unlimited boards, and to nobody's surprise Chuck Glyn took the overall win.
The day also featured 5k & 10k courses with great local participation. In the afternoon the organizers put together a sprint course that consisted of a 100m straight sprints with all classes combined; I was happy to take 2nd overall with and all Unlimited field. We also had a team relay event with groups of 3 guys & 1 girl that we managed to win as well. Overall a very well organized event and if you are in Southern California it is less than 2hrs away from most places; oh, and the area features great hiking & mountain biking for a fun weekend."
 *****
2013 Big Bear PaddleFest SUP Race Results
NOTE: Results from the 20k race are overall times, with 12'6, 14′ and unlimited boards mixed in together…
MEN'S 20k
1 Chuck Glynn 2:04:51
2 Scott Shoemaker 2:09:53
3 Ramon Escobar 2:11:27
4 Garrit Barth 2:12:04
5 Mark Edgar 2:16:45
6 Matt Smith 2:19:29
7 Belar Diaz 2:20:10
8 Michel Carter 2:26:30
9 Rene Perez 2:29:04
10 Steve Bauer 2:37:53
11 Jeremy Rhyne 2:42:09
12 jimmy johnson 2:42:13
13 Kurt Madden 2:48:19
14 Jess Diaz 2:55:15
15 Ryan Denner 2:55:20
16 Adam Hart 3:18:33
17 Kevin Anderson 3:26:44
18 Casey Valek 3:35:20
19 David Fischel 3:37:36
20 Chris Wilkins 3:59:54
21 Dennis Wilkins 3:59:55
22 Thomas Popp 4:20:17
23 Randall Koeneke 4:20:27
WOMEN'S 20k
1 Heather Devito 2:18:25
2 Annabel Anderson 2:20:05
3 Kim Williams 2:33:39
4 Sally Martin 2:37:26
5 Lauren Kleppin 2:55:37
6 Lauren Meisenheimer 3:04:42
7 Jody Barrett 3:04:43
8 Sharon Gibbs 3:25:23
9 Rosanne Grier 3:30:16
10 Michelle Guidroz 3:32:34
11 Karin Parks 3:45:15
12 Amy Margolis 4:04:18
13 Claire Oshima 4:24:18
MEN'S Sprints
1 Chuck Glynn
2 Belar Diaz
3 Mike McErlean
WOMEN'S Sprints
1 Annabel Anderson
2 Jaecey Suda
3 Kristy Morris
MEN'S 10k – Unlimited under 50
1 Mike Vaughn 1:19:52
2 Sean Tiner 1:22:31
3 Judd Hietbrink 1:33:29
MEN'S 10k – 14′ under 50
1 Michael McErlean 1:16:32
2 Mace Camhe 1:16:58
3 Rodney Ellis 1:17:33
4 Rod Loftis 1:21:02
5 Simon Swart 1:26:32
6 Lance Kane 1:28:40
MEN'S 10k – 14′ over 50
1 Bob Farrar 1:19:41
MEN'S 10k – 12'6 under 50
1 Robert Howson 1:17:06
2 Michael Vaughan 1:27:17
3 Mike Guerrero 1:30:21
MEN'S 10k – 12'6 over 50
1 Mick Vollmer 1:19:46
2 Jeremiah Murphy 1:20:18
3 Ryan Voci 1:23:09
WOMEN'S 10k – 14′ under 50
1 Melissa Brooks 2:19:17
WOMEN'S 10k – 12'6 under 50
1 Kim Rodger 1:35:12
2 Andrea Conrad 1:37:03
3 Kristy Morris 1:38:40
4 Karen Feldman 1:39:12
MEN's 5k – 14′ under 50
1 Rod Loftis 0:26:16
2 Simon Swart 0:40:33
3 Jay Obernolte 0:42:12
4 Paul Winchester 0:45:43
MEN's 5k – 14′ over 50
1 Tony Forcier 0:28:02
2 Matt Macarewich 0:29:16
3 Larry Bounds 0:30:48
4 Rich D'Souza 0:41:33
5 Phil Zanudio 0:41:04
MEN'S 5k – 12'6 under 50
1 Mike Vaughn 0:26:22
2 Ryan Voci 0:27:13
3 Pat Fraley 0:30:42
4 Sean Arnold 0:30:46
5 Kenny Kwong 0:31:27
6 Matt Chebatoris 0:33:31
MEN'S 5k – 12'6 over 50
1 Tony Olague 0:35:17
2 Richard Sweitz 1:15:28
MEN'S 5k – SUP Surf under 50
1 Mark Carlisle 0:28:27
2 Chris Sabin 0:32:34
3 Bernie Simons 0:32:49
4 Kenny Washabaugh 0:36:28
5 Colin Christ 0:45:19
6 Jason Meffe 0:54:40
MEN'S 5k – SUP Surf over 50
1 David Hansch 0:31:12
2 George Haber 0:38:55
3 Russell Gold 0:42:19
MEN'S 5k – SUP Surf under 18
1 Gabriel Ruiz 0:56:40
WOMEN'S 5k – 12'6 under 50
1 Jaecey Suda 0:31:22
2 Lauren Murphy 0:36:54
3 Mckenzie Rae Swart 0:40:31
WOMEN'S 5k – 12'6 over 50
1 Claudia Ettelson 0:38:09
2 Debbi Armenta 0:41:34
3 Sheri Schoonover 1:15:37
4 Rebecca Lamb 1:15:51
WOMEN'S 5k – 12'6 under 18
1 Belah Ellis 0:40:47
WOMEN'S 5k – SUP Surf under 50
1 Nicole Kruse 0:40:21
2 Yvonne Waggener 0:43:38
3 Allison Haney 0:45:22
4 Allison McMillen 0:54:30
WOMEN'S 5k – SUP Surf over 50
1 Diane Gold 0:43:33
WOMEN'S 5k – SUP Surf under 18
1 Jade Howson 0:40:29