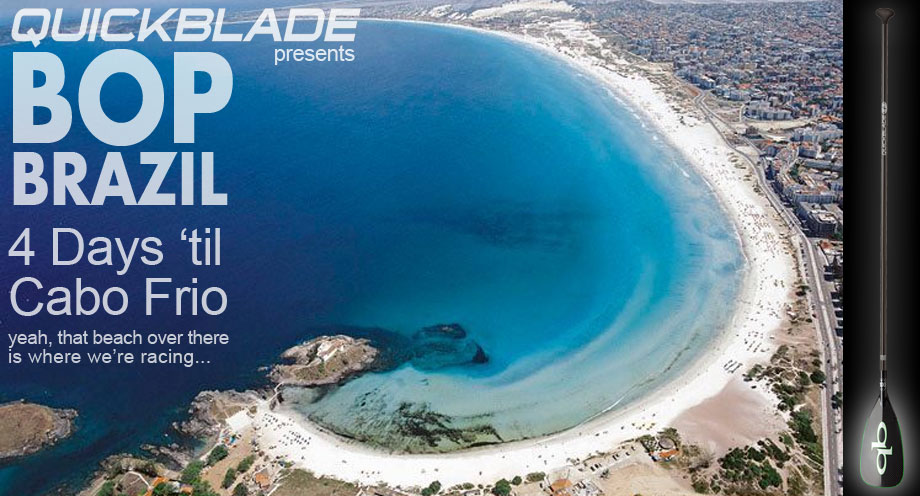 October 22, 2013
by Christopher Parker (@wheresbossman)
Battle Of The Paddle Brazil: The Party On The Praia (Only 4 Days 'Til Cabo Frio…)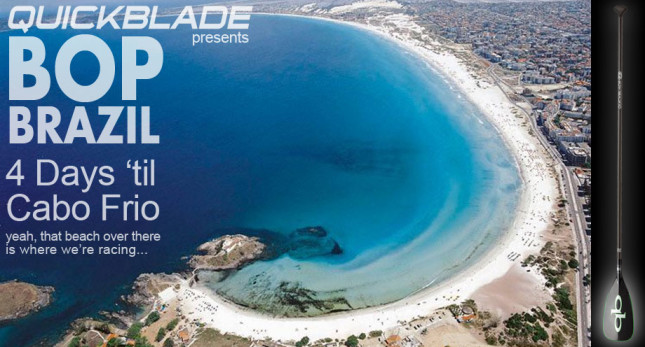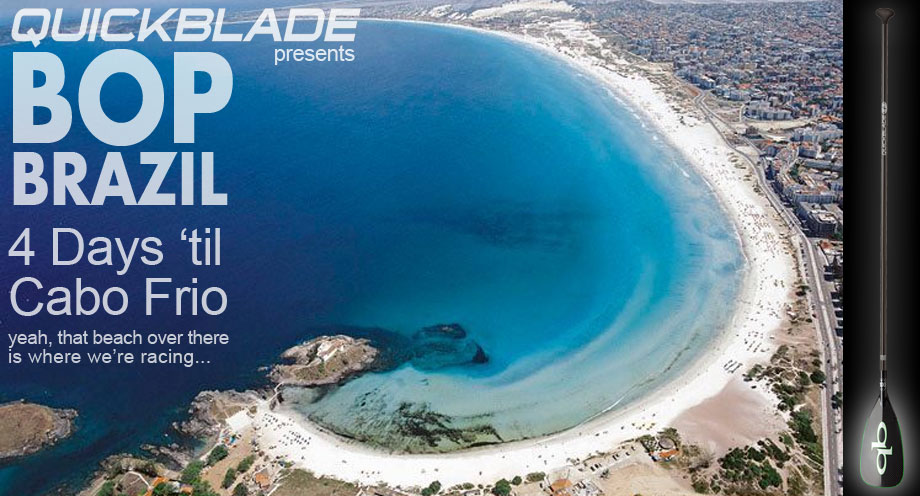 Brazil here we come. The 2013 Battle of the Paddle Brazil, presented by Quickblade, is only four days away. That means it's only four days until the Party on the Praia (That's "beach" in Portuguese… See what we did there? It totally rhymes.) and time to start getting excited.
In four days we'll see the first ever BOP Elite Race outside the USA. We'll also the Open Race, Distance Race, Relays and all the other parts of the Battle of the Paddle that we know and love. All with R$25,000 on the line.
In four days we'll be enjoying the white sandy beaches of Cabo Frio, host town of the event, and everything else that Brazil has to offer.
(You see that beach up top? That's where we're racing. Not a bad little spot huh…)
In four days we'll see whether the locals can step it up and lay claim to their hometown race, or if one of the traveling international elite can spoil the party.
Speakings of parties, that's what this event is going to be all about in my opinion. Fun times on the beach in an exotic locale.
It's Brazil. It's the beach. It's going to be a whole lotta fun…
But who's going to be racing?
I'll personally be traveling with the Quickblade Crew (Jimmy Terrell, Chase Kosterlitz, Fernando Stalla, Brandi Baksic and Belar Diaz) and I'd expect those guys to be near the pointy end of the results, while there are some big names in Brazil that will be hard to beat as well (if you watched the first heat at the BOP California last month then you'll know what I'm talking about…). Though we do know that some of the biggest names are unfortunately missing from this inaugural BOP Brazil.
Jamie, Connor and Danny are lost on a boat in Mexico right now; Kai and the Euro Crew are heading to France to go surfing; meanwhile the Aussies are gearing up for their national titles next week. You get the point… clashes. Lots of them. So while we won't be celebrating the absolute most competitive SUP race of all time, we will be celebrating something else just as fun (or a whole lot better, depending on who you ask).
We'll be celebrating what makes this sport so great:
Travels.
Adventures.
Bringing cultures together and having a fun time while racing our ridiculously oversized surfboards in and out through the waves, crashing around buoy turns, eating it on the shorebreak, burning our legs on the soft-sand chicane and just exhausting ourselves in general.
In other words: We'll be celebrating having fun.
It's Brazil. It's the beach. It's gonna be a party. The racing (which will still be intense, don't get me wrong) is almost secondary at this point. We're going to Brazil for a good time. That's why Quickblade is sponsoring our whole coverage of the event: Their motto is "Train Hard. Go Fast. Have Fun." …and it's that final point that is that we should remember above all else.
But if you can't join the party then don't despair. While there's no substitute for being on the beach in Brazil, we can bring you the next best thing: Follow SUPracer.com for live updates, photos and video from the Battle of the Paddle Brazil all weekend.
Oh and there's also going to be a LIVE WEBCAST of the whole thing, so you can see the golden beaches of Cabo Frio in all their glory no matter where you are in the world. The Battle of the Paddle Brazil live webcast will be streamed right here on SUPracer.com all weekend.
The racing starts Saturday morning though the fun begins tomorrow when we land in Rio. We'll keep you posted with the whole adventure and the "Party on the Praia" every step of the way.
Oh and we'll be enjoying some coastline that looks like this…