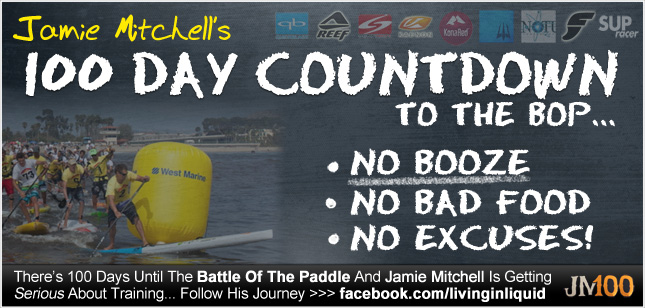 June 20, 2013
by Christopher Parker (@wheresbossman)
Battle Of The Paddle 2013: 100 Days And Counting…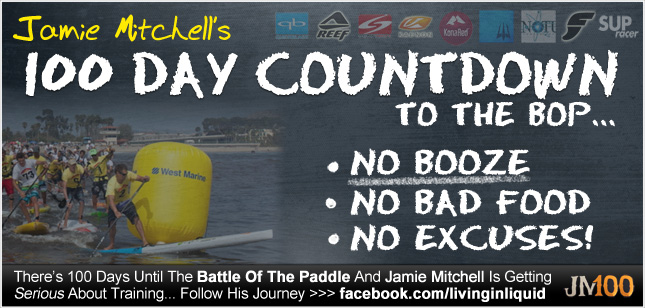 You can officially start getting excited: only 100 days until the 2013 Battle of the Paddle. 100 days until we return to the place where it all began: Dana Point, California. It's the biggest race of the year. It's the Super Bowl of SUP. In fact it's the race that kick-started this whole sport..
The 2013 Battle of the Paddle is happening September 28th & 29th and as always will feature the very best Stand Up Paddle racers in the world. One of those is Jamie Mitchell, a former BoP winner and permanent fixture on the podium who this year wants to step things up a notch.
Forget his 10x World Paddleboard Titles and "JM10" …this is the JM100.
Jamie just posted this photo on Facebook (via his new Facebook fan page) to mark the 100 Day Countdown.
With a calendar full of non-stop travelling, racing, surfing and charity ambassador-ing (yeah, bring out the tissues) Jamie hasn't had the race preparation he's wanted for a good 18 months or so. And the 2013 Battle of the Paddle will be no different… But if the champ can't get his on-the-water preparation the best he possibly can, he's going to focus on what he can control; his off-the-water diet, nutrition and exercise.
So to mark the 100 day countdown mark, Jamie Mitchell is putting out the JM100 challenge: No booze. No bad food. No excuses! 100 days of going clean, detoxing and getting in the best possible physical shape for the big race.
Who else is keen?
Head on over to the new Jamie Mitchell Facebook page if you wanna join in the fun or just follow from the sidelines.
Plus stay tuned to SUPracer.com for 24/7, wall-to-wall, totally over-the-top coverage of the 2013 Battle of the Paddle California. This is the main event!