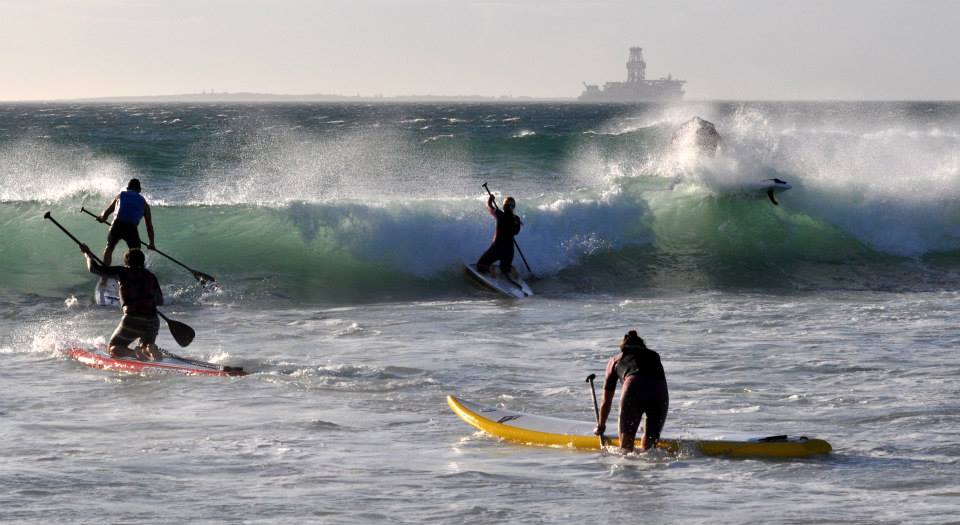 October 23, 2013
by Peter Petersen
Ethan Koopmans Causes Upset In Week Three Of South Africa's Downwind Dash Series
The third event in the 10 race "PRIMI Naish Downwind Dash Series" finally saw some decent wind with 20-30knots fanning the 10km course from Milnerton to Big Bay. Dylan Frick has been running riot winning everything he's entered for as long as one cares to remember – but strong wind downwinds have not always been a favorite with him, so tonights paddle was wide open.
Chris Bertish is always a firm favorite in strong downwind conditions but his pre-race prep programme may have broken a lesser man. Sunday he did a 67km downwinder un-assisted in under 7 hours, then he went for a short downwind with his girlfriend in Langebaan that same afternoon. Monday he went to gym and swam, same on Tuesday before doing the Milnerton – Big Bay 10km downwind as a warm-up for tonights race only just making it back in time for the start. Surely his batteries would be low by now?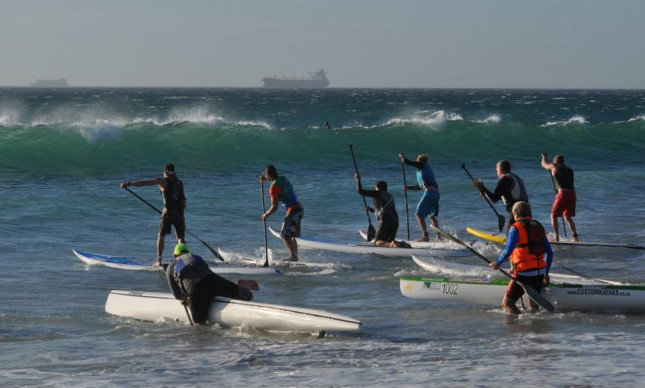 The youngsters, Joshua Robertson and Ethan Koopmans have been getting stronger and fitter with every race and with the higher winds, local downwind legend and course record holder, Ivan Van Vuuren finally made an appearance as well. Everyone was super excited as the white-caps were whipping past the start area at Milnerton Lighthouse – the wind has been on for the past 5 days (20-40knots) and this really is downwind heaven!!!
The first start, which sets off 10 minutes earlier for the slightly slower downwind paddlers, saw the only set of the day push through on the start-whistle taking out pretty much the entire field – carnage and a very poor start for Brigette van Aswegen who had a lot of catching up to do. Wade Keet seemed to escape intact and got a fine start.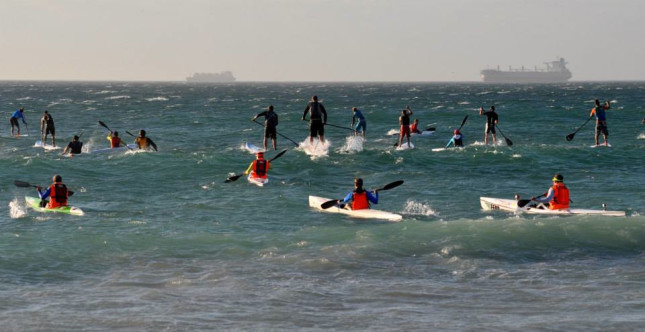 Dylan pretty much always nails the start but this time Tom King who has been improving leaps and bounds, took a tight inside line and kept up. Ethan and Chris had to come from behind and eventually snuck past Dylan and the rest of the gang to race for the finish. This week Ethan got one over Chris to celebrate his first ever downwind win by 22 secs! Well done Ethan, great to see another youngster coming through! Dylan held onto third with Greg Bertish nailing fourth and Tom King in fifth. It was very close up front for most of the way.
In the Ladies, Brigette van Aswegen managed to catch up to young Mishka Steyn, but Mishka put the hammer down and took a convincing win this time round – these two ladies are swopping out wins every week! Patiricia Kohrs made another welcome return and just snuck past Monika Wohlgemuth in the Ladies Master division
In the Juniors, our Open winner Ethan, smoked the field with Joshua coming in 2nd and 7th overall. Kimon Dos Santos slipped to 3rd Junior and 9th overall.
Ivan Van Vuuren was hoping for a little more wind but still managed to take 2nd in the Masters ahead of Pietro Muscas with Peter Petersen taking out the win.
Most improved paddler on our handicap system was won by Ethan Koopmans with Grant Donald and Tom King in 2nd and 3rd.
Ethans time of 45.02 is just 3 minutes shy of the course record which was set in much higher windspeeds. We reckons the course record is in serious jeopardy next time we get a belter – everyone is fitter and faster this year!
In the Overall ranking Dylan Frick is looking good after 3 completed races. Next race will trigger discard and should see the likes of Chris Bertish and Ethan Koopmans shoot up the rankings. With this weeks result it is still wide open for the championship in all divisions.
2013/14 PRIMI Naish Downwind Dash – Race #3 RESULTS
Course: 10.1km
Wind: SE 20-30 knots
Swell: 1m

| # | Name | Time | Age-group | % of first | Category | Speed km/h |
| --- | --- | --- | --- | --- | --- | --- |
| 1 | Ethan Koopmans | 0:45:02 | Junior | 100.00 | Elite | 13.46 |
| 2 | Chris Bertish | 0:45:24 | Senior | 99.19 | Elite | 13.35 |
| 3 | Dylan Frick | 0:46:06 | Senior | 97.69 | Elite | 13.15 |
| 4 | Greg Bertish | 0:47:24 | Senior | 95.01 | Elite | 12.78 |
| 5 | Tom King | 0:47:39 | Senior | 94.51 | A | 12.72 |
| 6 | Peter Petersen | 0:48:08 | Masters | 93.56 | A | 12.59 |
| 7 | Joshua Robertson | 0:48:24 | Junior | 93.04 | A | 12.52 |
| 8 | Ivan van Vuuren | 0:49:13 | Masters | 91.50 | A | 12.31 |
| 9 | Kimon dos Santos | 0:49:33 | Junior | 90.88 | A | 12.23 |
| 10 | Pietro Muscas | 0:50:37 | Masters | 88.97 | B | 11.97 |
| 11 | Nicky Carstens | 0:52:59 | Senior | 85.00 | B | 11.44 |
| 12 | Armien Wohlgemuth | 0:54:19 | Masters | 82.91 | C | 11.16 |
| 13 | Rob Munro | 0:54:24 | Masters | 82.78 | C | 11.14 |
| 14 | Mike Fiet | 0:54:28 | Masters | 82.68 | C | 11.13 |
| 15 | Mishka Steyn | 0:55:32 | Lady | 81.09 | C | 10.91 |
| 16 | Brad Adams | 0:55:52 | Senior | 80.61 | C | 10.85 |
| 17 | Craig Ginsberg | 0:57:08 | Masters | 78.82 | D | 10.61 |
| 18 | Brigette van Aswegen | 0:57:13 | Lady | 78.71 | D | 10.59 |
| 19 | Sean Avni | 0:57:45 | Senior | 77.98 | D | 10.49 |
| 20 | Chris Howell | 0:59:25 | Senior | 75.79 | D | 10.20 |
| 21 | Barry Boswell | 1:00:05 | Senior | 74.95 | D | 10.09 |
| 22 | Grant Donald | 1:00:14 | Senior | 74.76 | D | 10.06 |
| 23 | Glen Thompson | 1:00:29 | Senior | 74.46 | D | 10.02 |
| 24 | Wade Keet | 1:01:08 | Junior | 73.66 | D | 9.91 |
| 25 | Wayne Robertson | 1:01:28 | Senior | 73.26 | D | 9.86 |
| 26 | Patricia Kohrs | 1:02:22 | Lady | 72.21 | D | 9.72 |
| 27 | Monika Wohlgemuth | 1:03:01 | Lady | 71.46 | D | 9.62 |
| 28 | Tim Starke | 1:03:32 | Senior | 70.88 | D | 9.54 |
| 29 | Steven Tripney | 1:04:14 | Masters | 70.11 | D | 9.43 |
| 30 | Alex Neusol | 1:04:23 | Senior | 69.95 | D | 9.41 |
| 31 | Mark Herd | 1:05:52 | Masters | 68.37 | D | 9.20 |
| 32 | Doug Jenman | 1:06:44 | Senior | 67.48 | D | 9.08 |
| 33 | Brian White | 1:09:37 | Masters | 64.69 | D | 8.70 |
| 34 | Craig Girdlestone | 1:10:40 | Masters | 63.73 | D | 8.58 |
| 35 | Clellind Fivaz | 1:10:55 | Lady | 63.50 | D | 8.55 |
| 36 | Riaan Rautenbach | 1:14:41 | Senior | 60.30 | D | 8.11 |
| 37 | Adrian van Varik | 1:15:26 | Senior | 59.70 | D | 8.03 |
| 38 | Nick King | 1:16:41 | Masters | 58.73 | D | 7.90 |
| 39 | Dean Philips | 1:18:13 | Senior | 57.58 | D | 7.75 |
*****
NEXT READ THIS:
Results from South Africa's 2013/2014 Downwind Dash – RACE #1
Results from South Africa's 2013/2014 Downwind Dash – RACE #2