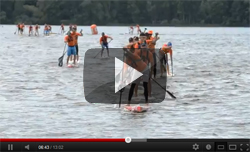 June 13, 2012
by Christopher Parker (@wheresbossman)
[VIDEO] The Lost Mills Race
Epic footage from the Lost Mills SUP Race in Germany. This was one of the biggest and best races ever held in Europe, and with $20,000 in cash & prizes it was certainly the most lucrative.
There were four races: Sprint & Long Distance on Thursday, Inflatable Sprints on Friday and then the main event, the $10,000 Lost Mills Long Distance Race on Saturday.
Fanatic's Chase Kosterlitz was the big winner, taking out the distance race ahead of European #1 Eric Terrien. If you haven't seen it already then definitely check out our full Lost Mills race results and photos post as well.
How's the draft train that Chase is driving at the 6:40 mark!
There were 12 of us in the lead draft train for the first kilometre or so before it dropped down to seven. Then just after the halfway point the top three manage to break free and that's how it stayed for the rest of the race.