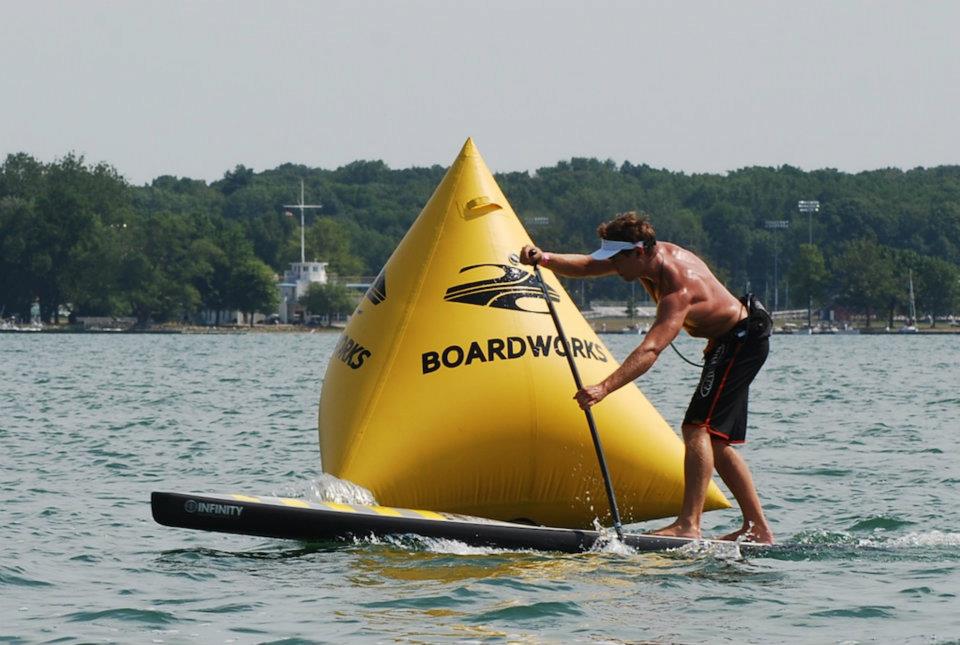 July 4, 2012
by Christopher Parker (@wheresbossman)
[RESULTS] Lake Max Challenge
Slater Trout put on a clinic (literally and metaphorically) at the Lake Max Challenge in Culver, Indiana on the weekend. The young Maui charger led the locals through a technique session before putting in a solid performance in the Elite 7 mile race as well.
In all fairness Michigan's Matt Johnson did actually take line honours on his 14 footer, though Slater was only half a minute behind on his 12'6″ board.
In the 3.5 mile fun race, Susan Mikesell was the fastest of the ladies, while Maurice Anthon beat home all the men (on a rec board, no less).
Indiana isn't exactly the first place that springs to mind when you think about SUP, so it's awesome to see Stand Up Paddle racing growing in areas well outside its traditional homes of California and Hawaii.
Skip down for the full race results…
*****
2012 Lake Max Challenge RESULTS
Lake Max Challenge – 7 Mile Race
14′ board class
1st: Matt Johnson (1:15:24)
2nd: Rob Plankenhorn (1:16:20)
3rd: Ken Lambrecht (1:16:34)
4th: Matt Franke (1:18:05)
5th: Bob Pratt (1:33:52)
12'6″ board class
1st: Slater Trout (1:15:58)
2nd: Tony Paul (1:19:53)
3rd: Matthew Reaume (1:20:57)
Recreational board class
1st: David Story (1:47:08)
2nd: Wendell Martin (1:49:23)
Lake Max Challenge – 3.5 Mile Race
Women's 12'6″
1st: Susan Mikesell (0:55:51)
2nd: Leslie Maclin (0:57:00)
3rd: JoEllen Tunacik (1:23:29)
Men's 12'6″
1st: Tim Truman (0:43:45)
2nd: Steve Schaub (0:44:24)
3rd: Bill Becker (0:45:16)
Men's 14′
1st: Reinhard Walther (45:32:00)
Women's rec
1st: Susan Stanley (1:05:34)
2nd: Katie Furry (1:13:12)
3rd: Erica Richwine (1:23:37)
Men's rec
1st: Maurice Anthon (0:42:05)
2nd: Chad Van Herk (0:42:06)
3rd: Paul Sommer (0:45:48)
4th: Erich Richey (0:46:20)
5th: Cameron Gibson (0:53:23)
6th: John Ducker (0:54:31)
7th: David Boes (0:54:53)
8th: David Partridge (0:57:48)
9th: Michael Ducker (0:58:30)
10th: John Bickel (0:58:48)
11th: Craig Healey (1:17:30)
Kids' Race
Heat 1
1st: Daniel Furry
2nd: Stuart Becker
3rd: Katie Ducker
4th: Stephanie Richey
5th: Jack Johnson
Heat 2
1st: Maddie Watson
2nd: Katie Shapiro
3rd: Gabbie Watson
4th: Sammie Watson
5th: Kathleen Esposito
Heat 3
1st: Baz Furry
2nd: Elizabeth Elsey
3rd: Megan Eck
4th: Luke Elsey
5th: Jason Becker