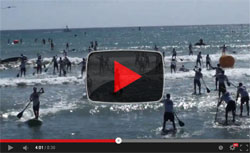 September 13, 2013
by Christopher Parker (@wheresbossman)
Battle Of The Paddle 2009, The Year Australia Dominated Dana Point (Full Results + Video)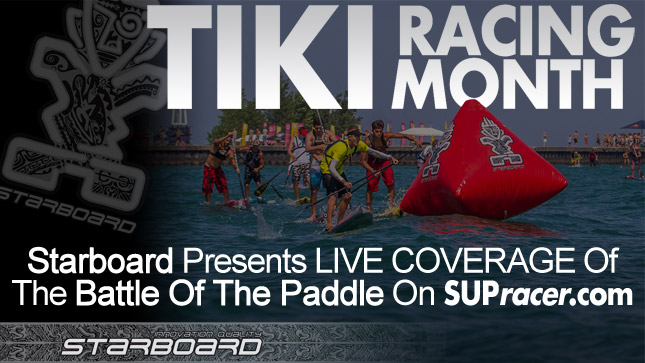 There are just 15 days and counting 'til the 2013 Battle of the Paddle…
We continue our countdown to the BOP by looking back at the history of this iconic event. We've already taken a trip down memory lane with Chuck "The Terminator" Patterson's win @ the 2008 Battle of the Paddle and now we skip forward twelve months to 2009, when the famous "M-shape" Elite Race course was introduced for the first time and a couple of Aussies took the locals by storm.
In a year when SUP race board designs were only just starting to be refined, Andrew Logreco led for much of the Elite Race on a custom creation that looked more surfboard/longboard than any kind of modern racing shape. But despite the enigmatic Oahu boy's heroics early on, in the end it was Jamie Mitchell who took the win and the $10,000 winner's cheque, while a 14-year-old Slater Trout made a name for himself by claiming second (ahead of a certain someone making their SUP racing debut: Danny Ching).
Meanwhile it was another Aussie who won the women's Elite Race race, with Shakira Westdorp blitzing the course and beating out local girls such as Candice Appleby and Brandi Baksic to take a memorable victory.
The 2009 Battle of the Paddle was also memorable for the consistent waves that rolled through Doheny State Beach during the race, providing plenty of carnage as the videos below clearly show. This race was only 48 months ago but paddlers' ability to surf waves on race boards has come a long way since then, so back in 2009 it seems there was even more chaos than usual…
Here are some highlights of the race (scroll down past the vids for the full results).
And here's great clip of the lead six guys getting axed as they surf towards the Hammer Buoy…
*****
2009 Battle of the Paddle RESULTS
Click "M/F" to switch between Men's and Women's Results

| # | M/F | M/F # | Name | Time |
| --- | --- | --- | --- | --- |
| 1 | M | 1 | Jamie Mitchell | 1:07:45 |
| 2 | M | 2 | Slater Trout | 1:09:35 |
| 3 | M | 3 | Danny Ching | 1:10:26 |
| 4 | M | 4 | James Billy Watson | 1:11:20 |
| 5 | M | 5 | Chuck Patterson | 1:11:34 |
| 6 | M | 6 | Aaron Napoleon | 1:11:48 |
| 7 | M | 7 | Tom Lloy | 1:12:17 |
| 8 | M | 8 | Bryce Saeman | 1:12:41 |
| 9 | M | 9 | Ekolu Kalama | 1:12:49 |
| 10 | M | 10 | Colin Mcphillips | 1:12:50 |
| 11 | M | 11 | Kainoa Beaupre | 1:12:53 |
| 12 | M | 12 | Thomas A Gallagher | 1:13:12 |
| 13 | M | 13 | Tj Saeman | 1:13:51 |
| 14 | M | 14 | Carl Cambilargiu | 1:13:55 |
| 15 | M | 15 | Scott Gamble | 1:14:16 |
| 16 | M | 16 | Adrian Garcia | 1:14:18 |
| 17 | M | 17 | Will Reichenstein | 1:14:23 |
| 18 | M | 18 | Byron Kurt | 1:14:27 |
| 19 | M | 19 | Connor Baxter | 1:14:30 |
| 20 | M | 20 | Andrew Logreco | 1:14:34 |
| 21 | M | 21 | Mitch Kahn | 1:14:50 |
| 22 | M | 22 | Jerry Bess | 1:14:51 |
| 23 | M | 23 | Robert Rojas | 1:15:16 |
| 24 | M | 24 | Robert Stehlik | 1:15:17 |
| 25 | F | 1 | Shakira Westdorp | 1:16:00 |
| 26 | M | 25 | Eric Terrien | 1:17:28 |
| 27 | M | 26 | Dan Gavere | 1:17:48 |
| 28 | M | 27 | Michi Schweiger | 1:17:50 |
| 29 | M | 28 | Rob Pelkey | 1:17:53 |
| 30 | M | 29 | Kyle Mochizuki | 1:18:10 |
| 31 | M | 30 | Matt Becker | 1:18:15 |
| 32 | M | 31 | Jared Vargas | 1:18:28 |
| 33 | M | 32 | John Hibbard | 1:18:58 |
| 34 | M | 33 | Hayden Lane | 1:18:59 |
| 35 | M | 34 | Tyron Packet Casey | 1:19:00 |
| 36 | M | 35 | Noah Shimabukuro | 1:19:03 |
| 37 | M | 36 | Jay Wild | 1:19:16 |
| 38 | M | 37 | Eric Starnes | 1:19:16 |
| 39 | M | 38 | Jeff Silva | 1:19:18 |
| 40 | M | 39 | Eric Abbott | 1:19:19 |
| 41 | M | 40 | Thibert Lussia | 1:19:21 |
| 42 | M | 41 | Mike Murphy | 1:19:22 |
| 43 | M | 42 | Brandon Denos | 1:19:23 |
| 44 | M | 43 | Brandon Rambo | 1:19:37 |
| 45 | M | 44 | Zane Schweitzer | 1:19:39 |
| 46 | M | 45 | Kalani Vierra | 1:20:01 |
| 47 | M | 46 | Lance Erickson | 1:20:01 |
| 48 | M | 47 | Jimmy Terrell | 1:20:05 |
| 49 | M | 48 | Brian Szymanski | 1:20:25 |
| 50 | F | 2 | Candice Appleby | 1:20:28 |
| 51 | F | 3 | Brandi Baksic | 1:21:14 |
| 52 | M | 49 | Ernie Johnson | 1:21:33 |
| 53 | M | 50 | John Becker | 1:21:54 |
| 54 | M | 51 | Odie Sumi | 1:21:59 |
| 55 | M | 52 | Brad Rambo | 1:22:00 |
| 56 | M | 53 | Mark Raaphorst | 1:22:07 |
| 57 | M | 54 | Neal Drinkward | 1:22:10 |
| 58 | M | 55 | Mario Melendez | 1:22:55 |
| 59 | M | 56 | Sean Campbell | 1:23:03 |
| 60 | F | 4 | Andrea Moller | 1:24:11 |
| 61 | F | 5 | Jennifer Kalmbach | 1:24:13 |
| 62 | F | 6 | Morgan Hoesterey | 1:24:58 |
| 63 | F | 7 | Darian Boyle | 1:24:58 |
| 64 | F | 8 | Talia Gangini | 1:25:06 |
| 65 | M | 57 | Robby Ellingson | 1:25:27 |
| 66 | M | 58 | John Griffith | 1:25:28 |
| 67 | M | 59 | Jay Butki | 1:25:30 |
| 68 | M | 60 | Thomas Maximus | 1:25:41 |
| 69 | M | 61 | Tony Mueller | 1:26:53 |
| 70 | M | 62 | Simon Russell | 1:27:13 |
| 71 | M | 63 | Rafael Cruet | 1:27:30 |
| 72 | M | 64 | Scott Sanchez | 1:27:40 |
| 73 | M | 65 | Robert Howson Jr. | 1:27:42 |
| 74 | M | 66 | Ron Ayres | 1:28:40 |
| 75 | M | 67 | Stuart Robinson | 1:28:43 |
| 76 | F | 9 | Karen Wrenn | 1:28:46 |
| 77 | M | 68 | Wally Emory | 1:28:48 |
| 78 | M | 69 | Kevin Shaughnessy | 1:30:06 |
| 79 | M | 70 | Brian Fernandez | 1:30:20 |
| 80 | F | 10 | Kelly Stevens | 1:31:28 |
| 81 | F | 11 | Christina Powers | 1:31:29 |
| 82 | M | 71 | Gene Smith | 1:31:47 |
| 83 | M | 72 | Michael Didomenico | 1:31:50 |
| 84 | M | 73 | Clayton Wright | 1:31:50 |
| 85 | M | 74 | Abel Catheline | 1:32:32 |
| 86 | M | 75 | Rich Schroder | 1:33:16 |
| 87 | F | 12 | Bridgett Saeman | 1:33:28 |
| 88 | F | 13 | Helga Goebel | 1:34:39 |
| 89 | F | 14 | Jocelyn Kempe | 1:38:47 |
| 90 | M | 76 | Mace Camhe | 1:38:59 |
| 91 | M | 77 | Chris Koerner | 1:39:04 |
| 92 | F | 15 | Jen Holcomb | 1:39:15 |
| 93 | F | 16 | Lel Tone | 1:39:24 |
| 94 | F | 17 | Rebecca Jakeway | 1:44:49 |
| 95 | F | 18 | Honora Kalama | 1:45:31 |
| 96 | F | 19 | Jodie Nelson | 1:46:26 |
| 97 | F | 20 | Anik Wild | 1:47:07 |