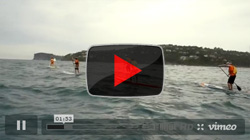 December 28, 2012
by Christopher Parker (@wheresbossman)
20 Beaches Race Vid
Good edit from the recent 20 Beaches Classic SUP race, which was was held on Sydney's Northern Beaches and won by Jake Jensen.
I was in this race myself and while it was a fun event, it definitely wasn't easy. Light winds and back-wash off the cliffs made it pretty tough going, plus of course it was 25kms, which is roughly the equivalent of a marathon in our sport.
Surf skis take up most of the video, but there's plenty of shots of the leading Stand Up Paddlers in there as well. There's also some good footage of the race start starting at the 1 minute 25 second mark. You can also catch an interview with runner-up and race organiser Dave Kissane at the end.